The Volokh Conspiracy
Mostly law professors | Sometimes contrarian | Often libertarian | Always independent
Gary Lawson & Guy Seidman awarded $50,000 for their book, A Great Power of Attorney:
I am very pleased to announce that, on April 20th, the Georgetown Center for the Constitution will award its first annual Thomas M. Cooley Book Prize of $50,000 to honor a book that makes an important contribution to our understanding of the Constitution. The first recipients will be professors Gary Lawson (Boston University School of Law) and Guy Seidman (IDC Herzliya—Radzyner School of Law) for their book, A Great Power of Attorney: Understanding the Fiduciary Constitution (Kansas University Press, 2017), which explores the type of legal document that is the Constitution and how this affects the powers it grants to government officials and the duties they owe to the public.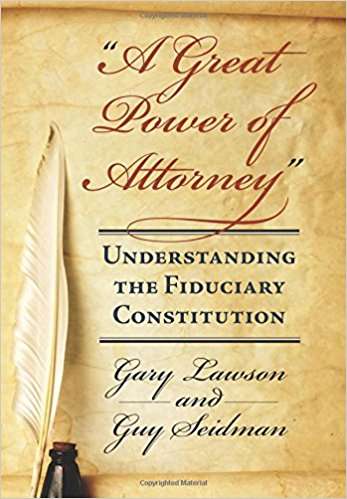 To commemorate the book, a day-long by-invitation-only Symposium will be held that day featuring critical papers about the book. At the Symposium, a group of constitutional professors from area law schools will join Professors Lawson and Seidman and paper authors Ethan Leib (Fordham), John Mikhail (Georgetown), Richard Primus (Michigan) and Suzanna Sherry (Vanderbilt) to discuss the issues raised by the book and papers—which will be published in a special issue of the Georgetown Journal of Law and Public Policy.
The Cooley Book Prize is named after renowned legal scholar Thomas McIntyre Cooley. Cooley was a longstanding Chief Justice of the Michigan Supreme Court, and a professor at the University of Michigan Law School, where he also served as the Dean. He authored several highly influential books, including A Treatise on the Constitutional Limitations Which Rest Upon the Legislative Power of the States of the American Union. In December, the Georgetown Center for the Constitution's annual Salmon P. Chase Distinguished Lecture and Faculty Colloquium will commemorate the 150thanniversary of the publication of Cooley's Constitutional Limitations.