The Volokh Conspiracy
Mostly law professors | Sometimes contrarian | Often libertarian | Always independent
The Hindu reports:
The Mumbai Police on Friday registered an FIR [First Information Report] against All India Bakchod, a social media entertainment channel, for allegedly making a 'meme' featuring Prime Minister Narendra Modi.

Police officials of cyber crime branch said that the FIR of defamation under the Indian Penal Code and of transmitting obscene material in electronic form under the Information Technology Act names the AIB's Twitter handle as the accused.

The meme—a picture with alterations introduced for humourous effect—showed Mr Modi [apparently the picture was of a look-alike] looking into his cell phone in one frame while the second frame showed his face with a 'dog' filter on Snapchat, an app that allows users to add effects to their pictures. The 'dog' filter adds dog's ears and nose to the user's face.
Here is what appears to be the meme: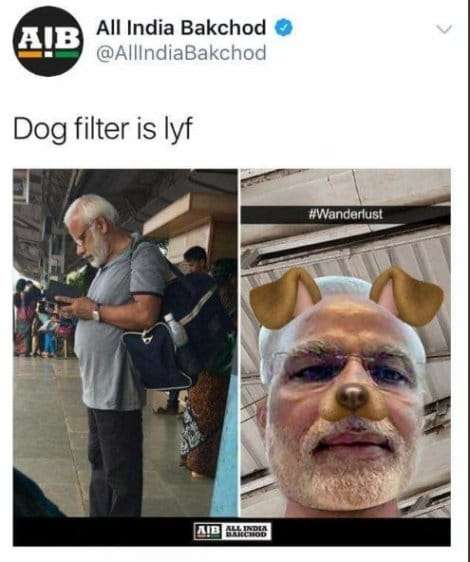 An Agence France-Presse story says the #WANDERLUST hashtag is "an apparent reference to Modi's regular trips abroad"; as best I can tell, the "lyf" stands for "life."
An opinion piece at the Wire (India) adds:
Lawyers say that the Mumbai police's action has no legal basis as the meme can hardly be considered 'obscene' under section 67 of the Information Technology Act:

Punishment for publishing or transmitting obscene material in electronic form. Whoever publishes or transmits or causes to be published or transmitted in the electronic form, any material which is lascivious or appeals to the prurient interest or if its effect is such as to tend to deprave and corrupt persons who are likely, having regard to all relevant circumstances, to read, see or hear the matter contained or embodied in it, shall be punished on first conviction with imprisonment of either description for a term which may extend to three years and with fine which may extend to five lakh rupees and in the event of second or subsequent conviction with imprisonment of either description for a term which may extend to five years and also with fine which may extend to ten lakh rupees.

How an image of Modi with dog ears and a nose can be considered "prurient" or "lascivious"—i.e. "feeling or revealing an overt sexual interest or desire" is something the Mumbai police will need to explain. Or perhaps Maharashtra's keystone cops mistook the hashtag #wanderlust which AIB used with the meme for actual lust and concluded the post must be obscene.

Indian cartoonists have long taken liberties with political leaders without the long arm of the law interfering with their drawings. If AIB gave Modi dog ears, then Morarji Desai too has been shown as a rooster, Rajaji as a cobra, Maulana Azad and Syama Prasad Mookerjee as goats, and Sheikh Abdullah as a lion ….
Can't say that the meme seems particularly funny to me (though maybe there's some cultural context I'm missing); but I think it's quite dangerous for any democracy to criminalize such mockery of top government officials, especially given the chilling message it sends to other potential critics, whether comic or serious.