The Volokh Conspiracy
Mostly law professors | Sometimes contrarian | Often libertarian | Always independent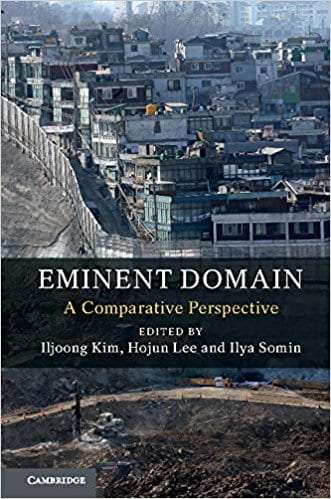 My new co-edited book Eminent Domain: A Comparative Perspective, has just been published by Cambridge University Press. The other editors are Korean law and economics scholars Iljoong Kim and Hojun Lee. It looks at the use and abuse of eminent domain in a number of nations around the world, including the United States, Germany, Taiwan, a variety of developing nations, and South Korea. The book arose from a conference sponsored by the Korea Development Institute (one of Korea's leading research institutes), and includes several chapters devoted to the use of eminent domain in South Korea, whose record has attracted interest from policymakers in many other nations, hoping to replicate its rapid development.
Here is a summary of the book:
The taking of private property for development projects has caused controversy in many nations, where it has often been used to benefit powerful interests at the expense of the general public. This edited collection is the first to use a common framework to analyze the law and economics of eminent domain around the world. The authors show that seemingly disparate nations face a common set of problems in seeking to regulate the condemnation of private property by the state. They include the tendency to forcibly displace the poor and politically weak for the benefit of those with greater influence, disputes over compensation, and resort to condemnation in cases where it destroys more economic value than it creates. With contributions from leading scholars in the fields of property law and economics, the book offers a comparative perspective and considers a wide range of possible solutions to these problems.
Here are the pre-publication endorsements by leading legal scholars Richard Epstein and Roderick Hills, and Justice Soon-il Kwon of the Supreme Court of Korea:
"The use of the eminent domain power is common throughout democracies in both the developed and developing world. The exercise of that power, so necessary for sustainable growth, is also fraught with great peril. This timely and instructive volume fills a major gap in the literature by examining the ups and downs of eminent domain in a comparative context, with special emphasis on the law of South Korea, which has been the home to some of the most important takings conflicts in recent years."—Richard A. Epstein, Laurence A. Tisch Professor of Law, New York University, author of Takings: Private Property and the Power of Eminent Domain.

"This volume is a superb analysis of eminent domain at a genuinely global level. It shows a close relationship between a nation's level of economic development and the degree of protection for private property rights against takings. The organization is systematic in that the authors faithfully follow a unified analytic framework to overcome the difficulty of making meaningful inter-jurisdictional comparisons. As a judge who has experienced different stages of development in my own country, I am certain that professional and lay readers alike can benefit from this wide-ranging and learned book." -Soon-il Kwon, Honorable Justice, Supreme Court of Korea.

"In Eminent Domain: A Comparative Perspective, Ilya Somin, Hojun Lee, and Iljoong Kim have assembled a panoramic view of the law of eminent domain across nations as diverse as Germany, the United States, South Korea, and Taiwan. Providing an exceptionally complete yet concise summary of each regime, this volume also provides an extraordinarily useful framework for understanding how and why each system succeeds or fails in safeguarding fundamental rights to retain what one owns in the face of eminent domain. It is an essential volume for anyone studying or defending the right to private property." -Roderick M. Hills, William T. Comfort, III Professor of Law, New York University.
In addition to co-editing the volume and coauthoring the Introduction and Conclusion, I also wrote the chapter on eminent domain in the United States, which provides an overview of its use throughout American history and summarizes current debates triggered by such events as the Kelo case and its aftermath, and the growing battle over the use of eminent domain to take property for pipelines.