The Volokh Conspiracy
Mostly law professors | Sometimes contrarian | Often libertarian | Always independent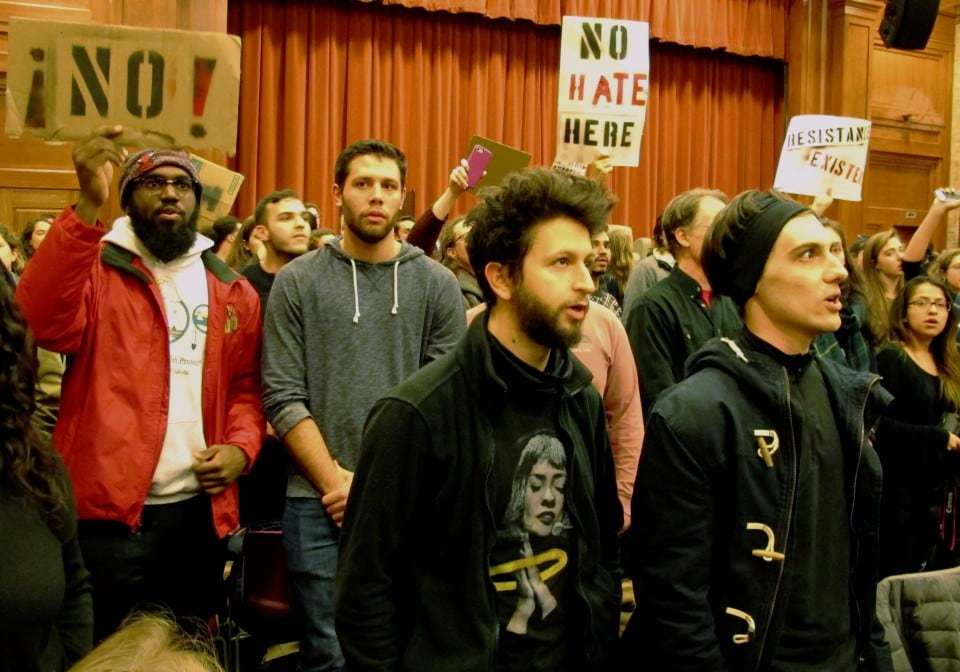 The Addison (Vt.) Independent writes:
Middlebury College Professor Allison Stanger was injured by protesters Thursday evening as she was escorting a controversial speaker from campus. She was treated at Porter Hospital and released. …

As Stanger, [Charles] Murray and a college administrator left McCullough Student Center last evening following [Murray's speech] they were "physically and violently confronted by a group of protestors," according to Bill Burger, the college's vice president for communications and marketing.

Burger said college public safety officers managed to get Stanger and Murray into the administrator's car.

"The protestors then violently set upon the car, rocking it, pounding on it, jumping on and try to prevent it from leaving campus," he said. "At one point a large traffic sign was thrown in front of the car. Public Safety officers were able, finally, to clear the way to allow the vehicle to leave campus.

"During this confrontation outside McCullough, one of the demonstrators pulled Prof. Stanger's hair and twisted her neck," Burger continued. "She was attended to at Porter Hospital later and (on Friday) is wearing a neck brace."
Seven Days (Sasha Goldstein) likewise reports:
A violent "mob" attacked controversial author Charles Murray and a Middlebury College professor as they left a campus building Thursday night following a chaotic attempt at a lecture, a college spokesman said.
The New York Times (Katharine Q. Seelye) carries a similar report, which also elaborates on the earlier shouting-down of Murray:
When Mr. Murray rose to speak, he was shouted down by most of the more than 400 students packed into the room, several witnesses said. Many turned their backs to him and chanted slogans like "Racist, sexist, anti-gay, Charles Murray go away!"

After almost 20 minutes, it was clear that he would not be able to give his speech, said Mr. Burger, the [college] spokesman. Anticipating that such an outcry might happen, Mr. Murray was moved to a separate room equipped with a video camera so that Allison Stanger, a Middlebury professor of international politics and economics, could interview him over a live stream. Mr. Burger said the administration felt strongly that Mr. Murray's right to free speech should be protected and that "no one should have the heckler's veto."

Once the interview began in the second room, protesters swarmed into the hallway, chanting and pulling fire alarms. Still, the interview was completed and officials, including Ms. Stanger, escorted Mr. Murray out the back of the building.

There, several masked protesters, who were believed to be outside agitators, began pushing and shoving Mr. Murray and Ms. Stanger, Mr. Burger said. "Someone grabbed Allison's hair and twisted her neck," he said.

After the two got into a car, Mr. Burger said, protesters pounded on it, rocked it back and forth, and jumped onto the hood. Ms. Stanger later went to a hospital, where she was put in a neck brace.
Another sad day of brown-shirted thuggery at our nation's academic institutions—and thuggery that undermines the opposition to Murray's claims, rather than reinforcing them.
Murray is of course known for having co-written "The Bell Curve," which argued, among other things, that there are biological differences in intelligence between various racial groups (though that was apparently not the topic of his speech at Middlebury). He might have been right or he might have been wrong in that book, or in whatever else he was going to speak about; I don't know enough about those questions to speak confidently about that. But the point of universities, of public debate more broadly, and especially of debate about science is to discuss whether these sorts of scientific assertions are right and wrong, not to assume that one view is right and then shout down or physically attack those who disagree with it.
Indeed, if arguments about racial differences in intelligence are factually mistaken, the only way we laypeople can know that they are mistaken is if we know that the arguments have been considered—indeed, are constantly being considered, as new evidence constantly arises—and have been found inaccurate. That's how science works: An assertion only deserves to be believed as truth (to be precise, tentative, likely truth) if we know that it can always be challenged, and has so far withstood those challenges.
Once it turns out that arguments such as the ones in "The Bell Curve" can't even be made without fear of suppression or even violent attack, then we lose any real basis for rejecting those arguments. Enshrining a scientific assertion as unchallengeable orthodoxy makes it less credible, not more credible.
Let me close with the statement from the Middlebury College president:
As many of you are aware by now, a large group of student protestors disrupted Charles Murray's talk yesterday afternoon in Wilson Hall in McCullough Student Center. I am deeply disappointed by the events that I witnessed and it was painful for many people in our community to experience. I know that many students, faculty, and staff who were in attendance or waiting outside to participate were upset by the events, and the lost opportunity for those in our community who wanted to listen to and engage with Mr. Murray.

With some effort, we were able to move Mr. Murray to another location where he and Prof. Allison Stanger, who was scheduled to moderate the Q&A following his talk, were able—though with challenges—to go ahead with the talk and a probing conversation afterward.

Following the event, protests continued outside of McCullough as well. Unfortunately, one group of demonstrators aggressively confronted Mr. Murray and Prof. Allison Stanger as they left McCullough Student Center. That confrontation turned into a violent incident with a lot of pushing and shoving, and an attack on the car in which they were leaving campus. We believe that many of these protestors were outside agitators, but there are indications that Middlebury College students were involved as well.

We will be responding in the very near future to the clear violations of Middlebury College policy that occurred inside and outside Wilson Hall.

Today our community begins the process of addressing the deep and troubling divisions that were on display last night. I am grateful to those who share this goal and have offered to help. We must find a path to establishing a climate of open discourse as a core Middlebury value, while also recognizing critical matters of race, inclusion, class, sexual and gender identity, and the other factors that too often divide us. That work will take time, and I will have more to say about that in the days ahead.

Last night we failed to live up to our core values. But I remain hopeful. Last evening, several students, faculty, and staff representing a large spectrum of political perspectives remained in Wilson Hall to discuss the events and to talk about building bridges. Their ability to reach across differences in a rigorous but respectful way was a stark contrast to the events that preceded it. I firmly believe these are the Middlebury values that we have lived so long and that we must strive to embody in the future.

I extend my sincerest apologies to everyone who came in good faith to participate in a serious discussion, and particularly to Mr. Murray and Prof. Stanger for the way they were treated during the event and, especially, afterward.