The Volokh Conspiracy
Mostly law professors | Sometimes contrarian | Often libertarian | Always independent
President Obama yesterday sent an open letter to "the brave members of our Nation's law enforcement community." The president wrote: "Every day, you confront danger so it does not find our families. . . . We recognize it, we respect it, we appreciate it, and we depend on you." The president's words are welcome. In the wake of recent killings of police officers in Dallas, Baton Rouge and (yesterday) in Kansas City, Kan., they are more important than ever. Hopefully his letter can help change the poisonous atmosphere that too often surrounds discussions of policing, as Heather Mac Donald has been so eloquently documenting in her posts here, here and here, as well as in her excellent new book, "The War on Cops."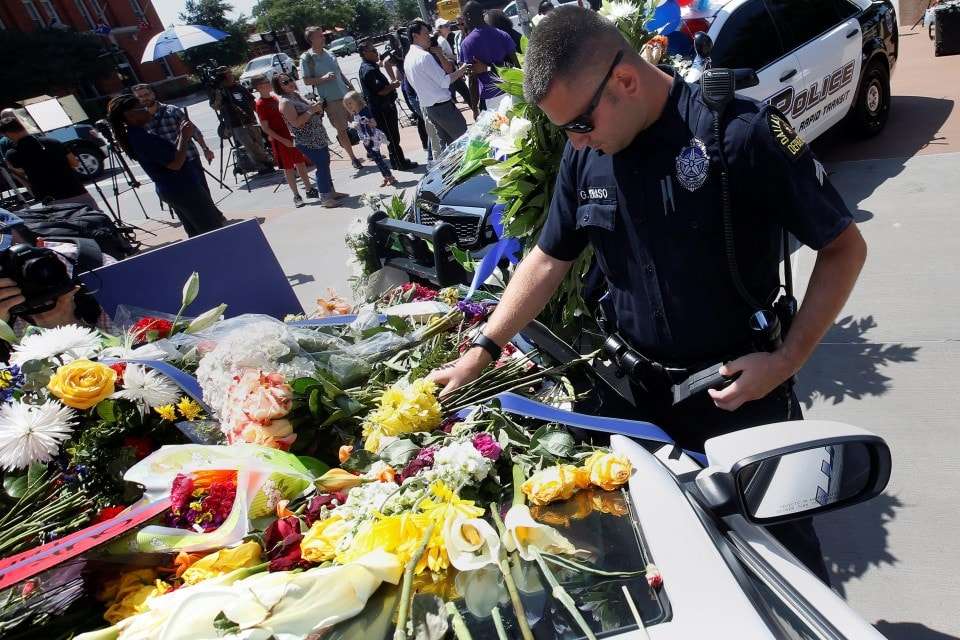 While Obama's open letter is laudable, one claim in the letter is worth at least some discussion. The letter's concluding two sentences are: "Thank you for your courageous service. We have your backs." I wonder about this last claim—does the administration really have law enforcement's back? More precisely, has the administration done everything that reasonably could have been done to prevent attacks on law enforcement? Of course, hindsight is always 20/20. But back in December 2014, I wrote a post entitled "Seven steps Eric Holder should take to help prevent more police officers from being murdered." In the wake of the murder of NYPD officers Rafael Ramos and Wenjian Liu in retaliation for the deaths of Michael Brown and Eric Garner, I proposed seven specific steps Attorney General Holder could take to reduce the risk of further senseless murders of law enforcement officers. Given Obama's claim that he has the backs of law enforcement, it may be useful to check in on what his administration did with these seven ideas.
1. Send 30 representatives to the funerals of Rafael Ramos and Wenjian Liu.
My first idea was the administration should send 30 representatives to the funerals of Officers Ramos and Liu. The idea stemmed from the fact that the White House had sent three official representatives to Michael Brown's funeral. It seemed as though it might be useful to underscore that "a vast difference exists between the death of a robber attacking a law enforcement officer and the deaths of two police officers gunned down in the line of duty while monitoring a dangerous neighborhood. The attorney general should make that difference clear by sending ten-fold the number of representatives" to the officers' funerals.
Vice President Joe Biden attended the funeral of Ramos—the largest police funeral in the city's history. FBI Director James Comey also attended, and perhaps other administration figures did as well. While sending official representatives to Michael Brown's funeral still seems curious, give the administration full credit for showing its support to law enforcement at the Ramos funeral.
2. Meet with the slain officers' families.
My next idea was that Holder should meet with families of slain law enforcement officers, just as Holder had met with Michael Brown's parents. Here again, the choice to meet with the parents of someone who was the focus of a Justice Department investigation seemed strange, so showing a clear difference between Brown and the officers seemed appropriate. And here again, the president deserves credit. Speaking on May 15, 2015, at the annual National Peace Officers' Memorial Service outside the U.S. Capitol, Obama said: "To all the families here today, whose loved one did not come home at the end of a shift, please know how deeply sorry we are for the loss that you've endured. Know how deeply grateful we are for your loved one's sacrifice." And after the speech, Obama spoke with family members of fallen officers, including Pei Xia Chen, who is Wenjian Liu's widow.
3. Clear Darren Wilson in a public report.
I next thought it was important that Holder clear Officer Darren Wilson of any culpability for shooting Michael Brown in a public report. My recommendation was based on the fact that, in August 2014, Holder had made an investigation of the shooting a high priority, sending 40 FBI agents (including some of the most experienced) into Ferguson, Mo., to collect evidence. But in December 2014, nothing more had been said about the investigation—even though at that point the evidence was already overwhelming that Wilson had simply defended himself. Ultimately, several months later, in March 2015, the Justice Department did release a report exonerating Wilson. But that belated exoneration was largely obscured by the simultaneous release of a report condemning the Ferguson police department. The Justice Department charged in this report that "Ferguson law enforcement practices violate the law and undermine community trust, especially among African Americans."
The limited point here is not to defend the Ferguson police department. Ferguson ultimately entered into a consent decree with the Justice Department to change some of its practices. Instead, the point is that the "hands up, don't shoot" narrative that had been propagated after Michael Brown's death never was dispelled as clearly as it should have been. For example, as of November 2014, 85 percent of African Americans disapproved of the grand jury's decision not to charge Wilson, according to a Post/ABC News poll. It seems likely that the Justice Department's later exoneration, buried along with the attack on the Ferguson police department, essentially blurred the message. Some evidence of that can be found from the recent protests after the shooting of Alton Sterling, where protesters chanted "hands up, don't shoot"—the line made (in)famous as Michael Brown's supposed last words. Give the administration poor marks for not clearly setting the record straight on Officer Darren Wilson.
4. Meet with Wilson.
Some might argue that criticizing the administration over Wilson is unfair because it did ultimately release a substantial report showing that he had acted properly. But clearly the administration could have been done more; for instance, Holder could have met with Wilson, as I recommended. As I explained in my post, Holder had found time to meet personally with the parents of Wilson's attacker. After the Justice Department had cleared Wilson, it could have shown that it "had his back" by meeting with him in person.
It must be hard for Wilson to credit Obama's recent statement that he has the backs of law enforcement. One year after the shooting, on Aug. 4, 2015, he recounted that the shooting had made him unemployable. He said that he had attempted to find other law enforcement jobs but had been routinely told he would be a "liability" if hired. In light of his experience, it is no wonder that Heather Mac Donald and others have pointed to a "Ferguson effect"—i.e., law enforcement officers not wanting to jeopardize their careers by aggressive or proactive policing. Here again, the administration must bear some of the responsibility for not having done more to clarify what really happened in Ferguson.
The failures here are not limited to the current administration, but may extend to the next one. According to press reports, organizers of the Democratic National Convention have invited Lezley McSpadden, Michael Brown's mother, to speak. Her loss is undeniable. But her son tried to grab a police officer's gun, perhaps with the intent to kill him. Why she deserves the honor of speaking to a presidential nominating convention is unclear to me, especially in the current anti-cop environment.
5. Expedite a conclusion to the Garner investigation.
In December 2014, the two most publicized officer-involved deaths were Michael Brown's and Eric Garner's. Garner's death in July 2014 and a subsequent grand jury decision not to charge the officer involved led to protests in New York, including protests shortly before Ramos and Liu's murders in which protesters chanted: "What do we want? Dead cops. When do we want it? Now." Given the anti-police sentiments that were spawned from uncertainty about Garner's death, I urged Holder to "sort out the Garner situation rapidly."
That was December 2014. Now, a year and a half later, where does the Justice Department's investigation stand? Even though most of the events in question were videotaped—and even though a state grand jury had collected most of the relevant testimony shortly after the death in the summer of 2014—two years later the Justice Department's investigation still totters along with no conclusion in sight. The latest rumors are that the career federal prosecutors in New York do not believe that sufficient evidence supports filing a federal civil rights charge, while prosecutors in "Main Justice" in D.C. would like to move ahead.
Without full access to all the facts, it is hard to say what the right result is in the Garner case—although the fact that the state grand jury declined to bring any charges should provide at least some indication that there was no clear crime committed. But entirely apart from the result, a process that moves so slowly can't be viewed as fair by anyone. Recently the Rev. Al Sharpton told a gathering of Garner's family that "it's been two years" and the fatal encounter "was on video and we've not seen justice. So that's why people are questioning what's going on now." On the other side of the case, Officer Daniel Pantaleo remains assigned to a desk job as the New York Police Department awaits the results of the federal investigation before deciding how it will proceed.
Whatever else can said about the Justice Department's handling of the Garner case, it is hard to see any justification for taking such a long time to bring things to a conclusion. It is possible to move such cases along far more rapidly, as the decision of Georgia prosecutors in recent days to bring felony murder charges against a police officer within days of a shooting demonstrates. The administration seems to have a pattern of delay in handling these high-profile civil rights cases, as I have discussed in an earlier post. Once again, it is fair to give the current administration poor marks for its lengthy delay. And questions can also be fairly raised about a possible next administration here; the organizers of the Democratic National Convention have not waited for the investigation to conclude, but instead have already invited Gwen Carr, Garner's mother, to speak. Garner was plainly resisting arrest, setting in motion a (disputed) chain of events that led to his death. Here again, without denying Carr's grief, surely there must be better candidates for addressing such an important convention in the wake of savage attacks on law enforcement.
6. Stop tolerating lawbreaking by protesters.
I also urged the attorney general to stop excusing lawbreaking by anti-cop protesters, such as his failure to more clearly speak out against the closing of major streets in New York by Garner protests and similar failures in Ferguson. Since then, not much has really changed for the better. While many anti-police protests have been peaceful, some have been violent and others have threatened to block major highways or otherwise disrupt civil society. Here again, the administration has been largely silent about the lawbreaking.
7. Recognize a national day of support for police.
My last recommendation was that the administration endorse an idea, first raised by Howard Safir, former commissioner of the NYPD, that the president declare a National Day of Support for Police. Safir's argument was simple: "Police lives matter. Let's demonstrate it nationally." Safir wrote that "Michael Brown and Eric Garner died resisting arrest. Officers Rafael Ramos and Wenjian Liu died doing their job. It is a very important distinction. Michael Brown and Eric Garner were committing crimes. Rafael Ramos and Wenjian Liu were protecting all the citizens of New York City."
Safir reported that the anti-police rhetoric he was hearing was unlike anything he had seen in his 45 years. He was worried about the consequences. He wrote that the "the President should declare a national day of Support for Police. He should send a clear message to all criminals that he appreciates the willingness of officers like Rafael Ramos and Wenjian Liu to sacrifice their lives, and that their lives have meaning. Perhaps their families should be present at the next State of the Union." The president failed to adopt Safir's suggestion to declare such a national day. And while among Michelle Obama's guests at the 2015 State of the Union was a police officer from the Los Angeles Police Department, he was there because he had worked on community policing in Watts. At the very least, given recent events, Safir's idea for a national day of police support is well worth considering.
So does the administration have law enforcement's back? This review of seven specific issues I raised long ago produces a mixed verdict. Certainly nothing here suggests that the administration itself is guilty of waging a deliberate war on cops, as some intemperate remarks may have suggested. But at the same time, the administration clearly has failed to do as much as it could have done to support law enforcement, leaving it open to the charge that it has indirectly caused a war on cops. In addition to the specific points I make here, Heather Mac Donald has more broadly explained how the administration has failed to act decisively to dispel certain myths about how the criminal justice system operates. If time permits, I may have some more thoughts on this later. For now, it is enough to say that Obama's open letter of support for law enforcement is a positive step. But if his promise—"We have your backs"—is to be credible, he and his administration have much more to do.