The Volokh Conspiracy
Mostly law professors | Sometimes contrarian | Often libertarian | Always independent
The Harvard Office for Equity, Diversity, and Inclusion, together with the Freshmen Dean's Office, put together these placemats and distributed them in an undergraduate dining hall (see this Harvard Crimson article (Idrees M. Kahloon):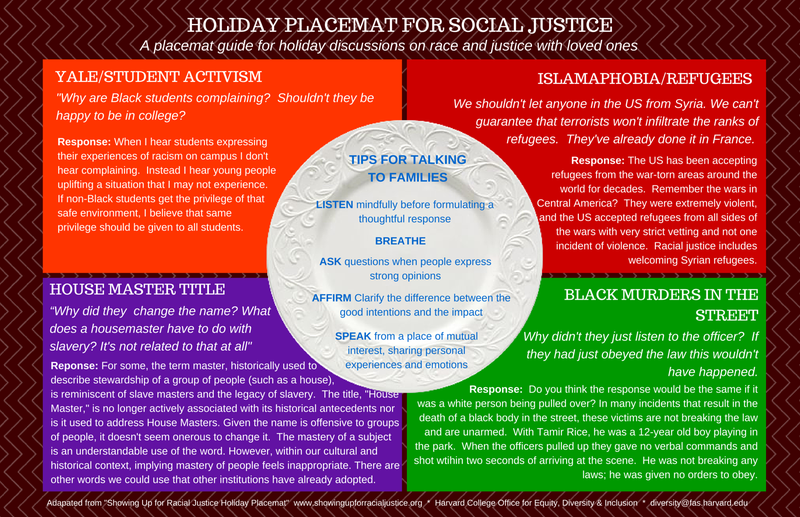 After the story hit the news, Harvard backtracked:
December 16, 2015

Dear Harvard College students,

We write to acknowledge that the placemat distributed in some of your dining halls this week failed to account for the many viewpoints that exist on our campus on some of the most complex issues we confront as a community and society today. Our goal was to provide a framework for you to engage in conversations with peers and family members as you return home for the winter break, however, it was not effectively presented and it ultimately caused confusion in our community. On behalf of the Office of Student Life and the Freshman Dean's Office, we offer our sincere apologies for this situation.

Academic freedom is central to all that Harvard College stands for. To suggest that there is only one point of view on each of these issues runs counter to our educational goals. We appreciate the feedback that we have received about this initiative. Moving forward we will, with your continued input, support the growth and the development of independent minds.

Sincerely,

Stephen Lassonde
Dean of Student Life

Thomas Dingman
Dean of Freshmen
The apology strikes me as quite correct here. Harvard of course has the First Amendment right to try to politically indoctrinate students, and to indoctrinate them in how to politically indoctrinate others (the placemat offered a "guide for holiday discussions on race and justice with loved ones"). But that doesn't make political indoctrination a good idea, at a university ostensibly committed to teaching students how to think for themselves. I'm glad that someone at Harvard stepped in to correct this.
Thanks to InstaPundit for the pointer.