The Volokh Conspiracy
Mostly law professors | Sometimes contrarian | Often libertarian | Always independent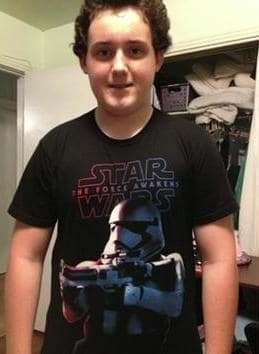 From KTRK-TV (linked to by Peter Holley (Morning Mix, here at the Post)):
Joe Southern says his [7th-grader] son, Colton, wore a shirt depicting the "Star Wars—The Force Awakens" logo, along with a Storm Trooper holding a weapon, to class Thursday at George Junior High School….

On Thursday, though, school officials told Colton the shirt was banned because it has a gun, or at least a picture of what in the movie is weapon….

A spokesperson for Lamar Consolidated Independent School District says the LCISD secondary school handbook spells out potential violations of dress code. The list includes "symbols oriented toward violence."

Administrators say they did not reprimand the student, though they could have required him to change or assigned him in-school suspension. They say they only required him to zip up his jacket….
Actually, even T-shirts depicting real weapons are constitutionally protected against K-12 school discipline, unless there's real evidence that the T-shirts are likely to substantially disrupt the educational process (something that's highly unlikely here); categorical bans on all depictions of weapons, regardless of whether they are disruptive, would be unconstitutionally overbroad. (See, e.g., Newsom ex rel. Newsom v. Albemarle County School Bd. (4th Cir. 2003), so holding: "[The] Dress Code disfavors weapons, displayed in any manner and in any context, and potentially any messages about weapons. It excludes a broad range and scope of symbols, images, and political messages that are entirely legitimate and even laudatory. Under these circumstances, and in the absence of any cogent limiting construction of the … Dress Code, we are constrained to conclude that Newsom has demonstrated a strong likelihood of success on the merits on his overbreadth claim.")
Nor does Morse v. Frederick (2007), which allowed a school to discipline a student for display of a "Bong hits 4 Jesus" banner, change the analysis. The Supreme Court in Morse relied on its judgment (whether or not that judgment was correct) that the banner could be reasonably understood as promoting illegal drug use; yet nothing about this T-shirt can reasonably be understood as promoting illegal blaster use. A pretty clear First Amendment violation, then, on the school district's part.