The Volokh Conspiracy
Mostly law professors | Sometimes contrarian | Often libertarian | Always independent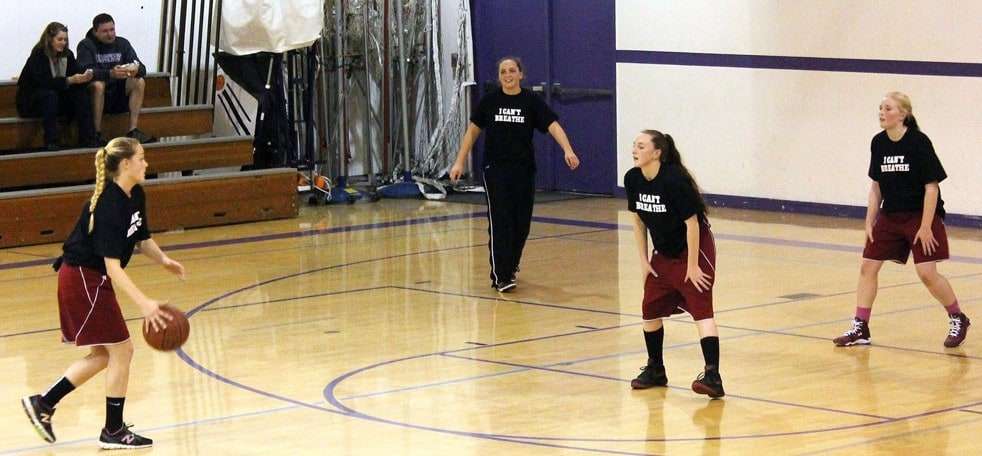 I blogged about this First Amendment controversy Dec. 29, but it turns out the tournament host school backed down Dec. 30 and allowed teams to practice in slogan-bearing shirts, according to the Fort Bragg (Cal.) Advocate-News (Chris Calder):
The decision that sparked [the controversy] was made to prevent Mendocino basketball players from wearing "I Can't Breathe' T-shirts during warm-ups at this week's Vern Piver Memorial Classic holiday basketball tournament.

After issuing a statement last Friday that the shirts would not be allowed on the chance they would cause a disturbance at the annual holiday tournament, school administrators negotiated an agreement Monday with an attorney representing the Mendocino players. A statement by Patrick Wilson, counsel to the school district, … announced Monday afternoon[:]

"This is to advise you that the district will not prohibit spectators from attending the Fort Bragg USD basketball tournament because they may be wearing a T-shirt that may have an expressive message on it. I'm informed that there was at least one tournament game this morning; spectators were allowed into that game even if they were wearing such T-shirts. Similarly, the district will not prohibit a student athlete participating in this tournament from wearing an expressive T-shirt during warm-ups. However, student athletes must wear their designated uniforms during the game."
I had not heard that there was any attempt to restrict the wearing of such T-shirts by spectators; that, I think, would be pretty clearly unconstitutional, since it's hard to imagine the school district imposing a viewpoint-neutral ban on all ideological-message-bearing T-shirts. There was, though, an attempt to restrict the wearing of T-shirts by team members who were warming up in front of the spectators; I argued that this might or might not be constitutional, depending on whether the restriction was motivated by a desire to suppress a particular viewpoint, or by a more general desire to keep players from using the court as the forum for their political messages. In any event, it looks like the host school has changed its position, in time for the Mendocino boys team to warm up with the T-shirts, but too late for the girls team.
The requirement that athletes wear their designated uniforms during the game is likely a constitutional viewpoint-neutral rule, since I expect that it has indeed been understood as the rule, prohibiting all departures from the uniforms, regardless of the message.
Thanks to Robert Dittmer for the pointer.