Dave Rubin: Why Libertarians Should Vote for Ron DeSantis
The Rubin Report host makes the case for the Florida governor, who courageously defied lockdowns but is quick to use the state to punish corporations he doesn't like.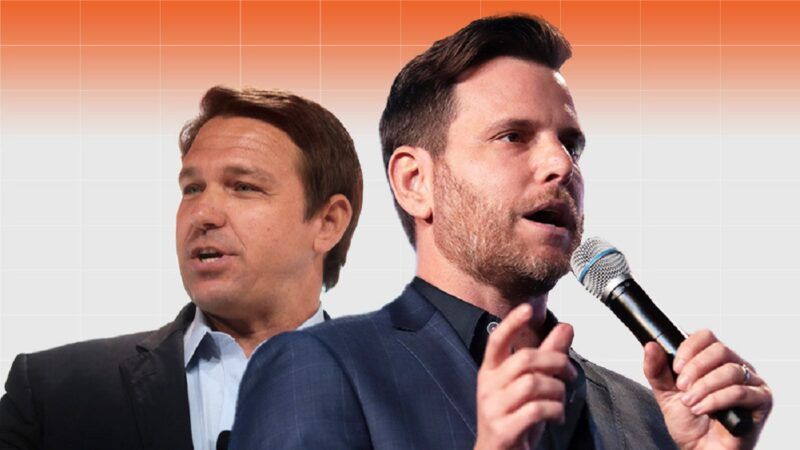 (Lex Villena, Reason, Gage Skidmore)
This is the audio version of The Reason Livestream, which takes place every Thursday at 1 p.m. Eastern.
The guest on this week's livestream was Dave Rubin, the host of The Rubin Report. A self-described classical liberal, Dave talked with Reason about why he's supporting Florida Gov. Ron DeSantis for president. We cover a lot of ground, including DeSantis's highly controversial and very successful handling of COVID, his disturbing willingness to use the government to punish corporations that cross him, and why Rubin has soured on Donald Trump, who he supported in 2016 and 2020.
Today's sponsors:
BetterHelp. When you're at your best, you can do great things. But sometimes life gets you bogged down, and you may feel overwhelmed or like you're not showing up in the way that you want to. Working with a therapist can help you get closer to the best version of you—because when you feel empowered, you're more prepared to take on everything life throws at you. If you're thinking of giving therapy a try, BetterHelp is a great option. It's convenient, flexible, affordable, and entirely online. Just fill out a brief questionnaire to get matched with a licensed therapist, and switch therapists anytime for no additional charge. If you want to live a more empowered life, therapy can get you there. Visit BetterHelp.com/TRI today to get 10 percent off your first month.
The Reason Speakeasy. The Reason Speakeasy is a monthly, unscripted conversation in New York City with outspoken defenders of free thinking and heterodoxy. It doubles as a live taping of The Reason Interview podcast and always provides a great evening of camaraderie and conversation about cutting-edge topics and ideas. On June 5, Nick Gillespie talks with Fox News contributor Kat Timpf about her best-selling book, You Can't Joke About That: Why Everything Is Funny, Nothing Is Sacred, and We're All in This Together. Tickets are $10 and include beer, wine, soda, food, and plenty of time to talk about politics, culture, and ideas in one of the coolest settings in midtown Manhattan. For details, go here.