Deirdre McCloskey: 'What We Want Is a Nonslave Society'
The economic historian and Magatte Wade, Alex Gladstein, Mohamad Machine-Chian, Tony Woodlief, and Tom Palmer are challenging authoritarians everywhere.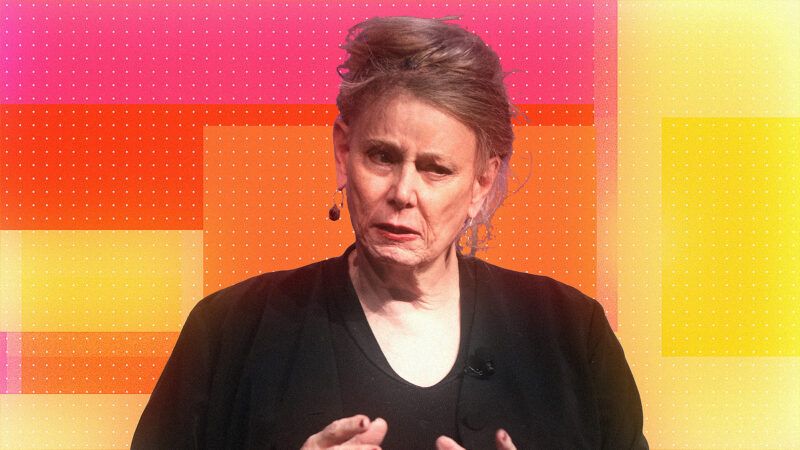 (Gage Skidmore/Lex Villena/Reason)
"What we want is a nonslave society, a society without masters," the economic historian Deirdre McCloskey told me late last year at the annual Liberty Forum conference of the Atlas Network, a group founded in 1981 by British businessman Antony Fisher. The Atlas Network supports nonprofits around the globe that fight against authoritarianism and push for free markets, the rule of law, and self-determination. McCloskey was one of a half-dozen participants I spoke with, and she was explaining the end goal of classical liberalism.
Strolling through the conference, which was held in a midtown Manhattan hotel, was like attending a great music festival. People from dozens of different countries and organizations were strategizing and planning on how best to defeat new threats to freedom while keeping and expanding the political, economic, and cultural gains we've made over the past decades.
These are uncertain times—many human rights activists agree that "tyranny is on the rise"—and the vibe at the conference was a mix of deep anxiety and upbeat commitment to empowering individuals in developing and advanced countries alike.
What follows are short conversations I had with McCloskey—whose acclaimed body of work documents the role of property rights, markets, and pluralism in lifting living standards (and whose interview begins at the 0:17:05 mark)—and five other people, including:
I talked with each of them about what they do and whether they're optimistic about the future.
Today's sponsors:
The Reason Roundtable Live in New York City! For the first time ever, Katherine Mangu-Ward, Nick Gillespie, Peter Suderman, and Matt Welch will tape live and unfiltered in New York, a city that is arguably the most hostile place in the country when it comes to taxes and regulation and arguably the most welcoming when it comes to living however the hell you want—a paradox that urban anarchists and minimal-government types can both savor and argue about. Come out on Tuesday, April 25 to the historic Village Underground. Tickets are $25 and must be purchased online.
The Reason Speakeasy. The Reason Speakeasy is a live, monthly, unscripted conversation with outspoken defenders of free thinking and heterodoxy. It doubles as a taping of The Reason Interview podcast. The next one is in New York City on Monday, April 3, when Nick Gillespie interviews University of San Diego philosopher Matt Zwolinski and Heterodox Academy President John Tomasi about their new book, The Individualists: Radicals, Reactionaries, and the Struggle for the Soul of Libertarianism. Doors open at 6 p.m. Eastern. Tickets are $10 and include beer, wine, soft drinks, and appetizers. It's always a great evening of camaraderie and conversation, so come on out. For more details and to buy tickets, go here.