Canceling the Cancel Culture Deniers
If everything is cancel culture, nothing is.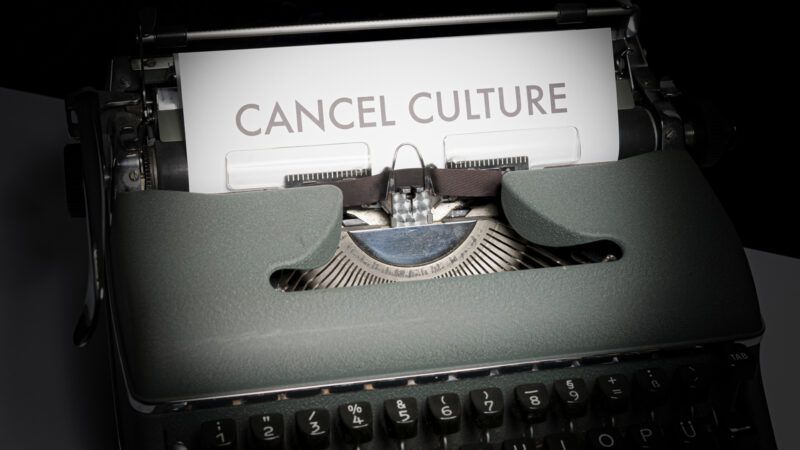 (Markus Winkler/Flickr, CC0 1.0 Universal License)
In the latest Reason Roundtable, editors Matt Welch, Peter Suderman, Katherine Mangu-Ward, and Nick Gillespie discuss a recent editorial in The New York Times and a wave of laws regulating school curriculums.
1:42: The New York Times' editorial on the state of free speech in America.
24:47: Lawmakers trying to ban certain content from being taught in schools.
31:56: Weekly listener question: Who do you think was the best postwar president? P.S. Is the Western the ultimate libertarian genre?
This week's links:
Send your questions to roundtable@reason.com. Be sure to include your social media handle and the correct pronunciation of your name.
Today's sponsors:
Did you know opening a charitable investment account is as simple as opening a brokerage or checking account? More Americans are discovering a financial tool known as a donor-advised fund, and are using the account to maximize potential tax benefits and give to the causes they love.

DonorsTrust is unique. It serves charitable givers who love our Constitution and the freedoms it protects. It's the oldest and largest donor-advised-fund provider committed to those principles. 

That's why more and more people are starting new funds or even moving their charitable dollars from the big national donor-advised funds. 

Do you want to partner with an organization that honors your values, helps streamline and grow your impact and also connects you with charities promoting individual freedom, personal responsibility and free markets? 

If so, visit

www.donorstrust.org/reason

 to download our prospectus and discover whether a donor-advised fund with DonorsTrust is right for you.

F

ind out how you can make a greater impact with your giving.

You may not be feeling down and out and depressed, or like you're at a total
loss. But if your stress is high, if your temper is shorter than usual, or even if you're starting to feel strain in any of your relationships, you could probably use the chance to unload the stress and get it out. Talk to someone who's completely unbiased about your life. Someone who isn't going to judge you or take sides on anything. When there are things you can't tell anyone, or feel like you can't unload to family and friends, you need to unload it, and that's what therapy can be. BetterHelp is customized online therapy that offers video, phone, and even live chat sessions with your therapist, so you don't have to see anyone on camera if you don't want to. It's much more affordable than in-person therapy, and you can start communicating with your therapist in under 48 hours. Unload the stressors and get some unbiased feedback: You'd be pretty surprised at what you might gain from it. See if it's for you. This podcast is sponsored by BetterHelp, and The Reason Roundtable listeners get 10 percent off their first month at BetterHelp.com/roundtable.

Hey, New Yorkers! Are you sick and tired of cancel culture and thought police? Are you looking for live, unfettered conversations with maverick thinkers?

Then come out on Monday, April 4, to see a live taping of The Reason Interview With Nick Gillespie featuring Columbia neuroscientist Carl Hart, author of Drug Use for Grown-Ups: Chasing Liberty in the Land of Fear. Doors open at 6 p.m. at Caveat Theater and Bar, 21-A Clinton Street in Manhattan's Lower East Side. Tickets cost $10. In an age when the drug war is being challenged like never before, Carl Hart is breaking bold new ground on how we think about drugs and individual freedom, even copping to his own recreational use of heroin. "I do not have a drug-use problem," he declares. "Never have…I pay my taxes, serve as a volunteer in my community…and contribute to the global community as an informed and engaged citizen." Reason's own Nick Gillespie will talk with him about that and his pathbreaking research on addiction, how he turned from an ardent supporter of the drug war to one of its leading critics, elitism within the legalization movement, and how he talks with his kids and students about responsible drug use. Go to reason.com/events for details.
Audio production by Ian Keyser
Assistant production by Adam Czarnecki
Music: "Angeline," by The Brothers Steve
---