Welcome to the Busing Election!
What the backward-looking Democratic debate tells us about contemporary education policy and woke politics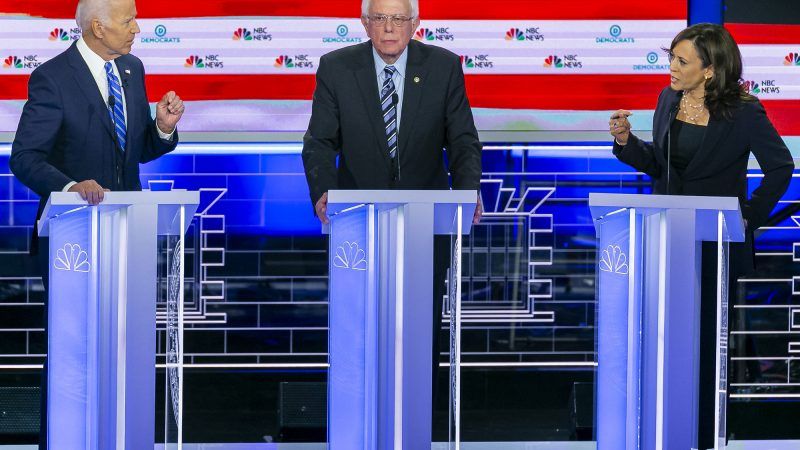 Who had school busing in the betting pool for poll-moving Democratic presidential debate controversies? And yet here we are.
Well, if it's racial discord and school choice that you want to talk about, then that's exactly what you'll get on today's Editors' Roundtable edition of the Reason Podcast. Katherine Mangu-Ward, Nick Gillespie, Peter Suderman, and Matt Welch talk about their own personal histories with school integration, preferred remedies for helping disadvantaged students receive a better education, and what these debates mean for the modern Democratic Party.
Also under discussion today are shake-ups to the Beltway foreign policy consensus, the beating of Quillette writer Andy Ngo, whether it's healthy for restaurants to deny service to Trumpites, and why Yoko Ono was the most underrated Beatle.
Audio production by Ian Keyser.
'Forgiven not Forgotten' by Jahzzar is licensed under CC BY-SA 4.0
Relevant links from the show:
"Some Democrats Ditch Biden After First Round of 2020 Debates," by Elizabeth Nolan Brown
"Harris-Biden Busing Spat Shows Democrats Can't Have an Honest Conversation About Racial Issues," by Jacob Sullum
"Joe Biden Is Probably Running for President. He's Got a Lot of Baggage," by Christian Britschgi
"Booker Expresses Tepid Support for Charter Schools While Sanders Seeks To Stifle Them," by Billy Binion
"Teachers Union President Thinks You're a Racist if You Yank Your Kids from Their Crappy Schools," by Scott Shackford
"How to Fix 'One of the Most Segregated Public School Systems In the Nation,'" by Jim Epstein
"Charles Koch, George Soros Help Fund Think Tank Opposed To 'Endless War,'" by Nick Gillespie
"Antifa Mob Viciously Assaults Journalist Andy Ngo at Portland Rally," by Robby Soave
"A Social Media Platform Has Banned Support of Trump," by Katrina Gulliver
---