Does Middle East Peace Require a Two-State Solution or a Palestinian Defeat? A Debate
Should Israel negotiate with Hamas and Fatah, or are they unwavering enemies in a protracted struggle?
"To resolve the Israeli-Palestinian conflict, Israel must first achieve defeat of the Palestinian movement."
That was the topic of a debated hosted by the Soho Forum on March 18, 2019. It was an Oxford-style debate, in which the audience votes on the resolution at the beginning and end of the event, and the side that gains the most ground is victorious.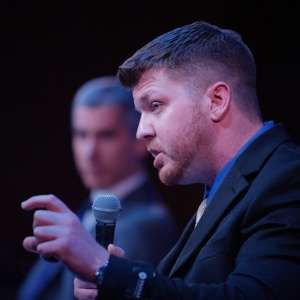 For the affirmative, Elan Journo, a fellow and director of policy research at the Ayn Rand Institute, argued that the Palestinian movement is irreedemably corrupt and must be defeated as a necessary condition to achieve peace. The P.L.O. and Hamas have a long history of inciting terrorism and suicide attacks, and they aremore concerned with destroying Israel than with winning justice and prosperity for the Palestinian people, he argued. The defeat of the movement will require a coalition of governments to wage a sustained campaign of economic, diplomatic, and military efforts.
Danny Sjursen, a U.S. Army strategist and former history instructor at West Point, rejected Journo's characterization of the Palestinian movement. He argued that most Palestinian organizations, including Hamas, are more willing than ever to make reasonable compromises for peace, accept a two-state solution, and at least tacitly recognize Israel's right to exist. The only way to achieve a lasting solution to the middle east crisis is to treat the Palestinian leadership as potential negotiating partners.
Sjursen prevailed by convincing about 14 percent of audience members to change their minds.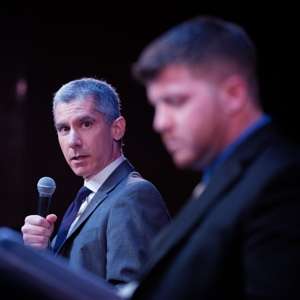 Journo's latest book is What Justice Demands: America and the Israeli-Palestinian Conflict. He is co-author of Failing to Confront Islamic Totalitarianism: From George W. Bush to Barack Obama and Beyond and editor of Winning the Unwinnable War: America's Self-Crippled Response to Islamic Totalitarianism.
Sjursen served tours with reconnaissance units in both Iraq and Afghanistan. He has written for The Nation and The American Conservative, he is the author of a memoir and critical analysis of the Iraq War, Ghostriders of Baghdad: Soldiers, Civilians, and the Myth of the Surge.
'Modum' by Kai Engel is licensed under CC BY 4.0
Subscribe to our YouTube channel.