Peter Bagge on Underground Comics, Immigration, and Being a Libertarian Artist: Podcast
The cartoonist talks about being libertarian, why Marvel is OK with "serums" but not drugs, and how comic books have evolved over the past 30 years.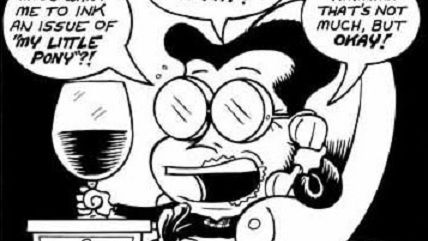 In the new issue of Reason (subscribe now for as little at $14.97 a year!), legendary comics artist Peter Bagge contributes "Immigration Grunts," a four-page cartoon essay about people trying to help refugees and asylum-seekers stuck in a federal immigration facility in Tacoma, Washington.
Bagge's career started in the 1970s and he is probably best-known as the creator of Hate, an underground comic that helped to define alternative culture in the 1990s. He has been drawing for Reason for almost 20 years (his Reason archive is online here and his 2013 collection of Reason work, Everybody Is Stupid Except for Me, is available at Amazon).
On today's Reason Podcast, I talk with Bagge about his new Reason essay, how he chooses topics to draw, and what it's like to be working in a medium that was once considered unserious but is now heralded as a legitimate art form. We also talk about his forthcoming graphic novel, Credo: The Rose Wilder Lane Story, which tells the life story of one of the founding figures of the modern libertarian movement who also helped craft her mother's stories about her frontier childhood into the beloved Little House on the Prairie books.
Bagge dishes on how his libertarian politics often put him at odds with his fellow cartoonists and reminsces about his apprenticeship to Robert Crumb, arguably the most-important underground-comics artist of them all. Crumb was a "wonderful mentor," says Bagge, who notes that the two don't agree on politics. "I once asked him, 'Bob, what are your politics?" says Bagge with a laugh, "and he said 'I believe in a communist dictatorship with me as the dictator.'" He also tells a fantastic story about how the higher-ups at Marvel balked at a Hulk comic he drew in which the title character took drugs until he called the substances serums instead.
Subscribe, rate, and review our podcast at iTunes.
Subscribe, rate, and review our podcast at Google.
Subscribe and listen at Spotify.
Listen via Stitcher by clicking below:
Listen at SoundCloud below:
Don't miss a single Reason Podcast! (Archive here.)