Sex-Trafficking Hysteria Is Eroding Privacy in Hotels, Airplanes, and More: Podcast
Elizabeth Nolan Brown talks about DHS's "Blue Campaign," which is pushing hotel and airline workers to call the feds if they suspect human trafficking.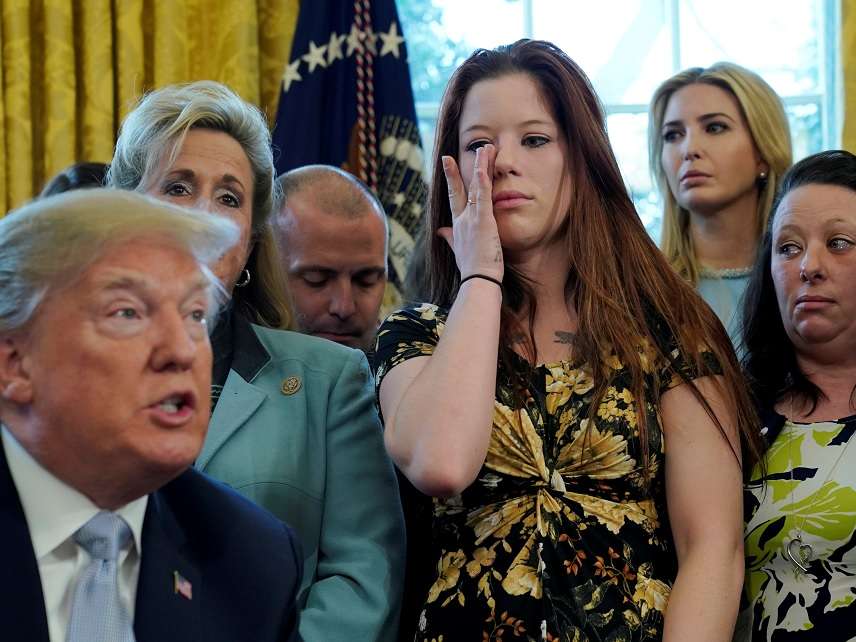 In her blockbuster exposé "Are You a Woman Traveling Alone?," Reason's Elizabeth Nolan Brown does a deep dive on the Department of Homeland Security "Blue Campaign." This campaign pushes the hospitality industry, air travel companies, and other businesses to call the feds if they suspect customers are involved in "trafficking"—an increasingly loose term that covers everything from slavery to traditional prostitution. The Marriott hotel chain, for instance, recently tweeted that all of its 750,000 employees worldwide are "being trained to help spot sex trafficking in our hotels."
For today's Reason Podcast, I talked with Brown about her story. More often than not, she writes, crackdowns on trafficking translate into rousting women sitting alone in bars and other common areas, snooping on fathers traveling with teenage daughters, or calling federally funded tip lines on guests who have "too many" condoms. In several recent high-profile cases involving airlines, "staff trained to 'spot traffickers' have harassed interracial couples and families. When people are asked to use gut instinct to stop real but rare horrors, relying on racial stereotypes and other biases tends to rule." Brown also documents the role of Polaris Project and ECPAT-USA, nonprofits that operate tip lines and provide training on spotting trafficking, in promoting these fears.
Whatever the intentions behind the Blue Campaign, and despite Donald Trump's promise in his State of the Union address to crack down on traffickers smuggling women across "wide-open areas" on the U.S.-Mexico border, there is no evidence that sexual slavery is on the rise in the United States. The result, Brown argues, is that consensual sex work is being redefined as trafficking and the privacy of all Americans is taking another hit.
Subscribe, rate, and review our podcast at iTunes. Listen at SoundCloud below:
Don't miss a single Reason Podcast! (Archive here.)