Government Caused Housing Segregation. Do We Need More Government to Fix the Problem?
The Manhattan Institute's Howard Husock debates Economic Policy Institute's Richard Rothstein at the Soho Forum.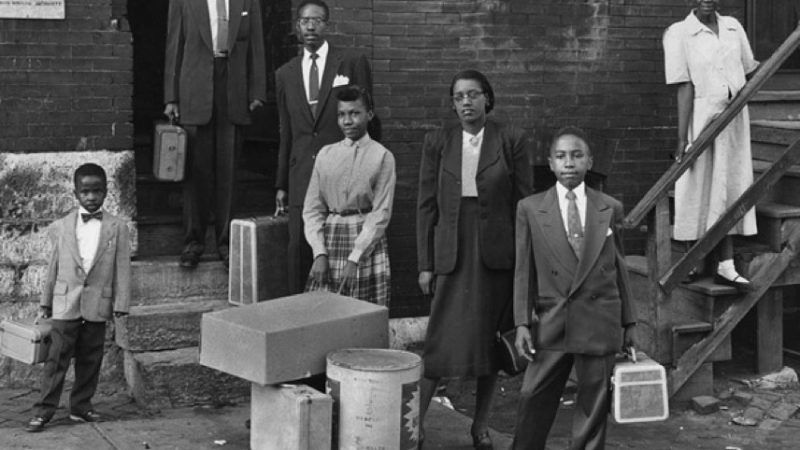 "Racial segregation in America was, to a large degree, engineered by policy makers in Washington," writes the Economic Policy Institute's Richard Rothstein in the February 2019 issue of Reason, in an article adapted from his book, The Color of Law: A Forgotten History of How our Government Segregated America (2017).
The Manhattan Institute's Howard Husock agrees, calling Rothstein's book an "admirable work" in a 2017 review. But the two part company over Rothstein's confidence "that government today is the appropriate instrument to effect housing integration" and his dismissal of the idea that "the private housing market, guided by rigorously enforced antidiscrimination laws, offers African-American buyers the surest route to wealth accumulation and upward mobility."
On January 14, 2019, the Soho Forum hosted a debate between Rothstein and Husock. The resolution read: "Since the federal government fostered housing segregation in the 20th century, the government should foster housing integration in the 21st."
The Soho Forum, which is partnered with the Reason Foundation, is a monthly series held at the SubCulture Theater in Manhattan's East Village. It hosts Oxford-style debates, in which the audience votes on the resolution at the beginning and end of the event, and the side that gains the most ground is victorious.
Husock prevailed by convincing over 13 percent of audience members to come over to his side.
Comedian Dave Smith, host of the podcast Part of the Problem, was the opening act.
Rothstein is also a fellow of the Thurgood Marshall Institute of the NAACP Legal Defense Fund, and is the author of Grading Education: Getting Accountability Right (2008), Class and Schools: Using Social, Economic and Educational Reform to Close the Black-White Achievement Gap (2004), and other titles.
Husock is the author of Philanthropy Under Fire (2013) and The Trillion-Dollar Housing Mistake: The Failure of American Housing Policy (2003). From 1987 through 2006, he was director of case studies in public policy and management at Harvard University's Kennedy School of Government.
Edited by Todd Krainin.
Subscribe to our YouTube channel.