Steve Bannon vs. the Tea Party Libertarians [Reason podcast]
Nick Gillespie, Katherine Mangu-Ward, and Matt Welch talk Trump, Ryan, gender-neutral pronouns, DJ Khaled, and more.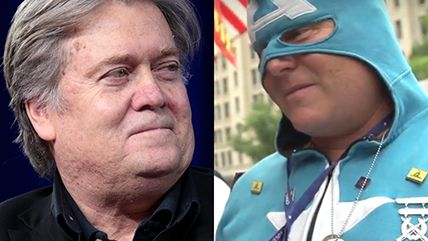 In American politics, "when it really looks like we're forever going to be in X, that's a pretty good sign to start betting on Y," says Reason's Matt Welch. After a period of wall-building and anti-immigrant fervor, in which "more people die in the desert," we can expect that the political pendulum will swing way back in the opposite direction.
On today's podcast, Nick Gillespie, Katherine Mangu-Ward, and Welch discuss Trump and immigration in the context of Robert Draper's masterful New York Times Magazine story on Steve Bannon, in which the presidential adviser slimes libertarians for "not living in the real world." The Reason crew also talks about what do about "the giant loogie" hanging off Paul Ryan's face after the collapse of the GOP's health care bill and the Speaker's failure to live up to the title of "wonk king;" whether the coming push for tax reform will go any better than the health care debacle; and the Associated Press' controversial decision to permit journalists to use "they" as a single, gender-neutral pronoun. Is it language evolution or devolution? What would rap super-producer DJ Khaled—famous for invoking the phrase they don't want you to…—think?
To wrap things up, Katherine Mangu-Ward explains the genesis of Reason magazine's buzz-generating new punctured-wall cover. Need to know how to import marijuana from Mexico via catapult? Subscribe!
Also subscribe, rate, and review our podcast at iTunes. Listen at SoundCloud below.
Don't miss a single Reason podcast! (Archive here.) Subscribe, rate, and review!
Subscribe to our YouTube channel.
Photo of Steve Bannon by Gage Skidmore (Creative Commons license) and of ersatz Captain America by Reason.