Nikki Haley's Crazy Plan to Require Verification on Social Media
The 2024 GOP candidate has proposed something blatantly unconstitutional.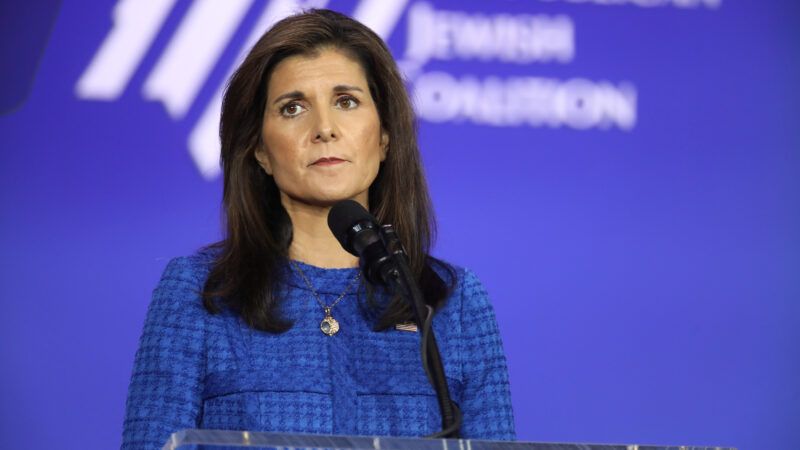 2024 GOP presidential candidate Nikki Haley wants to abolish anonymity on the internet.
In a recent appearance on Fox News, Haley said that if she were to become president, her second priority—after forcing the platforms to disclose their algorithms—would be to require name verification of all social media users.
"It's a national security threat," she said. "It gets rid of the Russian bots, the Iranian bots, and the Chinese bots. And then, you're going to get some civility, when people know their name is next to what they say."
NEW - Nikki Haley: "Every person on social media should be verified by their name" because of "national security." pic.twitter.com/bPTkYGKNin

— Disclose.tv (@disclosetv) November 14, 2023
Lest anyone wonder whether this clip of Haley was taken out of context, she reiterated the pledge in a statement to Washington Examiner correspondent Byron York. She also articulated the same plan in a recent podcast appearance; one of the other participants, who goes by the name Comfortably Smug on X, was notably perturbed.
Haley's enthusiasm for de-anonymizing social media is deeply misguided.
First of all, social media companies have the right to grant their users anonymity. The First Amendment prevents the federal government from meddling with the speech policies of private tech companies. If X or Facebook want to require users to verify themselves, they can do so—but the government can't force them. Merely stating that anonymity is a "national security threat" does not void the Constitution.
Moreover, anonymity is a cherished aspect of political speech, and rightly so. Sometimes, people have important truths to tell but for various reasons cannot risk attaching their names to their words. As noted by Gov. Ron DeSantis (R–Fla.) and Vivek Ramaswamy—two of Haley's rivals for the GOP nomination—anonymous speech was an integral part of the U.S.'s founding: James Madison published the Federalist Papers under a pseudonym, for instance.
You know who were anonymous writers back in the day? Alexander Hamilton, John Jay, and James Madison when they wrote the Federalist Papers.

They were not "national security threats," nor are the many conservative Americans across the country who exercise their Constitutional… https://t.co/YkAGMhUVCX

— Ron DeSantis (@RonDeSantis) November 15, 2023
Given that the authors of the Constitution made abundant use of anonymous speech, it should not be surprising that Haley's proposal is blatantly unconstitutional. It is also a terrible idea. Many Americans are concerned about online privacy; they don't want to force social media companies to collect their data on behalf of the federal government.