Florida Walks Back Order to Shut Down College Pro-Palestinian Groups
The change came after concerns were raised about "potential personal liability for university actors who deactivate the student registered organization," according to state officials.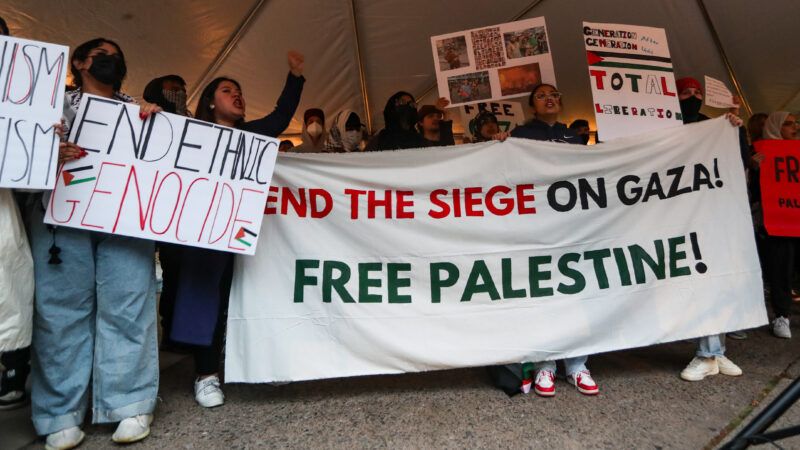 (Paul Weaver/Sipa USA/Newscom)
Last month, Florida Governor and 2024 Presidential candidate Ron DeSantis ordered the derecognition of Students for Justice in Palestine (SJP) chapters at public universities in Florida. 
The announcement followed the release of a "toolkit" from the National SJP, which characterized Hamas' October 7th attack against Israel as "resistance," and stated that Palestinian students are "PART of this movement, not in solidarity with this movement."
While the state claimed the shutdown was justified by a Florida law barring "material support" for terrorist organizations, First Amendment groups were quick to point out that cracking down on pro-Palestine campus activity is illegal, even when student organizations express support for the actions of terrorist organizations like Hamas.
"The government cannot force public colleges to derecognize Students for Justice in Palestine chapters," wrote the Foundation for Individual Rights and Expression (FIRE), a First Amendment nonprofit in an October press release. "This directive is a dangerous — and unconstitutional — threat to free speech. If it goes unchallenged, no one's political beliefs will be safe from government suppression."
Now it seems that Florida is thinking twice before cracking down on campus pro-Palestine activism. 
Last Thursday, Ray Rodrigues, the Chancellor of the State University System of Florida announced that the system is holding off plans to forcibly shut down SJP chapters at the University of Florida and the University of South Florida, where the student group is active.
However, it doesn't seem like Florida is pausing attempts to crack down on First Amendment-protected speech because of a change of heart. Instead, Rodrigues said last week that he would hold off attempts to kick SJP chapters off-campus out of the concerns "about potential personal liability for university actors who deactivate the student registered organization," seemingly a reference to university officials who might end up facing civil rights lawsuits from SJP chapters.
Further, Rodrigues announced that he would attempt to compel an "affirmation" from the targeted SJP chapters, confirming that "they reject violence. That they reject they are a part of the Hamas movement. And that they will follow the law."
"While universities can ask all student groups to commit to following the law, they cannot force them to expressly renounce a particular ideology or otherwise express views they don't actually hold," wrote FIRE in a Friday press release. "Students shouldn't be compelled to disavow certain disfavored views in exchange for funding and recognition. Compelling speech violates the First Amendment."
These two Florida SJP chapters aren't the only pro-Palestine activist groups that have recently faced suppression. Last week, Columbia University suspended its SJP chapter, along with Jewish Voice for Peace, another pro-Palestine student group. A statement from the university cited the groups' repeated violations of "university policies related to holding campus events, culminating in an unauthorized event Thursday afternoon that proceeded despite warnings and included threatening rhetoric and intimidation."