Companies Seeking CHIPS Act Subsidies Are Encouraged To Double-Dip
At least a dozen states have beefed up targeted incentives to coincide with handouts from the Commerce Department.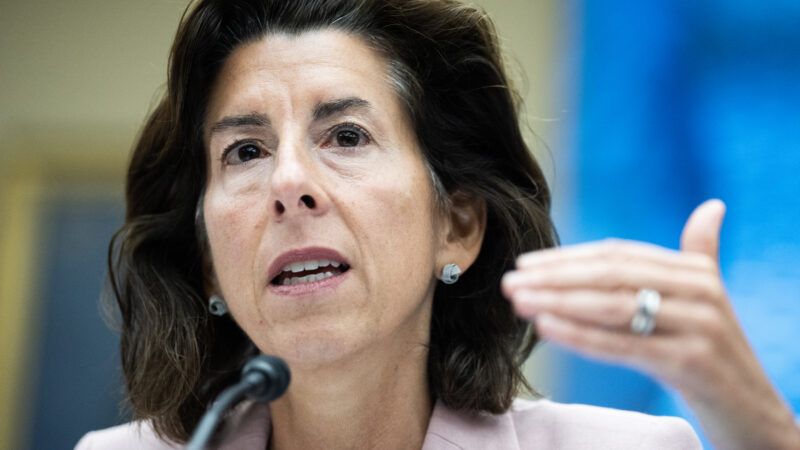 (Tom Williams/CQ Roll Call/Newscom)
On September 19, Commerce Secretary Gina Raimondo appeared before the House Committee on Science, Space, and Technology to discuss the CHIPS and Science Act, which had been law for just over a year. The CHIPS Act apportioned as much as $76 billion in tax credits and subsidies for semiconductor manufacturers to build fabrication plants (known as "fabs") in the U.S. rather than overseas.
Raimondo noted that her department controls $50 billion in CHIPS Act funding, including "$39 billion in semiconductor incentives and $11 billion in research and development." The $39 billion "will bring semiconductor manufacturing back to the United States," she said, "but a robust R&D ecosystem will keep it here."
But within Raimondo's testimony, she revealed an uncomfortable tidbit: Companies begging for public dollars are being encouraged to double-dip.
Rep. Max Miller (R–Ohio) asked Raimondo about the difficulties of filling certain job postings. While they both agreed on the need to focus on job training and schools, Miller noted that he preferred solutions that come from "the state and local level" rather than "more federal legislation that nobody needs, in my opinion."
Raimondo responded, "As part of the incentive program, the CHIPS money we're putting out, we are requiring the applicant to come to us with money from the state, including work force. So, we're putting the burden on the company" to "find out what incentives" state and local governments are offering and "put it in the application" for CHIPS Act funds.
The exchange, first reported by Pat Garofalo, director of state and local policy at the American Economic Liberties Project, in his Boondoggle newsletter, is illuminating—and wrong, depending on the interpretation.
As Greg LeRoy, executive director of the subsidy watchdog group Good Jobs First, wrote in April, the CHIPS Act "does not require massive or matching subsidies from states or localities." While Commerce Department guidelines say that applying companies "must be offered a state or local government incentive," it recommends prioritizing those that are "capable of creating spillover benefits that improve regional economic resilience and support a robust semiconductor ecosystem, beyond assisting a single company."
"Translation: states and localities should focus on making themselves 'sticky' for tech employers by investing in cost-effective public goods and services that generate the biggest payoffs," LeRoy wrote. "That's the opposite of risky 'megadeals' and a smart way to ensure the broadest possible community benefits."
Perhaps, given her use of the term work force, this is what Raimondo meant. But as Garofalo pointed out, according to the Tax Foundation, at least 12 states have so far introduced or expanded semiconductor subsidy programs since the CHIPS Act's passage, seemingly to help companies qualify. And unlike the "spillover benefits" model that Commerce Department guidance recommended, the programs largely consist of ineffectual targeted incentives for individual companies.