New Mexico's Governor Suspends the Right To Bear Arms, Saying the Second Amendment Is Not 'Absolute'
Local police officials are leery of enforcing Michelle Lujan Grisham's ban on public carry, which gun rights groups have challenged in federal court.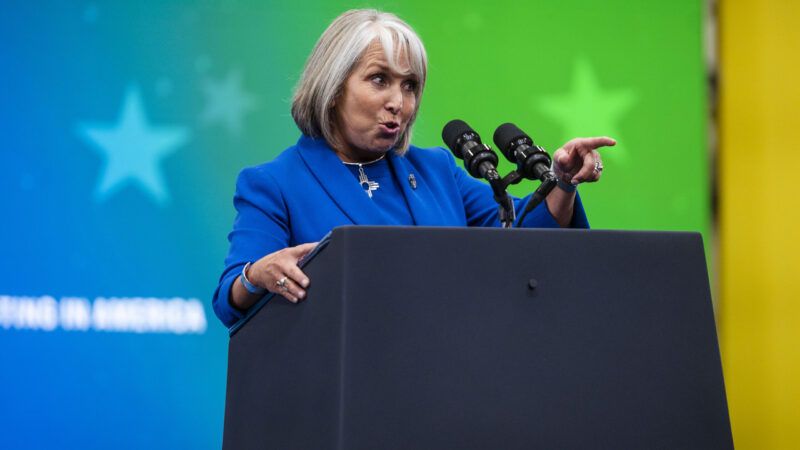 New Mexico Gov. Michelle Lujan Grisham on Friday issued a "public health emergency order" that purportedly suspends the right to bear arms in Albuquerque and surrounding Bernalillo County. The order, which lasts for 30 days but can be renewed, applies to concealed or open carry of firearms on public property, with exceptions for police officers and security guards. Grisham said "citizens with permits to carry firearms are free to possess their weapons on private property (such as at a gun range or gun store), provided they transport the firearm in a locked box, use a trigger lock, or [use] some other mechanism that renders the gun incapable of being fired."
The order covers "cities or counties averaging 1,000 or more violent crimes per 100,000 residents per year since 2021," a criterion currently met only by Bernalillo County. Grisham, a Democrat, says the carry ban is a necessary response to "recent shooting deaths of a thirteen-year-old girl on July 28, a five-year-old girl on August 14, and an eleven-year-old boy on September 6, as well as two mass shootings this year." At a press conference on Friday, she conceded that the order was apt to be challenged in court as a violation of the Second Amendment but added, "I welcome the debate and the fight about making New Mexicans safer."
Yesterday the National Association for Gun Rights, together with a member who lives in Albuquerque, sued Grisham in federal court, arguing that her order flies in the face of the U.S. Supreme Court's 2022 ruling in New York State Rifle & Pistol Association v. Bruen. That decision overturned New York's sweeping limits on public possession of firearms and established a constitutional test for gun restrictions, which the Court said must be "consistent with this Nation's historical tradition of firearm regulation." Gun Owners of America, along with another Bernalillo County resident, filed a similar federal lawsuit against Grisham on Saturday. Both groups argue that Grisham's order plainly fails the Bruen test.
Under Bruen, the first lawsuit says, the carry ban is "presumptively unconstitutional" because "the plain text of the Second Amendment" covers public possession of guns for self-defense. And the state "is unable to rebut this presumption, because the regulation is not consistent with Nation's historical tradition of firearm regulation." The order "clearly and unambiguously violate[s] the Second Amendment's protection of the right to 'bear arms' that 'shall not be infringed,'" the second lawsuit says, and "deprive[s] law-abiding gun owners of their only means of self-defense from criminal attack while in public."
The New Mexico Shooting Sports Association, a chapter of the National Rifle Association, said it planned to join the two other groups in challenging Grisham's order. Grisham said state police would be charged with enforcing the order, which prescribes a fine of up to $5,000 per violation. The Associated Press reports that Albuquerque Police Chief Harold Medina "said he won't enforce it, and Bernalillo County Sheriff John Allen said he's uneasy about it because it raises too many questions about constitutional rights." In a statement issued on Friday, Allen said "the temporary ban challenges the foundation of our Constitution, which I swore an oath to uphold."
Grisham seems unfazed by those concerns. "The purpose is to try to create a cooling off period while we figure out how we can better address public safety and gun violence," she said at Friday's press conference. "There are gonna be a lot of questions about whether or not we think we have the legal rights to do that. I am sure…there will be a legal challenge, and I can't tell you that we [will] win it, given all of the different challenges to gun violence laws and restrictions on individual firearm access and control….I think it's time to talk about the absoluteness of the discussion and the current court actions that suggest that the Second Amendment is an absolute right."
When a reporter asked Grisham whether her order was consistent with her oath to uphold the Constitution, she reiterated that "no constitutional right, in my view, including my oath, is intended to be absolute." And "this emergency," she claimed, empowers her to restrict Second Amendment rights—an argument that could be deployed to override those rights in any jurisdiction plagued by gun violence.
"I have emergency powers," Grisham told The New York Times. "Gun violence is an epidemic. Therefore, it's an emergency." During the press conference, she also indicated that she probably would extend the order, which she said would be lifted only if "the epidemic" of gun violence ended after 30 days, adding, "I bet it's not over in 30 days."
Historically, George Mason law professor Robert Leider told the Times, orders like this one have been issued "when you have public disorders or other states of emergency, but most states of emergency usually involve something more acute." Leider was skeptical that the ban would be upheld in court, saying, "I'm not aware of any precedent for this just for general criminal wrongdoing."
State Reps. Stefani Lord (R–Sandia Park) and John Block (R–Alamogordo) on Saturday said Grisham's order was grounds for impeachment. "This emergency order violates the Governor's oath to protect and defend the rights of New Mexicans," they said in a press release. "The legislature has a duty to intervene when the government is overstepping its boundaries, and Governor Grisham's order and comments disqualify her from continuing her tenure as Governor." Lord called the order "an abhorrent attempt at imposing a radical, progressive agenda on an unwilling populace."
In addition to raising obvious constitutional concerns, Grisham's order does not seem like a logical response to the problem she claims to be addressing. Consider the details of the crimes that Grisham cited when she issued the order.
The 13-year-old girl that Grisham mentioned, Amber Archuleta, was killed by a 14-year-old friend in Questa, a small town in Taos County, last July. The 5-year-old girl, Galilea Samaniego, was killed in a drive-by shooting in Albuquerque last month. The 11-year-old boy, Froylan Villegas, died after an enraged driver fired on the car in which he was riding as he and his family left an Albuquerque Isotopes baseball game last week.
One of the two mass shootings that Grisham mentioned was carried out by an 18-year-old high school student, who killed three people in Farmington, a city in San Juan County, on May 15. The other shooting, which killed three people in Red River, a town in Taos County, on May 28, "stemmed from a confrontation among gang members," according to the ABC affiliate in Albuquerque.
Note that only two of these crimes happened in Bernalillo County, where Grisham's order applies. And only one of them—the road rage incident—might have been affected by the ban on public carry. That's assuming the perpetrator, who is still at large, would have obeyed Grisham's order had it been in place at the time.
"Rather than addressing crime at its core," Lord complains, "Governor Grisham is restricting the rights of law-abiding gun owners." When a reporter asked if Grisham "really think[s] that criminals are gonna hear this message and not carry a gun in Albuquerque on the streets for 30 days," Grisham said, "No." So "even Grisham," Lord says, "believes this emergency order won't [stop] criminals from carrying or using weapons," which suggests the order "will only put New Mexicans in danger as they won't be able to defend themselves against violent crime."