Biden Aims To Give Federal Workers Largest Pay Increase in 40 Years
The White House plans to boost federal workers' pay by 5.2 percent, the largest increase since 1980.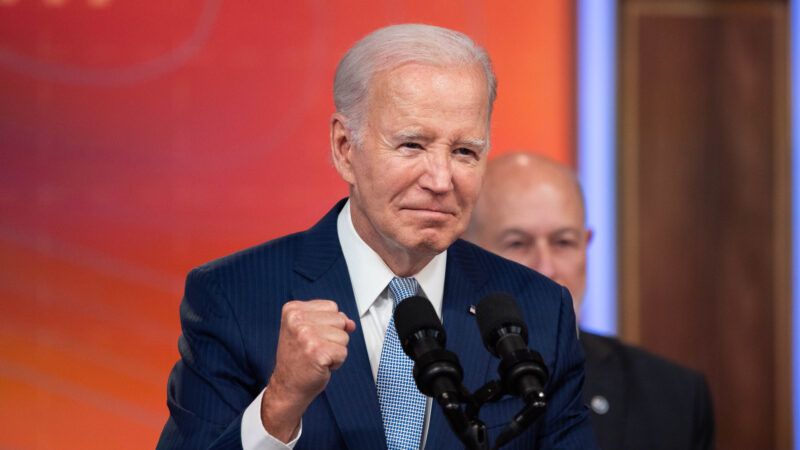 (Annabelle Gordon - CNP/CNP / Polaris/Newscom)
Federal employees are set to receive the largest pay increase in four decades, courtesy of President Joe Biden.
In a letter sent to Congress last week, Biden called for a 5.2 percent overall pay increase for federal workers—the same increase that he'd included in his budget plan that was sent to Congress earlier this year. Biden said the huge pay increase was necessary so the federal government could "attract, recruit, and retain a skilled workforce with fair compensation in order to keep our government running, deliver services, and meet our nation's challenges today and tomorrow."
Technically, the pay increase will be divided into two separate categories. Federal workers would receive a 4.7 percent across-the-board pay raise, combined with a 0.5 percent bump in so-called locality pay. Because the amount of a federal employee's locality pay varies from place to place based on the cost of living, the actual pay increases might not be the same for all workers.
It would be the biggest increase since federal workers received a 9.1 percent pay raise in 1980 during the waning days of the Carter administration, according to Government Executive, a trade publication for federal employees. As Government Executive notes, some members of Congress have been pushing for an even larger increase in federal employee compensation: A group of Democrats introduced a bill earlier this year to boost federal workers' wages by 8.7 percent.
In fairness, private-sector wages have been rising steadily in recent months too—wages were up 4.6 percent for the 12 months ending in June, according to the Bureau of Labor Statistics. In recent months, pay increases have even started to outpace inflation, which has cooled after running at rates not seen since the 1980s.
Still, Biden's decision to push for higher federal wages is a bit awkward at the current moment. One obvious reason is that the federal government ran a budget deficit of more than $1.6 trillion during the first 10 months of the current fiscal year. The deficit is already significantly larger than last year, and is on pace to keep growing. There probably aren't many businesses that would be handing out pay raises during a year where they were that deep in the red—but, hey, it's a lot easier to do that when you're dealing with other people's money.
For that matter, how many private-sector workers would get an automatic pay increase for not even bothering to show up? As of March, the Government Accountability Office found daily office occupancy rates of less than 25 percent across 17 federal agencies.
Certainly, some federal workers (like many in the private sector) can do their jobs remotely, but it's becoming clear that many are overusing the privilege. Last month, Biden's chief of staff called on top federal officials to "aggressively execute" plans to get federal workers back into the office, Axios reported at the time.
Many federal workers don't seem to be taking the directives well. Jesus Soriano, a program director at the National Science Foundation (NSF), told NPR this week that a new mandate requiring NSF workers to spend at least eight days per month in the office was "heartbreaking." Soriano says forcing federal workers back into the office will limit which experts agencies like the NSF can recruit.
That seems fine. If workers can earn better pay and more flexibility in the private sector, then they should put their talents to use doing something other than working for the government.
And for federal workers who are upset about having to shuffle into the office a few more times each month, at least there will be even fatter paychecks to ease the blow.