EPA Administrator Scott Pruitt Has Four Government Email Addresses, Which Is Three More Than He Needs
Unlike everyone else, Scott Pruitt apparently can't get enough email.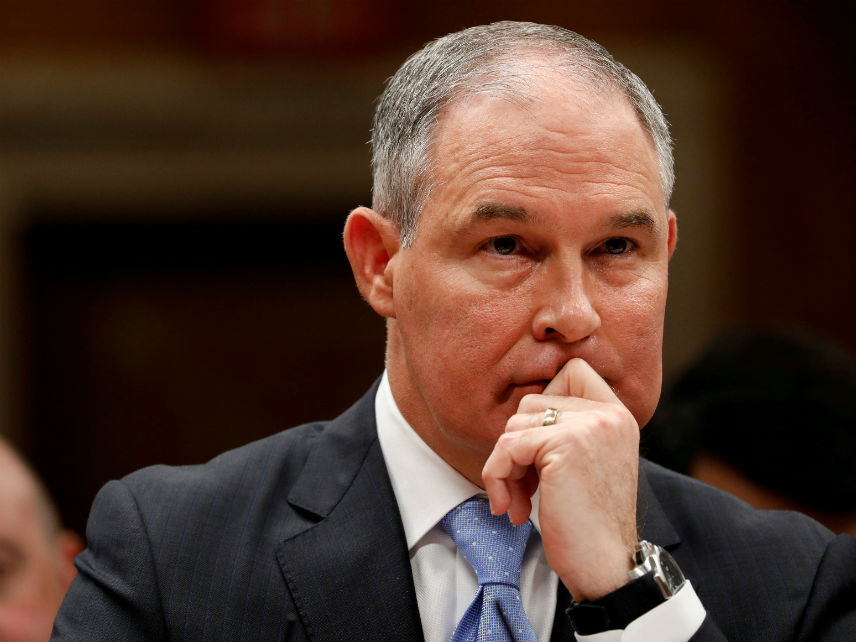 Environmental Protection Agency Administrator Scott Pruitt reportedly has four different government email addresses that he uses, raising concerns over whether the EPA is properly complying with Fredom of Information Act (FOIA) requests for his communications.
The Washington Post reported today that Democrat Sens. Jeff Merkley (D-Ore.) and Tom Carper (D-Del.) sent a letter requesting the EPA Inspector General investigate Pruitt's email habits.
"We write to share our deep concern over Administrator Pruitt's reported use of multiple email accounts," the two senators wrote. "It is imperative that there be an investigation into whether the agency has properly searched these email addresses for responsive documents in response to Freedom of Information Act (FOIA) requests."
According to the Democrat senators and an EPA staffer, Pruitt's various noms de internet include his official address, tpruitt.scott@epa.gov, as well as three others: esp7@epa.gov, adm14pruitt@epa.gov and sooners7@epa.gov.
It's common, although not uncontroversial, for senior administration officials to have a secret government email address in addition to their public ones. The justification, every administration since the Clinton administration has said, is to be able to conduct regular work without getting buried under the thousands of emails they receive daily in their public inboxes.
For example, former Obama EPA Administrator Lisa Jackson used an email address under the alias "Richard Windsor," which remained secret until it was dug up through a FOIA request.
Republicans on the House Oversight Committee held numerous hearings into Jackson's and other EPA officials' use of private and secret email. The EPA Inspector General launched an investigation as well, although it concluded in 2013 that there was "no evidence that the EPA used, promoted or encouraged the use of private 'non-governmental' email accounts to circumvent records management."
Jackson's conduct nevertheless drew criticism for open government groups, such as the liberal-leaning Citizens for Responsibility and Ethics in Washington (CREW).
"The fact that others may have engaged in such conduct before her tenure is no justification. 'Everybody does it' is an excuse for kindergarteners, not cabinet officials," CREW Executive Director Melanie Sloan said in a statement at the time.
Where this gets thorny is the issue of Freedom of Information Act compliance. Government FOIA officers should be searching these alternate email addresses when responding to FOIA requests, but how are watchdog groups and public records requesters supposed to know they are, if the existence of alternate or private email addresses isn't revealed?
But the practice continued, despite the assurances from White House press secretaries that the Obama administration was indeed "the most transparent administration in history." Former Attorney General Loretta Lynch and former Secretary of Health and Human Services Kathleen Sebelius also used secret government email addresses.
Pruitt's case, though, raises even more questions. What purpose would having three alternate government emails serve? One can only imagine, and nothing particularly good springs to mind. If Pruitt is using his myriad email addresses to talk shop with industry officials he is supposed to regulating, and EPA FOIA officials aren't searching those addresses, that would be, in a word, bad.
As I've written before, FOIA compliance and federal records management is a dry subject, but it's at the heart of critical news investigations every day, both at the local and national level.
Hillary Clinton was pilloried for her mystifying decision to use a private email server as Secretary of State. One might have ever-so-briefly thought that the Trump administration, which swept into power in part because of Clinton's email woes, might have been more disciplined or at least self-aware about its duty to follow the Federal Records Act, but that has not been the case.
Even if these are not deliberate attempts to hide government business from prying eyes, they give the unavoidable impression of unseemliness.
During one House Oversight hearing where Jackson testified, she was asked about an email from her "Windsor" account to a Siemens lobbyist, asking the lobbyist to contact her through her home email. Jackson said they were old friends.
"I believe personal friends should use personal emails," she said.
Pruitt and other government officials may feel the same way, but the honor code is no way to enforce transparency laws, especially when the public has no confidence in their honor.