Review: Birth/Rebirth
Baby come back.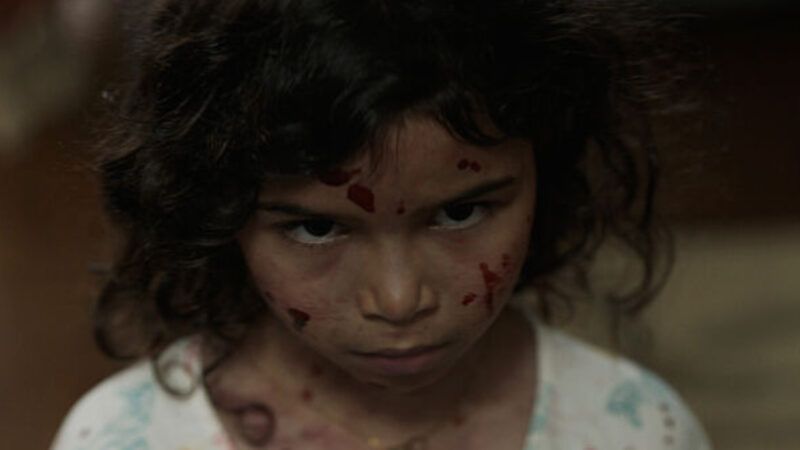 Like Barbie—although, let me hasten to add, not a lot like Barbie—the new neo-
monster movie Birth/Rebirth has been created in the shape of one arresting
vision: that of director Laura Moss*, whose debut feature this is. And Moss turns
out to be a natural, drenching the picture with darkness and dread, and spiking it
with jolts of bloody body horror. There's not a lot of pink in this movie, but there's
plenty of red.
The story, which pokes around in the area of Frankenstein, is the work of Moss and Brendan J. O'Brien, a longtime movie tech specialist (he spent years as a boom operator), and it affords its stars, Marin Ireland (Hell or High Water) and Judy Reyes (Smile), an opportunity—which they seize—to deliver uncommonly intense performances.
Ireland is Rose Casper, a pathologist in a New York hospital. Rose spends her days running her professional eye over the unending series of dead bodies that are wheeled in and out of her lab. She is a cold, emotionless person who's happier in the company of corpses than of humans who have yet to become deceased.
One day a gurney comes in with the body of a little girl on it, a victim of bacterial meningitis. Rose goes right to work, and now we learn that she has a gruesome sideline—a program of outside experiments through which she's seeking to restore life to the dead. She's had some success in this, but not enough, so her quest continues.
A nurse named Celie Morales (Reyes)—the mother of the dead girl, whose name was Lila (A.J. Lister)—learns about Rose's extracurricular activities and confronts her at her apartment. There, she finds her supposedly dead daughter hooked up to a battery of machines and now breathing. She also sees that Rose has a small pig waddling around in her home—a very special pet: "She died two months ago," Rose says.
Celie moves in with Rose and together they pursue Rose's goal of manipulating mortality. Some pretty awful things happen. Rose—a late-night predator always on the hunt for fresh genetic material for her experiments—lures a barroom drunk into a toilet stall to tap his supply of precious bodily fluid. Another male character—an obstetrician who halts the delivery of a baby to administer an unrequested episiotomy to the woman on whom he's operating—is dissuaded from performing this procedure by a disgusted Celie, the attending nurse.
As Rose continues her effort to keep Lila alive, and her supply of genetic matter dwindles perilously low, the cold-blooded doctor discovers a new source: a pregnant woman named Emily (Breeda Wool). Emily and her husband have been striving for years to have a baby, and Rose—as we know and Emily, of course, could never imagine—is the very last physician under whose knife she should go.
Ireland and Reyes give extraordinary performances. Ireland's Rose, with her dead eyes and deeply grim manner, is an unsettling figure, a woman whose obsession has drained her of human feeling. And Reyes's Celie—desperate to reclaim the life of her daughter—is tormented by the terrible things that doing so requires her to undertake. As these two move like cursed sleepwalkers through director Moss's bilious, green-hued environments, shadowed by Ariel Marx's exceptional score, it seems clear that there can be no happy ending to their story. Well, depending on what you mean by happy.
*CORRECTION: The original version of this article referred to Moss as "her." Moss prefers "they/them."