RIP Anchor Steam, the San Francisco Brew That Saved Craft Beer in America
Anchor Brewing was sunk by the same forces that former owner Fritz Maytag helped unleash by nurturing America's craft beer revolution.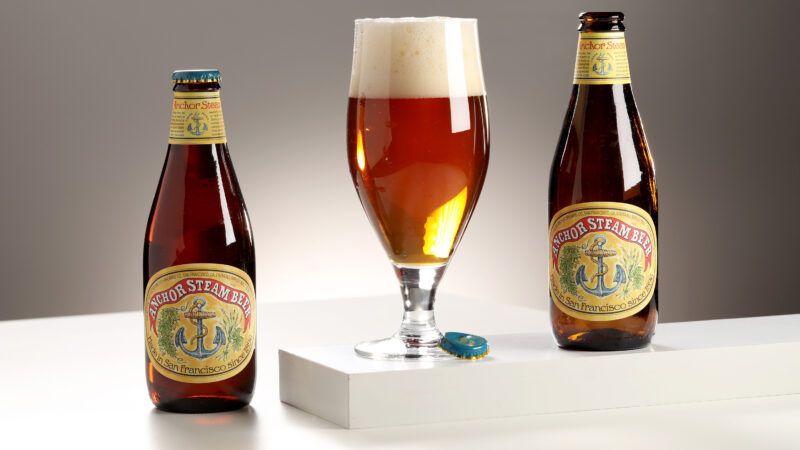 (Michael Tercha/TNS/Newscom)
The last time San Francisco's Anchor Brewing Company faced bankruptcy, a wealthy heir stepped in to save the brewery—and may have changed the course of the entire American beer industry in the process.
There may not be a similar reprieve this time. Anchor, originally founded in 1896, announced this week that it would be shutting down for good. "The impacts of the pandemic, inflation, especially in San Francisco, and a highly competitive market left the company with no option but to make this sad decision to cease operations," Sam Singer, a spokesman for the company, said in a statement.
The highly competitive craft beer market that might have played a role in Anchor's final demise, ironically, might not exist without the brewery, which survived San Francisco's devastating 1906 earthquake, Prohibition, and some of the darkest days of American beer history.
It survived the near-bout with bankruptcy in 1965 thanks to Fritz Maytag, the great-grandson of the founder of the Maytag Corporation, who bought a majority share in the brewery because he liked the beer, then set about making it better. In an era when macro-breweries making yellow, watery lagers dominated America's beer market, Anchor's flagship beer—Anchor Steam Beer, with its distinctive copper color and foggy flavors—certainly stood out.
"We went back to the most fundamental, traditional type of brewing philosophy," Maytag told Reason in a 2010 interview. Under his guidance, Anchor embraced a combination of traditional beer making "combined with modern food processing and equipment."
Anchor's best-known beer is a perfect illustration of that mixture. It's a modern take on a style of beer—known as "steam beer" because it is fermented at a higher temperature than most other types of beer—that was originally produced in the days before breweries had access to artificial refrigeration.
To gain acclaim for making a superior product that consumers enjoy is the goal of any businessman. To inspire others to do the same? That's what cements Anchor's (and Maytag's) place in the pantheon of American beer making.
By the mid-1970s, with Anchor's reputation and business growing on the West Coast, it became a hub for a new wave of brewers interested in experimenting with new styles of beer. Among those was Ken Grossman, who would go on to found the Sierra Nevada Brewing Company in 1980 and help kick off America's craft beer revolution.
"In the '60s and in the early '70s, I never dreamed that there would be any other little breweries like ours," Maytag told Reason in that 2010 interview. "Only later, to my amazement when some of the new little breweries sprang up did I come to the realization that what we had done was possible for others to do."
According to the Beer Association, an industry group, there were only 163 breweries in the country when Maytag saved Anchor from bankruptcy in 1965. By the early 1980s, there were fewer than 100. Today, there are over 9,000.
Maytag and Anchor kept alive the flame—a flame lit beneath a brew kettle, of course—of independent craft beer in America. It's perhaps a bit ironic that the company is now shutting down in part because of the robust competition in a market that it helped to energize.
As The New York Times notes, mid-level breweries like Anchor, which grew large enough to have a decent national footprint but remain smaller than the likes of Budweiser and Coors, are particularly vulnerable right now. They face competitive pressure from the larger breweries but are increasingly losing market share on the local side too, as smaller craft breweries continue to proliferate and attract new customers.
In that regard, the demise of Anchor Brewing is not a sad story, but something to be cheered: proof that creative destruction remains an indefatigable force.
"There's more creativity and more integrity and more variety in America than in the rest of the world combined," Maytag said in 2010, shortly before he sold the company to Japan-based Sapporo.
So raise a glass—there's still some iconic Anchor Steam Beer out there in the supply chains—and then pour one out for the end of a truly great entrepreneurial story.