FTC Investigates OpenAI Over Inaccurate Information From ChatGPT
Plus: Few Americans support full abortion bans, a win for cryptocurrency in Ripple case, and more...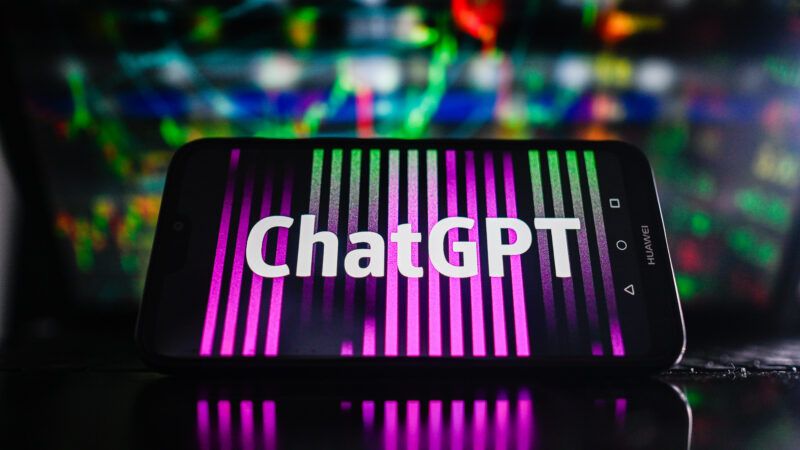 (Omar Marques/ZUMAPRESS/Newscom)
Fresh off another loss in court and a grilling from the House Judiciary Committee, the Federal Trade Commission (FTC) is blundering into yet another tech-panic boondoggle. The agency "has opened an expansive investigation into OpenAI, probing whether the maker of the popular ChatGPT bot has run afoul of consumer protection laws by putting personal reputations and data at risk," The Washington Post reported on Thursday.
The FTC has ordered OpenAI to turn over documents and records related to its artificial intelligence (A.I.) models. "The FTC will use information You provide in response…for the purpose of investigating violations of the laws the FTC enforces," notes the agency's 20-page demand letter.
It states that the subject of the investigation is whether OpenAI "has (1) engaged in unfair or deceptive privacy or data security practices or (2) engaged in unfair or deceptive practices relating to risks of harm to consumers, including reputational harm…and whether Commission action to obtain monetary relief would be in the public interest."
Specifically, the agency is probing whether a security incident last March in which "a bug in its systems allowed some users to see payment-related information, as well as some data from other users' chat history," somehow violated consumer protection laws, the Post reports, noting that "OpenAI said in a blog post that the number of users whose data was revealed to someone else was 'extremely low.'"
The FTC is also investigating whether ChatGPT sometimes returning inaccurate results is against federal law.
Of course, OpenAI doesn't claim that ChatGPT is perfect. The product is still in its infancy, and users should know to take its output with the proverbial grain of salt. The idea that it should be punished by federal regulators for this defies logic.
It could seriously chill innovation or the pace of exciting new technology being made public if tech companies must certify that their products never make mistakes before letting them see the light of day. Yet that's exactly what the FTC seems to be angling for here.
we're transparent about the limitations of our technology, especially when we fall short. and our capped-profits structure means we aren't incentivized to make unlimited returns.

— Sam Altman (@sama) July 13, 2023
The investigation is part of larger FTC and Biden administration hostility toward tech companies and FTC Chair Lina Khan's strategy of trying to create public policy rather than simply enforce it.
"The FTC has issued multiple warnings that existing consumer protection laws apply to AI, even as the administration and Congress struggle to outline new regulations," and Senate Majority Leader Chuck Schumer (D–N.Y.) says new legislation could take months, notes the Post. "The FTC's demands of OpenAI are the first indication of how it intends to enforce those warnings. If the FTC finds that a company violates consumer protection laws, it can levy fines or put a business under a consent decree, which can dictate how the company handles data."
"This latest FTC nastygram to a tech co (this one to OpenAI) reflects the short-term reality of #AI regulation in the US: We'll witness a lot of jawboning and regulation-by-intimidation through implicit threats of undefined action," tweeted Adam Thierer, an innovation policy analyst at the R Street Institute, explaining that by "nastygram" he means "a letter sent by a policymaker or agency that asks probing questions backed by implicit threats of undefined future regulatory action. It's a long-standing agency practice, but one that the FTC is using more regularly to influence firm decisions."
---
FREE MINDS
Few Americans support total abortion bans. Most U.S. adults think abortion should be legal at least through the early stages of pregnancy, according to a new Associated Press-NORC Center for Public Affairs Research poll. "Overall, about two-thirds of Americans say abortion should generally be legal, but only about a quarter say it should always be legal and only about 1 in 10 say it should always be illegal," reports the A.P.
The poll also delved into difficulty obtaining abortions after the Supreme Court struck down Roe v. Wade a little more than a year ago, and looked at public opinion in states that have since enacted bans:
The poll finds that 1 in 10 Americans say they know someone who has either been unable to get an abortion or who has had to travel to get one in the last year, since the Supreme Court overturned Roe v. Wade — and that this is especially common among young people, people of color and those living in states where abortion is banned at all stages of pregnancy.

Nearly half the states now allow abortion until between 20 and 27 weeks but bar it later than that in most cases. Before the end of Roe, almost every state fell in that range. Now, abortion is banned — with varying exceptions — at all stages of pregnancy in 14 states, including much of the South.

The poll found that 73% of all U.S. adults, including 58% of those in states with the strictest bans, believe abortion should be allowed at six weeks of pregnancy. Just one state currently has a ban in effect that kicks in around then. That's Georgia, where abortion is banned once cardiac activity can be detected — around six weeks and before women often know they're pregnant. Ohio and South Carolina have similar bans that are not being enforced because of court action, and Florida has one that hasn't taken effect. Iowa lawmakers late Tuesday passed a bill that would add it to those ranks once it is signed by Republican Gov. Kim Reynolds later this week.
---
FREE MARKETS
A win for Ripple in SEC case involving XRP cryptocurrency. (This section was written by Reason Senior Editor Brian Doherty.) In an exciting development for the crypto community, U.S. District Judge for the Southern District of New York Analisa Torres in a decision involving motions for summary judgment in the case SEC v. Ripple said something that many in the virtual currency community have been trying to tell Gary Gensler's Securities and Exchange Commission (SEC): that while the totality of the circumstances might make a cryptocurrency part of a transaction that is legally regulatable as a security, "XRP, as a digital token, is not in and of itself a 'contract, transaction[,] or scheme' that embodies the Howey requirements of an investment contract. Rather, the Court examines the totality of circumstances surrounding Defendants' different transactions and schemes involving the sale and distribution of XRP."
After doing that examination based on the 1946 Supreme Court case SEC v. Howey (which established modern securities law definitions) and nixing the idea that the virtual currency is in and of itself a security, Torres is letting the case against Ripple move forward on its sales of the virtual currency XRP to institutional investors, which she thinks is a securities transaction. But she decided sales of XRP to most of what she calls "programmatic buyers" on standard digital asset exchanges (who did not know who they were buying XRP from) do not constitute illegal unregistered securities transactions.
This should, if other judges or lawmakers agree in other cases, be great news for exchanges being hit by the SEC for being illegal unregistered securities exchanges. (Giveaways of XRP to employees for compensation or to others who did not pay for them are also not liable for prosecution in this case, Torres decided.)
---
QUICK HITS
• The Food and Drug Administration has given the green light for oral contraceptive Opill to be marketed as an over-the-counter drug (after signaling in May that this outcome was likely). It's a good step, but Opill—a progestin‐​only "minipill"—is not "as easy to use as combination oral contraceptives," writes Jeffrey A. Singer. "The FDA should allow all women to access all forms of hormonal contraception over‐​the‐​counter."
• We still don't know the full extent of the government's warrantless electronic spying program, points out Reason's Eric Boehm.
• "A recent federal court decision supports the idea that First Amendment protections extend not to journalists as a special class, but to anybody engaged in journalism," reports J.D. Tuccille.
• "For every eight patients who present at an emergency department, one is there for a behavioral crisis such as psychosis, suicidality, mania, aggression, or substance use," notes The New Yorker. With Emergency Psychiatry Assessment, Treatment, and Healing (EmPATH) units, some hospitals "are advancing a radically new approach" to addressing these psychiatric emergencies.