Court Says Prostitution Law Doesn't Violate First Amendment but Language Should Be Interpreted Narrowly
Plus: Democrats dismiss nonwhite moderates, Schumer wants investigation into energy drink, GOP prosecutors threaten Target over Pride merchandise, and more...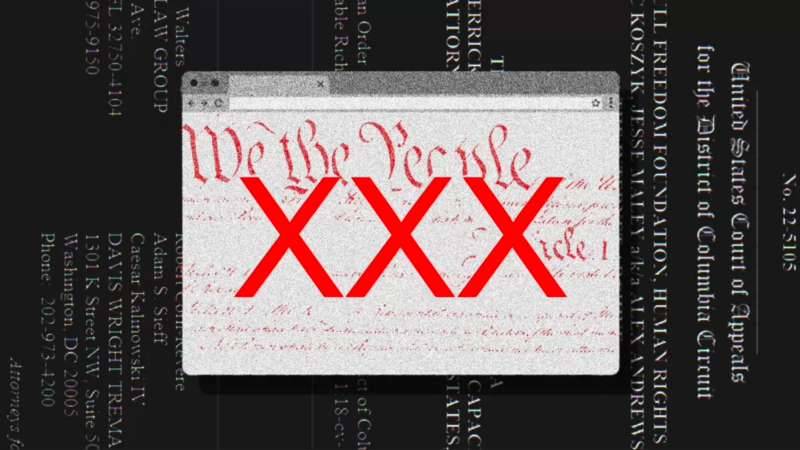 (Illustration: Lex Villena; Elena Garder | Dreamstime.com)
The U.S. Court of Appeals for the District of Columbia has upheld the Allow States and Victims to Fight Online Sex Trafficking Act (FOSTA). In a decision released Friday, the appeals court affirmed a lower court's ruling that upheld FOSTA in full, agreeing with the government that the 2018 law is neither overbroad nor unconstitutionally vague. But in a partial win for civil liberties and sex worker rights' groups, the court also endorsed a narrow interpretation of FOSTA's prohibition on promoting or facilitating prostitution.
The law "does not proscribe facilitating prostitution more generally, which could extend to speech arguing for the legalization of prostitution or that discusses, educates, or informs about prostitution," the court said.
During oral arguments back in January, two of three judges on the panel hearing the case seemed skeptical of the government's claim that a portion of FOSTA did not violate the First Amendment. The portion of FOSTA in question—Section 2421A(a)—makes it a federal felony crime to own, manage, or operate an  "interactive computer service" with "the intent to promote or facilitate the prostitution of another person."
The plaintiffs challenging the law—which include the Woodhull Freedom Foundation, the Internet Archive, and Human Rights Watch—argued that this portion illegally criminalizes speech. "The language that it uses includes not just things that are in themselves the commission of illegal acts of sex trafficking or prostitution," David Greene, a lawyer on the case, told Reason earlier this year. The language of FOSTA "can be reasonably read to include protected [speech]—and not just protected speech, but speech that's really highly important, like providing harm reduction, health and safety information to sex workers, to advocating on particular sex workers' behalf,  to advocating for decriminalization, and things like that."
But the government contended, and a lower court agreed, that this section of FOSTA targets not speech but conduct. Federal prosecutors said it was a standard "aiding and abetting" law, aimed at punishing illegal activity.
The plaintiffs argue that "'promote or facilitate' has a variety of meanings, many of which include protected speech, such as general advocacy and the provision of safety and health information," the appeals court noted in its Friday decision. But it took the government's position that this was an incorrect interpretation, and thus FOSTA's language is "not unconstitutionally overbroad under the First Amendment."
FOSTA's "mental state requirement does not reach the intent to engage in general advocacy about prostitution, or to give advice to sex workers generally to protect them from abuse," the court concluded. "Nor would it cover the intent to preserve for historical purposes webpages that discuss prostitution. Instead, it reaches a person's intent to aid or abet the prostitution of another person."
"Undoubtedly, the term 'facilitate' could be read more broadly," it went on. "But nothing in Section 2421A(a) compels us to read 'facilitate' that way. Doubly so when a more expansive reading could raise grave constitutional concerns."
Ultimately, "FOSTA does not criminalize promoting prostitution broadly. It only punishes aiding or abetting the 'prostitution of another person,' which has a much narrower reach," the court said.
"Although the Court did not issue the constitutional ruling we sought, it held that the law must be interpreted narrowly," commented Woodhull in a statement. "By imposing the interpretive discipline Congress lacked, the Court ruled out many of the broader applications of FOSTA that caused us to challenge it."
"We are continuing to review the decision for its full implications and evaluating our options going forward,' Woodhull added.
The group and its fellow plaintiffs had also argued that FOSTA's amendment of the Trafficking Victims Protection Act of 2000 was overly broad. The law bans knowingly benefiting from "participation in a venture" engaged in sex trafficking. FOSTA defined "participation in a venture" as "knowingly assisting, supporting, or facilitating" sex trafficking.
"Woodhull argues that [this section] is overbroad because the operative verbs—assisting, supporting, or facilitating—are broad and potentially sweeping in their reach," said the appeals court. But it decided this interpretation was also "incorrect."
Reading the definition of participation in a venture "in light of its context and placement in the statutory scheme, the definition permissibly prohibits aiding and abetting a venture that one knows to be engaged in sex trafficking while knowingly benefiting from that venture," the court concluded. "We thus hold that the provision does not have the expansive scope that Woodhull fears, but instead, proscribes only speech that falls within the traditional bounds of aiding-and-abetting liability, which is not a form of speech protected by the First Amendment."
---
FREE MINDS
Democrats dismiss nonwhite moderates. In the U.S., "African Americans and Latinos as well as Asian Americans…remain heavily, even overwhelmingly Democratic but disproportionately compose the party's moderate wing," writes Jonathan Chait. This "is why Republicans are beginning to eat into their margins," and Democrats are allowing it by casting constituencies who disagreement with certain progressive priorities as pawns of white conservatives.
Part of this is just the standard stubbornness of ideologues. But "another, deeper reason is that it violates a deep, self-flattering Democratic Party assumption to acknowledge that the swing constituents being lost are heavily made up of non-white voters," argues Chait:
It's supposed to be racial minorities, who have experienced the most discrimination, pulling the party to the left with white people joining as allies. Progressive activists and donors have long assumed that simply mobilizing non-white voters would naturally pull the electorate leftward. The idea that the constituents pulling the party leftward are disproportionately white, and those resisting that pull are disproportionately not, contradicts the premise of a movement that has axiomatically equated socially liberal positions with the desires of minorities.

David Byler recently broke down the political inclinations of the three largest demographic blocs of Democratic voters: white college-educated Democrats, white non-college-educated Democrats, and Black Democrats. Across a slate of social issues, white college-educated Democrats had the most liberal views, Black Democrats the least liberal. A recent poll even showed that Black Americans, who are overwhelmingly Democratic, narrowly approved of the Supreme Court ruling banning racial preferences in college admissions.
---
FREE MARKETS
Senator wants investigation into energy drink with less caffeine than a Starbucks coffee; GOP prosecutors threaten Target over Pride merchandise. Senate Majority Leader Charles Schumer (D–N.Y.) is asking the Food and Drug Administration to investigate an energy drink created by YouTube stars Logan Paul and KSI. The drink, called PRIME, has dangerous levels of caffeine, Schumer suggested in a letter to the agency.
How much constitutes what Schumer calls a "cauldron of caffeine"? That would be 200 milligrams—quite a bit less than in the larger sizes of Starbucks coffee. "A brewed cup from the brand has 155mg of caffeine in a short, eight-ounce cup; 235mg in a tall, 12-ounce cup; 310mg in a grande, 16-ounce cup; and 410mg in a venti, 20-ounce cup," according to Reader's' Digest.
Energy drinks have long attracted a weird amount of concern and hate from busybody politicians who give coffee a free pass. In this case, Schumer says he's concerned that the beverage is attractive to children. But PRIME energy drinks not only list caffeine content on the can; they're also labeled as "not recommended for children under 18."
Not to be outdone by the Democrats when it comes to trying to interfere in the marketplace, a group of seven state attorneys general, all Republican, have sent a letter to Target threatening legal action over the company's sale of Pride-themed merchandise and suggesting that it sell patriotic merchandise instead.
The ridiculous letter suggests that certain Pride merchandise that was sold at Target might be obscene and a violation of "state laws protecting children." It also objected to Target donations to the gay rights group GLSEN, alleging that the organization "furnishes resources to activists for the purpose of undermining parents' constitutional and statutory rights."
The letter was signed by the attorneys general of Arkansas, Idaho, Indiana, Kentucky, Mississippi, Missouri, and South Carolina. "Target's directors and officers have a fiduciary duty to our States as shareholders in the company," yet "the evidence suggests that Target's directors and officers may be negligent in undertaking the 'Pride' campaign, which negatively affected Target's stock price," they write.
"Corporations are expected to pursue excellence in their chartered purposes, including, where applicable, by retailing goods and earning robust profits along the way," the letter continues. "Target's 'Pride' campaign was decidedly not an example of excellence in retail….It is likely more profitable to sell the type of Pride that enshrines the love of
the United States. Target's Pride Campaign alienates whereas Pride in our country unites."
---
QUICK HITS
There is another, more appropriate term for police officers "having sexual relationships" with people in police custody. https://t.co/aCHBR5Jl12

— Radley Balko (@radleybalko) July 10, 2023
• Ocean City police punched a man for vaping on the boardwalk.
• "Journalists aren't always consistent fans of liberty," points out J.D. Tuccille.
• More evidence that the DeSantis campaign is too online.
• An appeals court says Tennessee can enforce its ban on gender transition treatments for minors for now. "The district court blocked enforcement of the law, but the Court of Appeals stayed the decision pending appeal, concluding that the challengers were unlikely to prevail on their parental rights (substantive due process) and equal protection claims," writes Eugene Volokh. (More on the ruling, from Law Dork's Chris Geidner, here.)
• Afroman is running for president. Among other things, his platform calls for decriminalizing cannabis, halting American aid from being used to "fund…foreign entanglements," mandatory body cameras for every law enforcement officer ("if sporting events have instant replay, so should traffic stops"), and legalization of prostitution.