Pennsylvania's Democratic Governor Is Threatening To Veto His Own School Voucher Plan
Josh Shapiro campaigned on a promise to increase funding for schools and expand school choice. Only one of those two things made it into the state budget.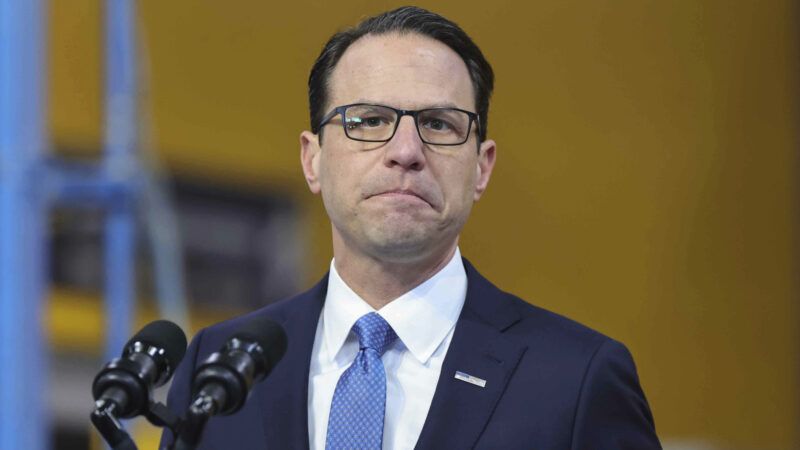 (Saquan Stimpson - CNP/picture alliance / Consolidated News Photos/Newscom)
On the campaign trail last year, Pennsylvania Gov. Josh Shapiro, a Democrat, proposed a new school voucher program aimed at students from low-income families.
It was a surprising position for a Democratic candidate to take, though not a totally unprecedented one. For years, a group of Philadelphia Democrats have been vocal advocates for school choice in Pennsylvania—having seen up close the failures of the state's largest school district.
But Shapiro, a mainstream Democrat from a well-heeled Philadelphia suburb, didn't fit that mold. His support for vouchers suggested that something had changed in the political calculus. And his easy victory in November stood in stark contrast to the results a year earlier in Virginia—a similarly sized, blue-ish state—where Democratic gubernatorial hopeful Terry McAuliffe's campaign imploded after he took a teachers union–approved hardline stance against school choice.
Campaign promises are often made to be broken, but this is one that Shapiro seemed determined to keep. Less than two weeks ago, he popped up on Fox News to reiterate his support for school choice in the midst of a heated budget battle in the state capital. He continued to push the program even after the state's largest teachers union condemned the voucher bill.
That lengthy prologue is necessary to understand the bitter disappointment of Wednesday's news out of Harrisburg. When Shapiro announced that he would use his line-item veto power to delete a voucher program from the state budget when it reached his desk, it was not a typical "Democratic governor promises to kill school choice" situation.
Yes, you read that correctly: Shapiro announced Wednesday that he'd veto the very "Lifeline Scholarships" school voucher program he had been championing. He did it in the hopes of solving a state budget impasse that had dragged on for days past the June 30 deadline. The Democratic-controlled state House had been holding up the $45.5 billion state budget because it opposed the governor's voucher bill, Spotlight PA reports.
In a statement, Shapiro said he was "unwilling to hold up our entire budget process over this issue." He also promised to keep pushing for the voucher bill, despite the fact that a House committee voted it down last week.
The real loser in all this, of course, is not Shapiro or the Republican leaders in the state Senate who had backed the voucher bill and state budget as a tandem deal. It's the Pennsylvania students and families who won't get to take advantage of what would have been a $100 million scholarship program aimed at kids in the state's 382 lowest-performing schools (15 percent of all public schools in Pennsylvania). As approved by the state Senate, the program would have provided $5,000 grants to elementary and middle school students to use toward tuition at private schools. High schoolers would receive grants of $10,000 and special needs students would be eligible for grants of $15,000 at any grade level.
But the outcome might very well mark the end of the political honeymoon that Shapiro has enjoyed after his blowout win in November. A recent poll showed that 61 percent of Pennsylvanians have a positive opinion of the new governor—unheard-of territory for a politician of any stripe these days. Shapiro had the sort of political capital that's necessary to take on a powerful intraparty special interest like the teachers unions, but he might have squandered the chance. It may not come again.
"He claims he wins big fights, but in the first big fight of his administration—with kids' futures on the line—he left the court without even taking one shot," Matt Brouillette, CEO of Commonwealth Partners, a conservative group that had backed vouchers, said in a statement. "Today, Gov. Shapiro showed who really runs this state, and it's not him."
The teachers unions were already mad at him, but now Shapiro might have others to placate too. "If this was the plan in the end, (Shapiro) certainly will have ruined his credibility with us, which to this point had been pretty strong," state Sen. Chris Gebhard (R–Lebanon) told PennWatch. In a statement, a group of Senate Republicans said it was "a shame the governor does not have enough respect and standing within his own party to follow through with his promise."
While the voucher program was abandoned at the last moment, the budget bill that did make it through the state Legislature contains a $1 billion increase in spending on public schools. That means failing schools will get more money. The students trapped there won't get a way out.