Ron DeSantis' Border Plan: Invade Mexico, Shoot Drug Smugglers, End Birthright Citizenship
The 2024 hopeful has put together a platform full of big-government action.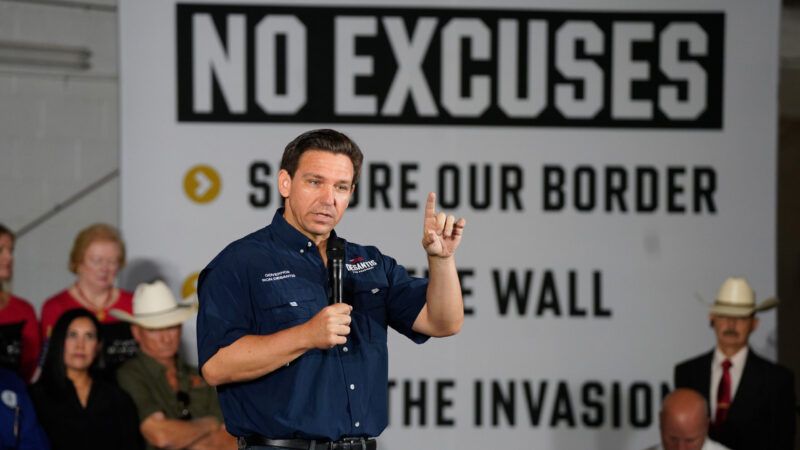 (Robin Jerstad/ZUMAPRESS/Newscom)
Most governors don't enter presidential races with immigration experience under their belts. Not so for Republican Florida Gov. Ron DeSantis—the 2024 hopeful has made a name for himself as a tough-on-migrants politician. From flying asylum seekers to Martha's Vineyard, Massachusetts, last year, to supporting an E-Verify mandate that threatens to force undocumented workers out of Florida, DeSantis has been busy proving his hardliner bona fides.
Yesterday, while visiting the U.S.-Mexico border in Eagle Pass, Texas, DeSantis pitched his vision for a federal border policy. A detailed version of that platform was released on his website yesterday as well, featuring four pillars: "stop the invasion," "build the wall," "hold cartels accountable," and "work with states to enforce the law." The site proposes mass deportations, finishing the border wall, military action in Mexico (including port blockades), ending birthright citizenship, and allowing the use of deadly force against suspected drug smugglers who get through the border wall.
DeSantis' platform would dramatically expand the size and spending of the federal government and make life far more difficult for peaceful, long-present undocumented immigrants, not just new border crossers.
He would bring back the Trump-era "Remain in Mexico" policy, which required migrants to await their immigration court hearings in Mexico, often facing murders, kidnappings, and rapes in dangerous border towns. He seemingly wants to expand Immigration and Customs Enforcement's deportation mandate to include "illegal alien entries" writ large, not just dangerous criminals and terrorists. And he plans to "strengthen and enforce" the federal E-Verify system, which could keep undocumented immigrants from working and force American workers to get a government permission slip to do their jobs.
Some parts of this pillar would almost certainly run into legal challenges. He "will take action to end the idea that the children of illegal aliens are entitled to birthright citizenship," challenging the longstanding interpretation of the 14th Amendment. He also wants to "close the Flores loophole that incentivizes child trafficking"—i.e., the legal agreement that requires migrant kids to be released from detention within 20 days. "It is part of a federal court order, so it's unclear how he could close it," notes the Associated Press.
Other policies are vague or hypocritical. One section calls for the prosecution of "entities that aid or conspire to violate U.S. immigration laws." Does that include humanitarian groups who work to keep border crossers from dying in the desert? Another says DeSantis will end "any government funding for non-citizen travel." What would this DeSantis say to the DeSantis who just this month used state funds to fly migrants to California?
Much of the Florida governor's border platform mirrors former President Donald Trump's, but he differentiates himself by saying he'll get done what Trump couldn't—including the border wall. DeSantis proposes sending the military "to assist the border patrol" until the wall is built and that he'll "use every dollar available to him" and "every dollar he can squeeze out of Congress" to finish construction. (Trump's border wall came out to roughly $20 million a mile. DeSantis says there are 600 miles "open" along the U.S.-Mexico border.)
To "hold cartels accountable," DeSantis plans to take wartime measures. "If the Mexican government drags its feet, DeSantis reserves the right to operate across the border," notes his website. "If the Mexican government won't stop cartel drug manufacturing, DeSantis will surge resources to the Navy and the Coast Guard and block precursor chemicals from entering Mexican ports." There is no universe where literalizing the war on drugs and violating Mexican sovereignty would be a good use of resources, much less halt the northward fentanyl supply.
The last pillar on DeSantis' website suggests imposing "firm penalties on sanctuary jurisdictions," which DeSantis calls "lawless." Responding to an audience member, DeSantis said that "Texas has the right to declare an invasion," something that he promises to defend (constitutional, legal, and practical definitions of invasion be damned).
In what might've been the splashiest moment of his remarks yesterday, DeSantis suggested using "deadly force" against suspected drug smugglers or people breaking through border enforcements. His campaign later clarified that this would apply to "those trying to smuggle drugs into the United States," but it's far from clear how border authorities would determine that before dispensing said deadly force. Customs and Border Patrol policy authorizes deadly force only when there's "a reasonable belief" that someone "poses an imminent danger of death or serious physical injury" to an agent or other individual.
DeSantis has proven all too willing to embrace authoritarian approaches to immigration in Florida. Given the chance, he looks poised to do the very same in Washington.