The Oakland Athletics Just Showed Why They Don't Need Taxpayers To Buy Their New Stadium
But it didn't matter, as Nevada lawmakers approved a $600 million handout to the team.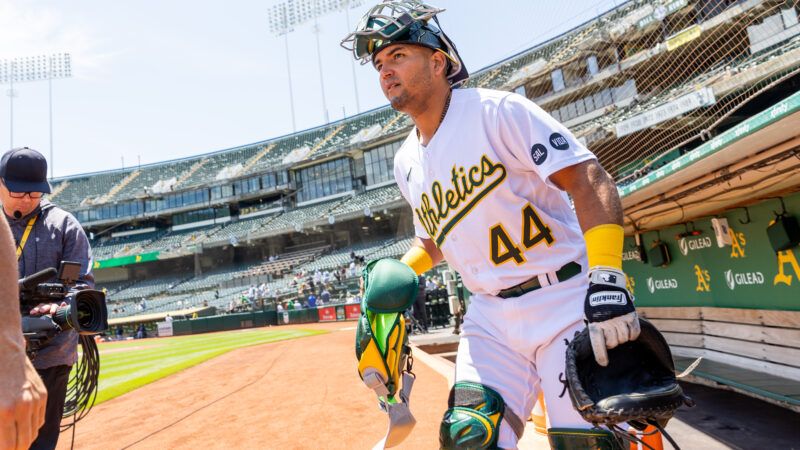 (Bob Kupbens/Icon Sportswire CCO/Bob Kupbens/Icon Sportswire/Newscom)
As the Nevada Legislature was considering a bill earlier this week that would give the Oakland Athletics about $600 million in public money for a new stadium in Las Vegas, the team inadvertently made a pretty good argument for why it doesn't need the handout.
Here's what happened: On Tuesday, Athletics fans in Oakland staged a "reverse boycott" in an attempt to demonstrate that the team—which has for years lagged near the bottom of the MLB in terms of attendance—actually could put butts in the seats if the on-field product was any good. The Athletics have one of the worst records in the majors this year and have posted an average attendance of about 9,000 per game, but more than 27,000 people showed up for Tuesday's reverse boycott, The Mercury News reported. That's still only about three-quarters of the capacity of their current home, Oakland-Alameda County Coliseum.
Perhaps not wanting to be seen as profiting from a protest staged against the team's owners, the Athletics announced that they would donate all ticket sale revenue from Tuesday's game to a local food bank. A noble gesture, sure, but a revealing one too. In a tweet, the team said ticket revenue from the game totaled $811,107.
That's over $800,000 in ticket revenue—a total that does not include sales of overpriced beers, $7.79 hot dogs, team merchandise, etc.—from a single not-sold-out game. Each team gets 81 home games in an MLB season. It's not hard to do the math.
There's nothing wrong with the Athletics potentially earning hundreds of millions of dollars in ticket sales every year, of course. Quite the opposite: It's a testament to America's prosperity that even a struggling professional baseball franchise is still, by any normal measure, a very lucrative business.
But it's more than a little awkward for the Athletics to broadcast that fact this week, after months of telling lawmakers in Nevada that the team—more specifically, team owner John Fisher—requires taxpayers to pick up a sizable portion of the tab for a new ballpark.
It didn't make much of a difference in the end. Nevada lawmakers approved the stadium bill this week, and Gov. Joe Lombardo, a Republican, signed it. The bill provides $380 million in direct subsidies from the state to the team, but the actual tab for the public is $600 million once tax breaks and other financing are included. At his Field of Schemes blog, stadium subsidy critic Neil deMause estimates this to be the third-largest stadium subsidy ever awarded to an MLB franchise.
Even though it is common knowledge that the public never comes out ahead on stadium deals, the Athletics have hired consultants to promise that this time is different. It's true that there's no other city quite like Las Vegas—stadium backers say the 40 million annual tourists flowing through town make the math work in ways that it doesn't in other places.
Unfortunately for them, it's possible to check the math on those claims. Berry College economist E.F. Stephenson found that there is no statistically significant increase in hotel room occupancy rates when the Vegas Golden Knights, the city's NHL team, play home games. Maybe more visitors will flock to Las Vegas to see a bad baseball team play, but that seems unlikely. Instead, as is almost always the case, any economic activity directed toward the new ballpark will be shifted away from other entertainment options in the area.
"People will always say, 'Oh, but this one is different.' Every single stadium deal I've ever looked at the people who are supporting this say, 'This one will be different.' And when we look at it 15 to 20 years later, it's exactly the same as they always are,"  J.C. Bradbury, a sports economics professor at Kennesaw State University, told The Nevada Independent earlier this month. "There's always an excuse, and the reason is that there's a lot of money to be made by getting this stadium funded. And so the owner is going to benefit tremendously."
The Athletics don't need a handout. The public money being thrown at the stadium deal is a bad investment. All those facts are right out in the open, but lawmakers in Nevada didn't bother to notice.