L.A. Spent $7,500 on a Prototype Bus Shade That Doesn't Shade Anything
When the state won't shade you, buy a hat.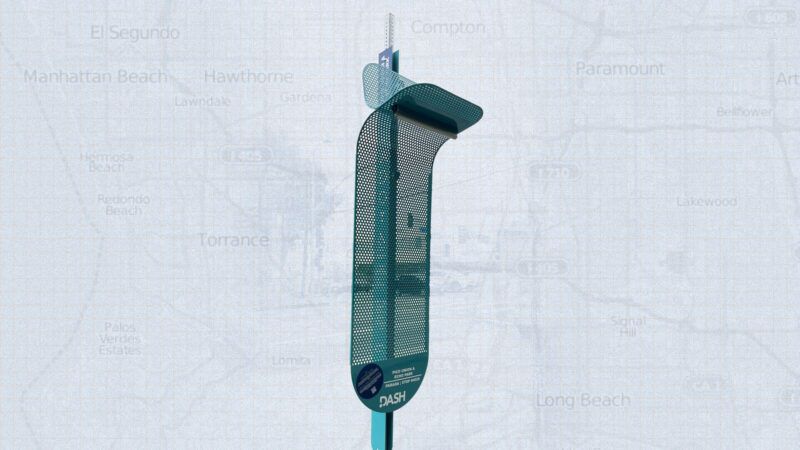 When the Los Angeles Department of Transportation (LADOT) officials held a celebratory press conference last week for a pilot bus shelter design, Twitter users and bloggers began doing what the bus shelter could not: casting shade.
At press event for new @LADOTofficial @cd1losangeles bus stop shade/light structure "la sombrita" at 3rd & Union pic.twitter.com/5CgdfNfe2Y

— StreetsblogLA (@StreetsblogLA) May 18, 2023
Commenters were quick to note that the thin, perforated "La Sombrita" structure would do little to keep the single person that would be able to stand underneath it out of the sun. Its minimal benefits in terms of light and shade are outweighed by both the pilot's costs of at least $7,500 per shelter and $200,000 for the full program (which was funded by a private grant from the Robert Wood Johnson Foundation).*
this is what they're holding a press conference to celebrate

this has to be a joke. LA is unreal. https://t.co/prB6FCUSjO pic.twitter.com/CSd2CrFGTx

— sam (@sam_d_1995) May 21, 2023
For the last 12 years, Blue America has been in total control of California.

What is their greatest accomplishment in the field of public infrastructure?

1) Solar powered metal pole
2) Toilet paper ribbon cutting
3) Crack smoking billboard
4) $300M bus lane pic.twitter.com/K9id6qaK7W

— Balaji (@balajis) May 20, 2023
Who says America can't build anything? Yes it was expensive, but our nonprofits managed to build this one-foot-long bus stop roof with holes in the top! https://t.co/d0pTrDVCRJ

— Noah Smith ???????????? (@Noahpinion) May 19, 2023
The fact that there were more officials there to celebrate La Sombrita than could fit beneath it was an illustration of the out-of-proportion ratio of bureaucratic input to infrastructure output.
In response, both LADOT and Kounkuey Design Initiative (KDI)—the nonprofit that designed the shelter—argued that their paltry La Sombrita designs needed to be narrow in order to slide through the cracks of the bureaucratic process that prevents the construction of larger, more adequate structures.
Anything that touched the sidewalk or was wide enough to actually shade people required input from many additional government departments.
"Typical bus shelters often cost $50k or more and require coordination among 8 departments. La Sombrita (in its most expensive, prototype form) costs approximately 15% of the price of a typical bus shelter and can be installed in 30 minutes or less," wrote KDI on Twitter.
Typical bus shelters often cost $50k or more and require coordination among 8 departments. La Sombrita (in its most expensive, prototype form) costs approximately 15% of the price of a typical bus shelter and can be installed in 30 minutes or less.

— Kounkuey [KDI] (@Kounkuey) May 20, 2023
A number of bloggers have waved away these excuses from LADOT and KDI while nevertheless agreeing that factors creating these inadequate shade structures are, well, structural.
Public agencies fail to coordinate with each other and have become too reliant on nonprofits and consultants to get anything done. Too many departments, stakeholders, and layers of government have a say in new projects, which slows things down even more.
What is needed then is deeper structural reforms that will shore up "state capacity" by streamlining processes, centralizing decision making, making greater use of off-the-shelf designs, widening sidewalks to create more space for shelters, and more.
Some of these are good ideas. They're all hard to implement.
Layers of process and inefficiency persist because interest groups, whether that's individual politicians, bureaucratic agencies, or nongovernmental contractors and consultants, benefit from them. Being able to say "no" is a valuable commodity that no one wants to give up for free.
The day after LADOT celebrated La Sombrita, California Gov. Gavin Newsom proposed a series of reforms to California's environmental review law, the California Environmental Quality Act (CEQA), which strangles both public and private projects in red tape.
CEQA's problems are well-known and widely acknowledged. A number of reforms have been passed over the years to streamline its procedures or sweep whole project categories out of its purview, all with limited success.
Reform is an uphill battle.
Recognizing the difficulty of the sweeping change necessary to produce reasonably shady bus shelters, some transit advocates have offered a quasi-defense of La Sombrita: It's the best we can hope for in the short run.
"The Sombrita project tries to find a constructive niche in a highly inequitable L.A. already suffering from severe disparities. It tries to navigate the byzantine street furniture allocation mechanisms hamstrung by having tied transit shelters to advertising revenue," wrote Streetsblog's Joe Linton in an otherwise critical post.
Is La Sombrita the right solution? Maybe. Follow the local debate if you're curious. I'm just insisting on the principle of doing sensible, cheap, short-term things to reduce suffering in the city as it is, even as we fight to create the city that should be. 11/11

— Jarrett Walker @humantransit@mastodon.online (@humantransit) May 22, 2023
The problem is that the La Sombrita shelters, even as a marginal solution, are laughably inadequate. It's hard to see how they improve on a bad status quo at all.
Instead of relying on these quick fixes or waiting for the political system to reform itself, perhaps Los Angeles bus riders should take individual initiative and provide their own shelter and light.
On Amazon, one can purchase a baseball cap with a built-in light for only $17. For the price of one La Sombrita, 441 people could carry the same amount of shade and light with them to any bus stop in the city. For the price of the entire pilot program, nearly 12,000 people could have this ability. Getting one to the 157,360 people who commuted via transit in Los Angeles County in 2021 would cost $3 million. That's pretty pricey, but less than the expense of installing La Sombritas at even a fraction of the county's 12,000 bus shelters.
Finding individual solutions to state failures works for far more complex and dicey issues than shade. The inadequacies of public safety services lead businesses to hire security guards and individuals to carry guns. The inadequacies of public education lead many parents to homeschool.
Maybe it's not fair to ask bus riders to shade themselves when municipal governments and transit officials should be competent enough to provide shade for them. On the other hand, perhaps we've become too reliant on public agencies to provide collective solutions that could easily be solved by individuals.
In his 1888 book Looking Backward, socialist writer Edward Bellamy envisioned a world where the individual responsibility to carry one's own umbrella would be replaced by municipal sidewalk awnings that would extend any time it starts raining.
This sounds like a silly and impractical solution, even if a highly competent state were to try and implement it. We don't have that competent, utopian state now.
Instead of trying to turn L.A.'s government into that highly competent utopian state, transit riders should engage in some tactical urbanism and just buy a hat. Reforming an incompetent state can be a good idea. Given what a tall order that is, perhaps we can just find solutions that allow us to rely on it less.
UPDATE: This article has been updated to note that the La Sombrita pilot was funded by a private grant. A spokesman for the Los Angeles Department of Transportation sent Reason this statement after publication:
"We are committed to making it easier and safer for people to get to where they need to go in LA and testing all possible solutions that help us get there. La Sombrita—entirely grant-funded at no cost to the taxpayer—is not a replacement for critical investments we need more of like bus shelters and street lights. This pilot treatment is designed to test ways of creating small amounts of shade and light where other solutions are not immediately possible. Clearly, folks are ready to talk about this topic, and that has given us tons of feedback that we'll use to inform this and future initiatives."