Florida Legislature Passes Immigration Crackdown, Authorizes $12 Million for Migrant Relocation
Backed by Gov. Ron DeSantis, the measures will punish peaceful migrants and the Floridians who interact with them.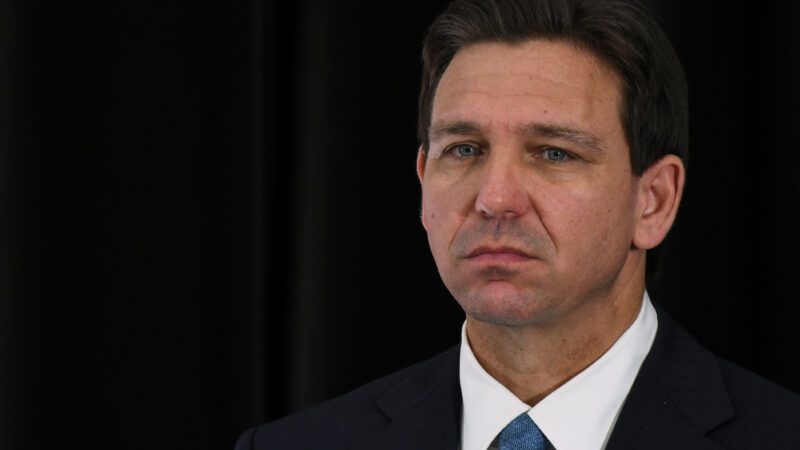 (Paul Hennessy/ZUMAPRESS/Newscom)
A bill cracking down on undocumented immigrants and the Floridians who interact with them is now heading to Republican Florida Gov. Ron DeSantis' desk after passing the state House yesterday. Though some of the more contentious measures were removed from Senate Bill 1718 before passage, the bill will place punitive reporting requirements on hospitals and employers, among other things.
DeSantis announced the legislative push back in February, saying that it would "crack down on the smuggling of illegal aliens," the issuance of ID cards to undocumented immigrants, and employers hiring those in the state illegally. State Sen. Blaise Ingoglia (R–Spring Hill), who is sponsoring the bill, has said he's not "demonizing immigrants"—just illegal ones.
Around 772,000 undocumented people live in Florida, according to the Migration Policy Institute. Sixty-five percent of them have lived in the U.S. for five years or more. Given the body of research showing that immigrants—including undocumented immigrants—are less likely to commit crimes than U.S. natives, S.B. 1718 will punish a largely peaceful and long-present population.
Among the more controversial measures is a section authorizing another $12 million for the "Unauthorized Alien Transport Program," which will fund stunts like last September's migrant flights to Martha's Vineyard, Massachusetts. Notably, it'll authorize transport "within the United States"—nothing saying that relocation must begin in Florida, or even involve migrants present in the state.
The bill's more mundane measures will affect far more people, however. Under S.B. 1718, private businesses with 25 or more employees will be required to use the federal E-Verify system to ensure that workers may legally work in the country. Once a business learns that an employee is unauthorized to work, it must fire him or her. Multiple violations in a 24-month period may result in the suspension of state-issued business licenses. Businesses may also lose their licenses based on the number of unauthorized people they employ: Employing between one and 10 will lead to a suspension of up to 30 days, escalating to full "revocation of all applicable licenses" for employing more than 50 unauthorized people.
As of January, DeSantis' administration had already come after businesses that failed to comply with E-Verify requirements, as Reason's Eric Boehm reported. It directed state agencies to revoke the licenses of a property management company and an online portal serving nurses—moves that would undeniably harm native-born Floridians and not just undocumented immigrants.
Another measure in S.B. 1718 will require any hospital accepting Medicaid to ask patients about their citizenship status. The bill states that this "must be followed by a statement that the response will not affect patient care or result in a report of the patient's immigration status to immigration authorities." But hospitals will also be required to submit reports to the government on the number of undocumented people they served and the costs associated with that care. The bill's language doesn't entirely eliminate privacy concerns, and on a more basic level, it may discourage undocumented people from seeking medical care entirely.
The first version of S.B. 1718 included a provision that would make it a third-degree felony for Floridians to conceal, harbor, shield, or transport "into or within" the state a person they know "or reasonably should know" is in the U.S. unlawfully. Light on specifics, many immigration advocates and Floridians who associate with undocumented immigrants in their daily lives were worried this could criminalize even the most mundane interactions. Melbourne-based pastor Joel Tooley told Reason it would criminalize "normal activities that are irrevocably natural expressions" of people's faith, which other religious leaders have said include activities like bus transport and home-based worship.
This section now only singles out people "who knowingly and willfully" transport undocumented immigrants into the state. But other implications for transportation remain. S.B. 1718 invalidates driver's licenses issued to undocumented immigrants by other states. Florida already bars undocumented immigrants from receiving driver's licenses, something critics say negatively impacts public safety.
Ahead of a likely presidential run, DeSantis has built a reputation as an immigration hardliner. In February, Politico noted that he was pushing "lawmakers to repeal state laws that offered…protections that less than a decade ago were popular with many Florida Republicans, including DeSantis' own lieutenant governor." S.B. 1718 doesn't accomplish everything DeSantis wanted, but it does bolster his image—at the expense of peaceful migrants.