Feds Investigating Hospitals in 2 States That Refused To Perform Life-Saving Abortion
Plus: The "Kids Online Safety Act" is back and as bad as ever, expect another interest rate hike today, and more…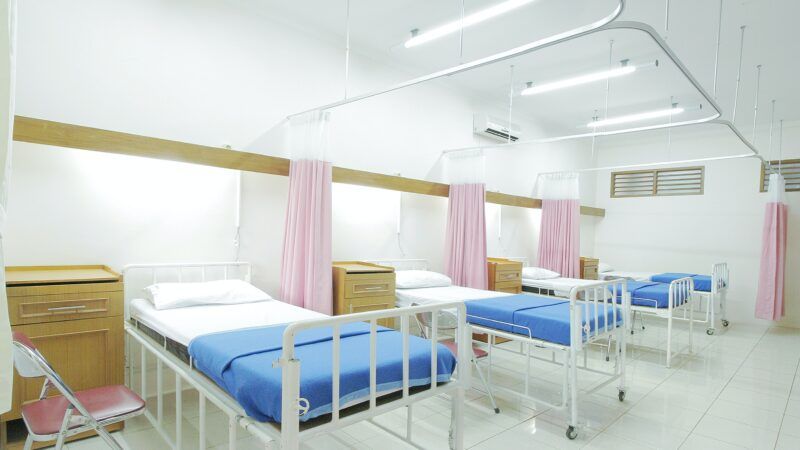 The Department of Health and Human Services (HHS) is looking into two hospitals that refused to perform an abortion on a Missouri woman whose health and life was threatened by the continuation of her pregnancy.
When Mylissa Farmer was just 18 weeks pregnant, her water broke. Farmer first went to Freeman Hospital West in Joplin, Missouri, where staff determined chances were very low that the fetus could be saved and that Farmer could suffer serious complications—sepsis, a blood clot, uterine loss, hemorrhaging, even death—if she continued to be pregnant.
This, however, did not yet constitute the sort of "medical emergency" required by Missouri law to justify an abortion—putting any doctor who performed one at risk of 15 years in prison and the loss of their license. "Missouri law supercedes [sic] our medical judgment," a doctor wrote in Farmer's medical records, according to a complaint filed by the National Women's Law Center on behalf of Farmer. Hospital staff told Farmer she could wait until the situation grew more dire, or travel out of state to obtain an abortion.
So Farmer then went to the University of Kansas Hospital, in Kansas City, where doctors determined that her pregnancy was definitely no longer viable. But doctors also refused to perform an abortion or to induce labor, saying that it was "too risky in this heated political environment to intervene," per Farmer's complaint.
Farmer then traveled to a third state, Illinois, where she was finally able to terminate her doomed pregnancy and save her own life.
On Monday, HHS Secretary Xavier Becerra sent a letter to the hospitals that refused to perform an abortion on Farmer, reminding them about earlier HHS guidance regarding their duties under the Emergency Medical Treatment and Active Labor Act (EMTALA). Last July, not long after the Supreme Court overturned Roe v. Wade, HHS told hospitals that they weren't allowed to deny abortions to women whose life or health was at risk—regardless of what state law says.
This federal guidance combined with state laws prohibiting abortion unless a woman's life is threatened has put hospitals and medical providers in a very difficult position. Perform an abortion to protect a woman's health and they could run afoul of state laws, face the loss of medical licenses and possibly criminal prosecution; decline to perform an abortion and they could be in trouble with the federal government.
While a federal judge last year blocked HHS from enforcing its guidance regarding the EMTALA and abortion, the order only applies in Texas. The Biden administration is currently appealing that ruling. In the meantime, "providers can't assume EMTALA carries more weight than a state ban, at least not until the legal process is carried out," notes Axios.
Now, for the first time since HHS issued that EMTALA guidance last summer, it's investigating hospitals for allegedly violating the law by "not offer[ing] necessary stabilizing care to an individual experiencing an emergency medical condition," as Becerra put it.
The investigation is being led by the Centers for Medicare and Medicaid Services (CMS). "If CMS determines that they are not in compliance, the hospitals could become ineligible for future Medicare funding," Axios points out. Or HHS could refer the case to the Office of the Inspector General for civil enforcement action.
"As we have made explicitly clear: we will use the full extent of our legal authority, consistent with orders from the courts, to enforce protections for individuals who seek emergency care—including when that care is an abortion," said Becerra in a Monday statement. "Today, we send a reminder to hospitals participating in Medicare: you are obligated under EMTALA to offer stabilizing care to patients who need emergency care, and we will not hesitate to enforce your obligations under the law."
---
FREE MINDS 
The "Kids Online Safety Act" (KOSA) is back and as bad as ever. Supporters of this obviously unconstitutional bill say it would "protect children online and hold Big Tech accountable." But it's simply one more attempt by federal lawmakers to grab control of the internet under the guise of protecting kids. (Reason has written about a previous version of the legislation here and here.)
Mike Masnick at Techdirt calls it "unconstitutional nonsense" that would actually harm children while also suppressing a lot of legal speech:
There are vague terms about what creates "harm" to minors, meaning that websites will be pressured to suppress all sorts of content to avoid liability. It will also effectively mandate privacy-invading and problematic age verification technology. Like many other bills, it has a "parental consent" part, which fails to recognize that parents and children (especially teenagers) do not always have a healthy and respectful relationship.

But, to me, the worst part of the bill is the "duty of care" portion. Here's how it's worded. For years, we've explained how a "duty of care" is just a friendly sounding way of forcing censorship on platforms. To understand why, you have to understand how liability works under a duty of care. What it means is that if anything goes wrong after the fact (a child has an eating disorder, dies via suicide, etc.), someone can sue the website and argue they failed in their "duty of care" to protect the child.

But (news flash) even without the internet, people get eating disorders or die by suicide. […] And, with eating disorders, as multiples studies have detailed, attempts to take down content associated with eating disorders or encouraging eating disorders has actually made the problem significantly worse.
Nonetheless, KOSA would impose costly and time-consuming lawsuits on any web platform that someone decided to blame for a minor's mental health struggles or harmful behavior.
Meanwhile, "it will be that much harder for there to be content helping those dealing with suicidal ideation or eating disorders, because even leaving up helpful content, or allowing users to try to help those in trouble will create a massive risk of liability," Masnick writes. "The end result is going to be extraordinarily harmful to children, extremely suppressive of speech, and expensive for all sorts of websites (well beyond the big ones that can afford it)."
"The premise of a duty of care itself is fundamentally flawed," said Ari Cohn, TechFreedom's free speech counsel, in a statement. "Each user experiences content differently, and platforms cannot granularly determine whether content is harmful or preventative with any meaningful precision. The most 'reasonable' and risk-averse course remains to block minors from accessing any content related to disfavored subjects, ultimately to the detriment of our nation's youth."
---
FREE MARKETS 
The Federal Reserve is expected to hike interest rates again today. Here are more details from CNBC's Jeff Cox:
There won't be a lot of mystery surrounding what the Federal Reserve is going to do Wednesday with interest rates. Where the intrigue comes in is how the central bank proceeds from here.

Markets have priced in a near-100% probability that the rate-setting Federal Open Market Committee will approve a quarter percentage point increase at the conclusion of the two-day meeting. That will mark the 10th increase since March 2022, taking the Fed's benchmark borrowing rate to a target range of 5%-5.25%.

For investors, the hard part will be what happens next: Does the Fed signal that it's done hiking, or will it leave open the option of tightening even more if it judges that more needs to be done to fight inflation?
---
QUICK HITS 
So like… internet speech policy is so big nowadays that I'm always playing catch up. I did not realize the EXTENT to which WE HAVE ALREADY tried national and state age verification laws and courts said they're all unconstitutional https://t.co/1VG5ln6GWp @ericgoldman

— Shoshana Weissmann, Sloth Committee Chair ???? /bsky (@senatorshoshana) May 1, 2023
• Former President Donald Trump won't testify in the civil lawsuit brought by E. Jean Carroll, who has accused him of raping her in the 1990s.
• Have scientists just developed a literal mind-reading device? "Using functional MRI (fMRI), a newly developed brain-computer interface can read a person's thoughts and translate them into full sentences, according to a report published Monday in Nature Neuroscience," HealthDay News reports. "The decoder was developed to read a person's brain activity and translate what they want to say into continuous, natural language, the researchers said."
• Oklahoma has a new law that gives vouchers to parents who want to send their children to private or charter schools.
• Another high-profile "human trafficking operation" that's nothing more than an old-school vice sting in disguise. A sting in Lubbock, Texas, led to the arrest of 27 people yet netted nothing but minor offenses such as prostitution, solicitation of prostitution, and "possession of drug paraphernalia."
• "A Maryland appeals court on Tuesday denied a request by Adnan Syed's lawyer to reconsider its recent decision to reinstate his murder conviction," reports the Associated Press. "His lawyer said she will appeal to the Maryland Supreme Court." Syed was the subject of the popular podcast Serial.
• A state judge has temporarily halted enforcement of a Utah law—scheduled to take effect today—that would require all abortions to be performed in hospitals.
• An Oregon bill that would decriminalize homeless encampments in public spaces is dead.
• A transgender woman, Austin Killips, has won the women's stage of the lucrative Tour of the Gila bike race in New Mexico.
• Australia is set to effectively ban vaping.