'Cop City' Protesters Arrested For Distributing Flyers
Just days after the release of an autopsy showing an activist may not have fired on officers before being shot to death, police arrested activists for putting flyers on mailboxes.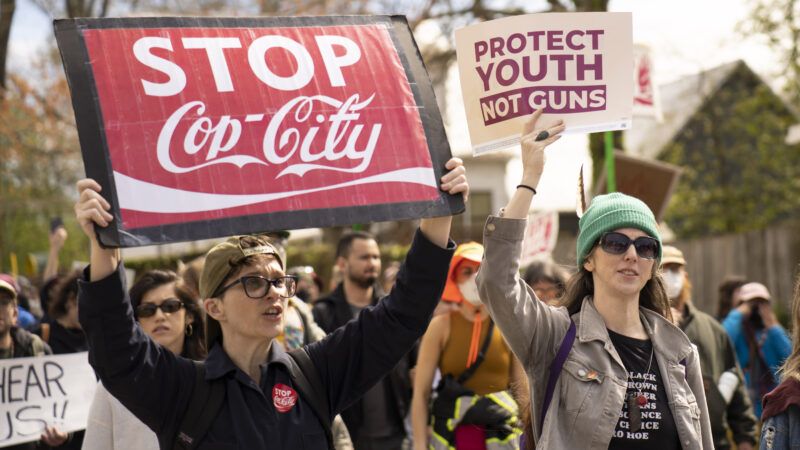 (Steve Eberhardt/ZUMAPRESS/Newscom)
Over the past year and a half, a protest movement has erupted in Atlanta to oppose the construction of a police training facility on a city-owned patch of forest in majority-black DeKalb County. The Public Safety Training Center would encompass 85 acres of a 265-acre property and serve as a training facility for police and fire safety personnel.
Opponents, who derisively call the development "Cop City," worry it could exacerbate several existing problems in Atlanta. "The environmental ramifications of clearcutting a wide swath of one of the last remaining undeveloped forests in our city and replacing it with this facility would be significant and long-lasting," Nina Dutton, chair of the Sierra Club's Metro Atlanta Group, told The Guardian in 2022. Dutton added that the facility "would constitute a huge investment into a system of policing and militarization that has already proven to be dangerous in this city and around the world."
As if to prove the activists' point, state and local police have arrested activists for distributing flyers calling attention to the police killing of a "Cop City" opponent.
On January 19, a Georgia State Patrol (GSP) officer shot and killed Manuel Paez Terán, an environmental activist occupying the site of the future police facility along with the group Defend the Atlanta Forest. The officer alleged that he had returned fire after being shot. The Georgia Bureau of Investigation (GBI) confirmed the officer was shot by a gun that Paez Terán had legally purchased. But last month, the DeKalb County Medical Examiner ruled the death a homicide. The report stated that while Paez Terán suffered at least 57 gunshot wounds, no gunshot residue was detected on the activist's hands, undercutting the GSP officer's story.
Then on April 28, police arrested three activists in Cartersville, about 40 miles north of Atlanta. According to The Intercept, "Julia Dupuis, Charley Tennenbaum, and an activist named Wednesday" were booked on "charges of felony intimidation of an officer of the state and misdemeanor stalking" for placing flyers on mailboxes in a residential neighborhood. Lyra Foster, the suspects' attorney, told The Intercept that the flyers named an officer who lived in the neighborhood and alleged that he was involved in the January death of Paez Terán.
Bartow County inmate records show that Julia Dupuis of Fullerton, California, and Caroline Tennenbaum and Abeeku Vassall of Atlanta, were arrested on April 28, all on charges of misdemeanor stalking and a charge to be added later. Violating the Georgia statute on intimidating an officer can carry a fine of up to $5,000 and up to 20 years in jail.
Foster told The Intercept that all three were held in solitary confinement through the weekend. All were denied bail on Monday, despite no criminal history nor any violence allegations in the charges.
If the activists were simply reporting that an officer was involved in a shooting, then it's hard to see that as a crime, much less a felony. The Atlanta Community Press Collective released the names of six officers involved in the shooting last month based on their inclusion in the medical examiner's autopsy report of Paez Terán. It's unclear which of those officers allegedly lived in the Bartow County neighborhood, but property records are also public information.
Between December and February, the state charged 19 protesters with felonies under Georgia's domestic terrorism law. Even though nine of those people were only accused of misdemeanor trespassing, the state still applied felony domestic terrorism charges on the justification that Defend the Atlanta Forest is "a group classified by the United States Department of Homeland Security as Domestic Violent Extremists." According to Grist, "a DHS spokesperson denied that the federal agency classifies any specific groups with this term."
In March, 23 protesters were arrested and charged with domestic terrorism after allegedly throwing rocks and Molotov cocktails at police at the site.