President Joe Biden Announces He Is Running for Reelection
In recent months, progressives have held their noses and publicly supported Biden even in the face of downright illiberal policies.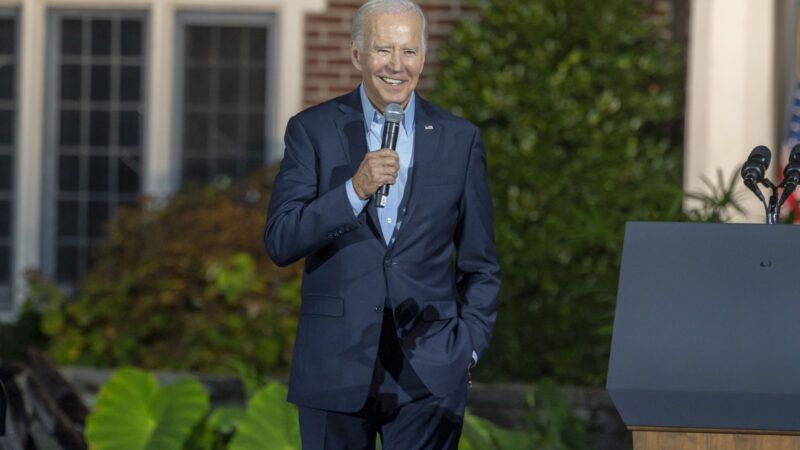 (Ron Adar/ZUMAPRESS/Newscom)
President Joe Biden announced Tuesday that he will seek reelection in 2024, ending months, if not years, of speculation.
In a video posted to his campaign website, Biden laid out his pitch for a second term. "The question we're facing," he said, "is whether in the years ahead, we have more freedom or less freedom, more rights or fewer." He warned that "around the country, MAGA extremists are lining up to take on those bedrock freedoms," doubling down on a consistent theme throughout his presidency.
If he had bowed out, Biden would have been the first president since Lyndon Johnson in 1968 to decline to seek another term for which he was eligible while still in office. Even so, a reelection bid was not a foregone conclusion.
Much conjecture centered around Biden's age: At his 2021 inauguration, he was already the oldest president to ever occupy the office—at 78, Biden was older on his first day than previous record-holder Ronald Reagan was at the end of his two terms. Election Day 2024 will fall just two weeks before Biden's 82nd birthday.
Even despite his age, Biden could face a challenging campaign: According to FiveThirtyEight, Biden's approval ratings have been net negative since August 2021, his seventh month in office. His positive approval numbers have not reached 45 percent since October 2021.
As president, Biden has faced opposition not only from Republicans but from his own party's left flank. Progressive groups bemoaned that Biden's already-expensive policies did not spend more money and that other high-dollar wish list items were abandoned amid concerns over inflation and fiscal rectitude.
More recently, Biden's intraparty critics have been largely silent as he abandoned progressive positions. Biden has continued some of former President Donald Trump's zero-tolerance immigration policies and threatened to repeal Washington, D.C.'s recently passed criminal justice reform bill because it lowered statutory maximum penalties.
And yet few prominent progressives openly criticized the president in these cases. Fourteen Senate Democrats voted against Biden's repeal of the D.C. crime bill, but only Cory Booker (D–N.J.) and Chris Van Hollen (D–Md.) spoke against it publicly. Progressives openly support Biden's reelection bid: Rep. Pramila Jayapal (D–Wash.), chair of the Congressional Progressive Caucus, called Biden's action on the crime bill a "betrayal" and said his immigration proposals would be "betraying our base of immigrants." Nonetheless, she conceded that she would still support him for reelection, saying, "I still believe that he's done phenomenal things for this country."
Angelo Greco, a Democratic consultant who worked for Sen. Bernie Sanders (I–Vt.) on his presidential campaign, told The Hill, "It would be nice to have someone out there challenging him or the establishment, but it just seems so not viable." So far only two Democrats have challenged Biden: Marianne Williamson, the self-help author who also ran in 2020 and who once pledged to "harness love for political purposes," and political scion Robert F. Kennedy Jr., who has a habit of comparing vaccines to Nazi experiments.
Reporting from Kennedy's campaign kickoff event, Semafor's David Weigel called the Democratic field "the great paradox of 2024: Most Democrats say they want an alternative to Biden, but no alternative they're happy with wants to run."
Even at this early date, the Republican field is crowding: Former President Donald Trump announced his bid for reelection in November and has recently stepped up his campaign appearances. Former South Carolina Gov. Nikki Haley, who also served as Trump's ambassador to the United Nations, announced her candidacy in February, followed days later by entrepreneur Vivek Ramaswamy. While he has not yet announced his candidacy, Florida Gov. Ron DeSantis is expected to be a formidable presence if he ultimately throws his hat into the ring.