Reporter Detained in Russia Faces Arduous Path to Freedom
Evan Gershkovich was arrested in Russia last month on espionage charges. If convicted, he faces up to 20 years in a penal colony.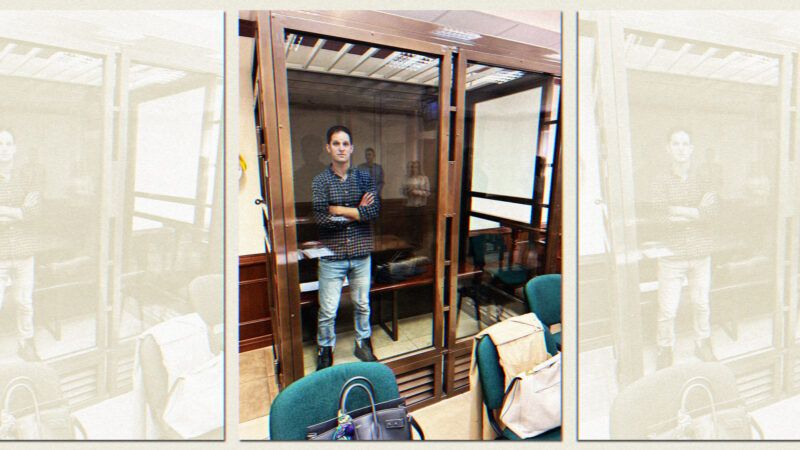 Evan Gershkovich, a Wall Street Journal reporter who was arrested in Russia last month on espionage charges, appeared in a Moscow courtroom on Tuesday—the first time he has appeared in public since being detained. Gershkovich's arrest marks the first time in nearly 40 years that an American journalist was charged with espionage in Russia.
"I can say how troubling it was to see Evan, an innocent journalist, held in these circumstances," said U.S. Ambassador Lynne M. Tracy on Tuesday. "The charges against Evan are baseless, and we call on the Russian Federation to immediately release him."
Gershkovich, who had been working as a Russia correspondent for the Journal since January 2022, was arrested on March 29 in the Russian city of Yekaterinburg. Following his arrest, both U.S. officials and Wall Street Journal editors strongly asserted that Gershkovich was wrongfully detained and highlighted the politically motivated nature of his detention.
"Journalism is not a crime," Vedant Patel, a U.S. State Department spokesperson, said in a press release last week. "We condemn the Kremlin's continued repression of independent voices in Russia, and its ongoing war against the truth."
Gershkovich "is a distinguished journalist, and his arrest is an attack on a free press, and it should spur outrage in all free people and governments around the world," wrote CEO of Dow Jones and publisher of the Journal Almar Latour and Editor in Chief Emma Tucker in a statement last week.
During his courtroom appearance Tuesday, Gershkovich's lawyers requested that the journalist be allowed to leave prison and instead be allowed to await trial under house arrest. This request was swiftly denied by Russian authorities. It is unclear when Gershkovich—who, according to his lawyers, asserts his innocence—will face trial. If convicted, he faces up to 20 years in a Russian penal colony.
The situation for Gershkovich looks grim. He faces almost certain conviction of the charges against him and—if the sentences handed down to other American detainees are any indication—a sentence near the legal maximum. Making matters worse, the hope of release under a prisoner swap seems faint—at least for now—as U.S. officials have very recently spent considerable diplomatic will successfully negotiating a prisoner swap in December to secure the release of WNBA player Brittney Griner, who had been sentenced to over nine years in a penal colony over minor drug charges.
Even if Gershkovich is eventually released as part of a prisoner exchange, it will likely occur after he has been tried and convicted of the charges against him, a process that will take months to complete.
"The issue of exchanging anyone could only be considered after a court delivers its verdict," Russian Deputy Foreign Minister Sergei Ryabkov told state-run news agency TASS. "We have a working channel that was used in the past to achieve concrete agreements, and these agreements were fulfilled."