U.S. Intelligence Leak Suspect Identified as 21-Year-Old Jack Teixeira
Plus: More secrecy from the Global Disinformation Index, the public awaits another big Supreme Court abortion decision, and more...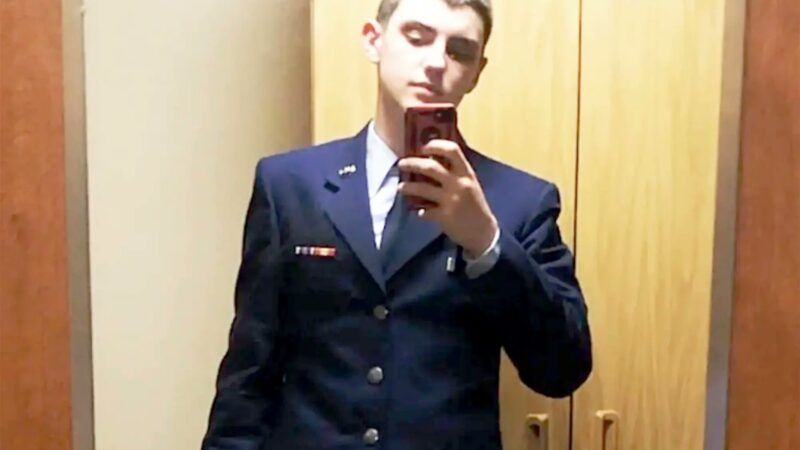 On Thursday, the FBI arrested a suspect in the leak of hundreds of pages of U.S. intelligence documents. That suspect is Jack Teixeira, a 21-year-old Air National Guardsman, who was identified by The New York Times and taken into custody shortly thereafter.
Teixeira was an active member and administrator of "Thug Shaker Central," his private Discord forum where a group of young men—many of them teenagers—would discuss video games, guns, and more. Teixeira, a leader and mentor to the others, aimed to impress them by sharing classified documents he had obtained:
It was Airman Teixeira, a member of the Massachusetts National Guard, his friends in the group said, who somehow obtained the classified documents and posted them to the group. From there, they eventually spilled into the open, potentially compromising U.S. intelligence gathering and damaging relations with allies.

In interviews, members of Thug Shaker Central said their group had started out as a place where young men and teenage boys could gather amid the isolation of the pandemic to bond over their love of guns, share memes — sometimes racist ones — and play war-themed video games.

But Airman Teixeira, who one member of the group called O.G. and was also its unofficial leader, wanted to teach the young acolytes who gravitated to him about actual war, members said.

And so, beginning in at least October, Airman Teixeira, who was attached to the Guard's intelligence unit, began sharing descriptions of classified information, group members and law enforcement officials said, eventually uploading hundreds of pages of documents, including detailed battlefield maps from Ukraine and confidential assessments of Russia's war machine.
The FBI had already identified Teixeira as the likely source of the leak and had him under surveillance, but the Times story forced it to act sooner, according to Fox News.
Teixeira was arrested at his family's home in North Dighton, Massachusetts, a rural community. He is expected to appear in court later today. Attorney General Merrick Garland said in a statement that the airman surrendered without incident and will be charged with unauthorized removal of classified national defense information.
The documents themselves revealed the United States' grave concerns about the stability of the Ukrainian position in the war with Russia. While the leaker's motivation might be personal rather than ideological, it remains the case that the public deserves honest assessments of the Russia-Ukraine conflict. The Biden administration has committed to funding Ukraine's defense for "as long as it takes" to win the war, even if the idea that Ukrainian forces can sweep Russian forces from the country is unrealistic.
---
FREE MINDS
Who funds the disinformation-tracking industrial complex? The Global Disinformation Index (GDI) declined to publicly disclose certain tax information, citing concerns that its donors could face "harassment."
That's according to the Washington Examiner's Gabe Kaminsky, who has published a series of reports on the GDI's activities. The GDI is partially funded by the State Department and works to discourage advertisers from using websites that allegedly spread misinformation and disinformation. Reason was targeted by one of these campaigns; the GDI listed it as one of the "ten riskiest online news outlets," ostensibly because Reason did not have transparent authorship and corrections policies. The group has not responded to a request for comment.
Later, I discovered that the GDI's own website included false information about the group's journalistic advisers. And now the GDI is trying to shield its donors from scrutiny:
Upon inquiring about omissions on the sets of tax forms, a lawyer representing the GDI groups sent the Washington Examiner a letter on April 6, which appears to have also been sent to the IRS and tax administration inspector general for the Treasury Department. The attorney, Marcus Owens of the firm Loeb & Loeb, said that the groups are "withholding" details from their disclosures due to federal codes and regulations concerning "harassment campaigns" against groups.

"The Index's personnel and their families have received multiple threats and hacking attacks, including threats of violence against their children," Owens, who directed the Exempt Organizations division at the IRS between 1990 and 2000, wrote in the letter. "As such, the organization is working [with] appropriate law enforcement authorities, telecommunications and Internet organizations; has appropriately withheld information that could lead to furtherance of this behavior."

Owens did not reply to follow-up requests on Thursday and Monday for an IRS ruling in connection to the alleged campaign and details on whether the Washington Examiner was deemed as part of it. It's unclear who else may be part of the alleged campaign.
Kaminsky quotes an attorney who points out that "it's kind of ironic that a group whose mission is transparency is withholding the names of its officers."
---
FREE MARKETS
The Supreme Court could rule quickly on whether the abortion drug mifepristone can remain available, following contradictory rulings from lower courts. According to Axios:
The Supreme Court could rule as soon as today in the legal battle over abortion pills — and could effectively override the Food and Drug Administration's decision-making if it doesn't turn back a ruling limiting the use of the drug mifepristone….

Justices could decide to stay lower courts' limitations on abortion pills while the appeals process plays out, punting larger questions about the appropriate role the judicial system can play in regard to drug approvals.

Or, as two federal courts have already, the high court could issue an order that effectively overrides the FDA's authority.
---
QUICK HITS
• Former Vice President Mike Pence is attempting to draw a contrast between himself and former President Donald Trump by getting to Trump's right on guns.
• The great realignment continues: Democrats now tend to represent affluent districts, whereas Republicans largely represent working-class districts.
• A California judge fined a church $1 million for holding services while COVID-19 restrictions were in effect.
• The Fox News Dominion lawsuit goes to trial next week.
• New York City has appointed a rat czar.