Biden Catches Up to Rest of Country, Ends COVID-19 National Emergency
The president signed a Republican-sponsored resolution ending the national emergency declared by President Donald Trump.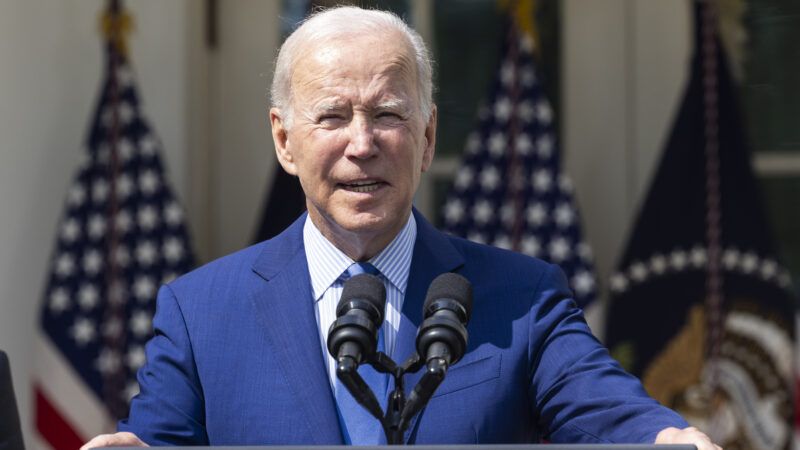 It ends not with a bang, but a whimper. On Monday night, President Joe Biden quietly signed a Republican-sponsored resolution ending the national emergency related to COVID-19 that was first declared by then–President Donald Trump over three years ago.
"On Monday, April 10, 2023, the President signed into law: H.J.Res. 7, which terminates the national emergency related to the COVID-19 pandemic," reads the entire two-line statement from the White House.
The resolution, authored by Rep. Paul Gosar (R–Ariz.), makes use of the Congressional Review Act, which allows Congress to repeal federal agency rules with a simple majority vote. Gosar's resolution had passed in the House with mostly Republican support, and in the Senate where nearly half of Democrats voted in favor of it.
Biden had said in March that he would not veto the resolution if passed. That's a reversal from his position in January 2023, when a "statement of administration policy" declared that Gosar's resolution—and a related measure ending a separate public health emergency—would "create wide-ranging chaos."
That statement had said that a premature ending of emergency declarations would inject confusion and uncertainty into the ongoing wind-down of expanded Medicaid programs and remove emergency flexibility given to hospitals and doctors. The White House had also said that the ending of the public health emergency would prevent the administration from performing controversial "Title 42" expulsions of undocumented immigrants.
The resolution signed Monday only ends the national emergency. The resolution ending the public health emergency passed the House in January but hasn't advanced in the Senate.
With the national emergency over, the federal government has now caught up to where the vast majority of the American public has been for a year or more: The pandemic is over.
Only seven states still have a declared public health emergency. Even in the country's ultra-liberal cities, few private establishments will tell you to wear a mask or ask for a vaccine card. Government-enforced business closures, capacity restrictions, mask mandates, and vaccine card checks increasingly feel like distant memories.
The pandemic was a true disaster in every sense of the word. Over a million people died of a disease that didn't exist in 2019. The economic dislocations caused by the pandemic, and both public and private responses to it, made us all a lot poorer. Property rights, free speech, and freedom more generally took a serious beating.
The official end of the national emergency puts a symbolic bookend on the massive government response to the pandemic. We can now start taking an account of which parts of the COVID state are gone for good, and which are permanent additions to Leviathan.