Biden's 'Buy American' Rules Are Getting in the Way of Biden's Rural Broadband Push
Industrial policy is never as simple as it seems.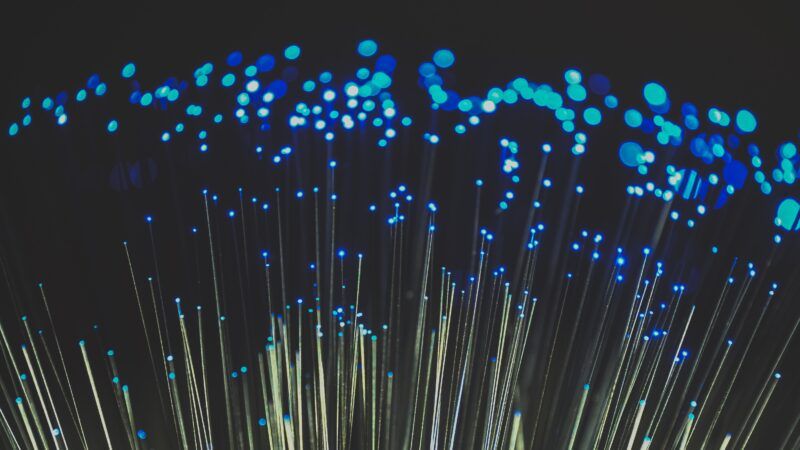 (Photo by Compare Fibre on Unsplash)
The Biden administration has framed its new, tighter "Buy American" regulations as a way to bolster domestic manufacturing and benefit parts of the country that have been left behind by technological innovation.
To many of those same communities, the White House has promised better connectivity and higher internet speeds. The bipartisan infrastructure plan signed by President Joe Biden in 2021 dedicated $42 billion to expanding broadband access, with much of the funding aimed at laying fiber optic lines in parts of the country where they don't exist.
There's one small problem with all this: Finding enough fiber optic cables that comply with the Buy American rules.
Despite being the world's top importer of fiber optic cable, America also produces a lot of it—more than 72 million miles of the stuff last year, according to the Fiber Broadband Association, an industry group. The fiber optic line itself is a thin strand of glass, but it is surrounded by a protective coating made from steel, copper, aluminum, plastic, and other materials.
Under Biden's Buy American rules, 55 percent of the component parts of any product used in a federal construction project must be sourced in the United States. That disqualifies any imports of finished cable, but it also wipes out most of the available American-made supply since many of the component parts are sourced overseas.
"Hindering the supply of optical and digital solutions by incentivizing products with end-to-end manufacturing in the US…will only slow down the rollout of fiber optic broadband to rural America," wrote Paul Atkinson, CEO of the optical business network at STL, a digital network firm, in a post for Telecoms.com, an industry blog. "Both Congress and the Biden administration are focused on a dual purpose when it comes to infrastructure rollout—expanding infrastructure while increasing US manufacturing output—but, particularly when it comes to the rollout of optical fiber connectivity, these dual purposes seem contradictory."
Industrial policy, it turns out, is always more complicated than the bumper-sticker slogans used to justify it.
Another problem, according to a Bloomberg report earlier this week, is that building a fiber optic network requires more than just fiber optic cable. You also need switches, terminals, routers, and other pieces of tech that are mostly imported or manufactured with imported components. In both cases, the Buy American requirements mean broadband companies can't use those parts for projects funded with federal funding from the infrastructure bill.
That means less infrastructure gets built, and lots of perfectly good American-made fiber optic cable doesn't get purchased, simply because less than 55 percent of its components happened to come from somewhere else.
The easiest solution to this would be to waive the Buy American rules—and, indeed, there's a long history of the federal government doing exactly that. But Biden issued an executive order cracking down on the use of waivers by federal agencies. In his most recent State of the Union address, Biden bemoaned how "for too long, past administrations have found ways to get around" Buy American mandates.
Now, his administration might have to find a way to get around them too. The Washington Post reports that "senior Biden administration officials stressed that waivers will be available in certain circumstances."
Waivers might prevent some of the worst unintended consequences here, but they don't really address the underlying problem. Biden's Buy American mandate is a blunt tool that fails to account for the realities of modern manufacturing supply chains. As the fiber optic cable situation helpfully illustrates, requiring that 55 percent of a product's component parts are sourced in America ends up disqualifying lots of products that actually are made in America. And it's only going to get worse, as Biden approved new rules last year that will gradually increase the threshold to 75 percent by 2029.
Spending $42 billion on fiber optic broadband deployment was already unnecessary and wasteful. Now, thanks to Biden's Buy American rules, rural broadband projects will cost even more—if they get built at all.