Tennessee Will Use Eminent Domain To Evict Black Farmers for Ford E.V. Factory
The state promised Ford nearly $900 million in incentives, including new and upgraded roads. But it chose to run that new road through a number of black-owned farms.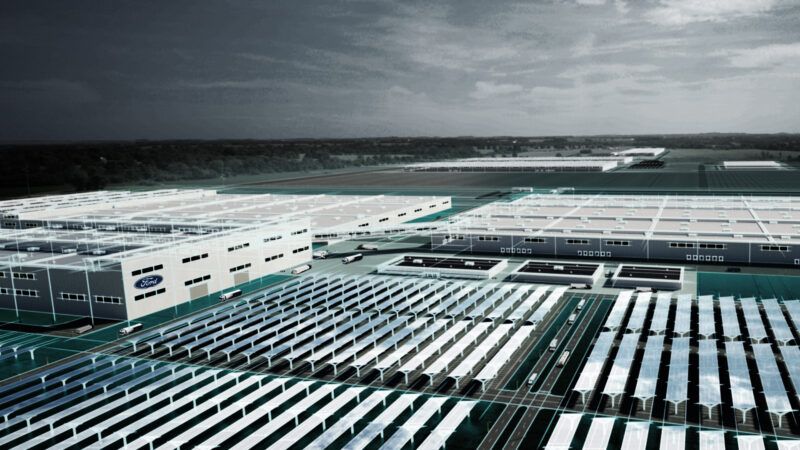 (Illustration: Lex Villena; Ford Motor Co.)
One of the nation's largest automakers has some big construction projects in the pipeline, and the Tennessee state government isn't going to let anything stand in the way—even the private property rights of black farmers.
In September 2021, Ford Motor Co. announced a slate of new development projects, committing $11.4 billion toward expanding electric vehicle (E.V.) production. In addition to two E.V. battery factories in Kentucky, the auto giant would build a $5.6-billion "mega campus" in western Tennessee named "BlueOval City," which would manufacture both electric trucks and batteries. Ford boasted that the project would be operational in 2025 and employ about 5,800 people.
In return for picking Tennessee, state lawmakers overwhelmingly approved legislation that would grant Ford $884 million in state incentives. That includes a $500 million grant from the state's current budget surplus and $384 million for site preparation, including $200 million for road improvements and $138.2 million for infrastructure and demolition services.
The bill also apportioned $745,100 to fund the Megasite Authority of West Tennessee, an 11-person board with the power to execute contracts on behalf of the development. It can also take privately-owned land, via eminent domain, in order to facilitate construction of the facility and supporting infrastructure.
According to Tennessee Lookout, the state is planning to seize privately-owned farmland while only paying a pittance to the owners—far from fair market value.
In order to reach the new facility, the North Carolina Department of Transportation plans to build a highway interchange, plus a road leading from the interstate to BlueOval City. But the path that the state chose for the road cuts through an area of farmland whose residents are disproportionately black. Of the 35 total tracts of land affected, the state still needs 20. It has filed seven lawsuits so far.
For example, the state sued Ray Jones for an acre of his land. But while land in the area sells for $200,000 or more per acre, the state offered Jones a measly $8,165. It also sued Marvin Sanderlin for 10 acres of his property: two acres that would be used to build the road and eight that would become inaccessible once it was built. Sanderlin was only offered $37,500, or $3,750 per acre. Speaking to the Tennessee Lookout's Anita Wadhwani, Sanderlin called the offer a "ripoff," saying, "you can't buy a swamp here for $3,500."
Ironically, Jones and Sanderlin both support the plant and are optimistic that it will bring additional commerce to the area—but they're less enthused that the state feels entitled to take their land along the way.
Tennessee is not alone: In neighboring North Carolina, Vietnamese automaker VinFast is building an E.V. factory on rural land. In addition to providing $1.2 billion in financial incentives, the North Carolina government is currently trying to take 27 homes, five businesses, and a church using eminent domain.
It's bad enough when a state decides to give hundreds of millions of dollars in taxpayer money to companies worth billions. But it's truly abhorrent to seize land from private hands simply because the state feels that a company should use it instead.