New York Lawmakers Could Pass the Nation's Strictest State-Level Rent Control Law by the End of the Week
A controversial "good cause" eviction bill that would cap rent increases could be included in a budget bill that must pass by April 1.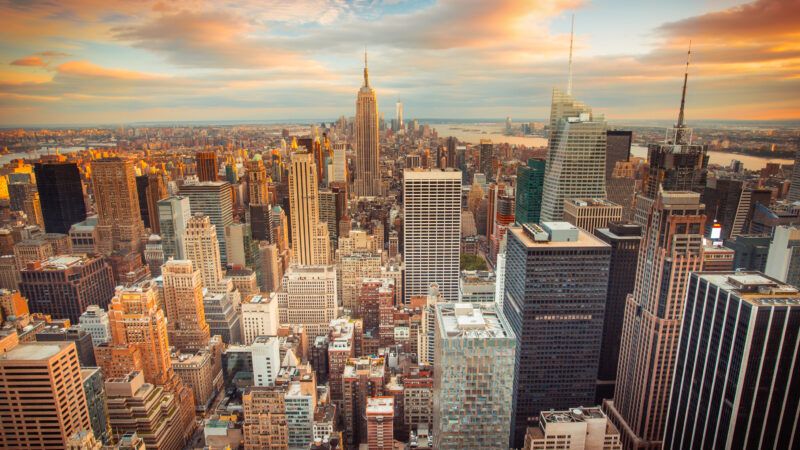 ( Littleny/Dreamstime.com)
New York might adopt the nation's strictest state-level rent control law by the end of the week in the name of preventing unfair evictions.
State lawmakers are currently scrambling to assemble and pass a budget bill before an April 1 deadline. The must-pass piece of legislation is often used as a vehicle for enacting controversial pieces of legislation, like bail reform and congestion pricing.
This year, there's a chance it will include a much-debated "good cause" eviction bill.
A perennial priority for the New York Legislature's contingent of socialist and progressive lawmakers, good cause eviction would require landlords to renew leases with their current tenants. It would also prevent them from evicting tenants for something other than "good cause"—like engaging in criminal behavior on the property, creating nuisances, violating substantive provisions of their lease, or damaging their unit.
Tenants could also still be evicted for nonpayment of rent, but, crucially, only if their nonpayment isn't the result of an "unreasonable" rent increase.
"We hear, each one of us who is a legislator, we hear every single day from constituents, saying, 'I'm facing a rent increase of hundreds of dollars per month.' That is an eviction," said Democratic Socialists of America member and New York state Sen. Julia Salazar (D–Brooklyn), the sponsor of the 2023 good cause eviction bill, when an identical measure was being considered last year.
What's an unreasonable rent increase? According to the current bill text, any rent increase above 3 percent per year or 150 percent of the annual change in the consumer price index would be presumptively considered unreasonable.
Landlords would have to go to housing court to argue a rent increase above that threshold was reasonable. Tenants, meanwhile, could also drag them into housing court by challenging rent increases below that threshold for being unreasonable.
For "small property owners especially, if you're going into housing court, you're already losing money," says Michael Johnson, communications director for the landlord trade association Community Housing Improvement Program (CHIP). "All this becomes a mess. Essentially the judge is determining the rent."
This separates New York's proposed good cause eviction bill from other states that have paired rent control with good cause eviction policies. California and Oregon's rent control laws establish annual allowable rent increases of 5 and 7 percent plus inflation, respectively. (California has a maximum 10 percent rent cap.)
That's both more generous and more clear than what's envisioned in New York's bill.
New York's good cause eviction supporters will often point to New Jersey as a model. The Garden State also forbids evictions that result from "unconscionable" rent increases, without establishing in statute what exactly counts as unconscionable.
Judges have generally held that rent increases in the 8–10 percent range are in fact conscionable, reported Slate's Harry Grabar last year. Johnson says there's also case law allowing 50 percent increases provided that the hike was merely bringing rents from below-market to market rates.
So in practice, that means New Jersey's eviction policies give landlords a lot more flexibility to raise rents than what's being envisioned in New York.
The prospect of having to go to court for a routine rent increase all by itself has some landlords worried, given how long it can take for housing courts to process cases.
"I know people that have open housing court cases that predate COVID," says Ann Korchak, board president of the group Small Property Owners of New York, and landlord who owns 20 units in New York City.
She also complains there's a frustrating lack of detail in the four-page bill. "My problems start right there. How monumental this shift would be and how little language is used to address it," she tells Reason.
That brevity creates a lot of unanswered questions, like whether a tenant with guaranteed lease renewal would be able to sublet his unit at uncontrolled market rates in perpetuity and whether landlords would have the freedom to raise rents by an uncontrolled amount after a vacancy.
If the answer to that last question is no, the result could be good cause eviction keeping a lot of older units off the market because owners wouldn't be able to pay for needed repairs with rent increases.
A 2019 law tightening New York's longstanding rent stabilization law—which was co-sponsored by Salazar—limits the ability of landlords to pass on the costs of unit improvements or remove units from rent stabilization entirely.
Korchak says the change has meant she can only raise the rent on one of her rent-stabilized units by about $90 a month. Meanwhile, the unit's last occupant—who Korchak says was a hoarder who occupied the unit for 50 years—left the apartment in need of as much as $300,000 in repairs and renovations.
With the rent increase limits making financing the repairs difficult, the apartment has sat vacant for 15 months, she says.
The construction of new units could also be imperiled by the bill.
New York's good cause eviction bill also doesn't exempt recent construction from its rent controls. (It does exclude smaller, owner-occupied multifamily buildings.)
That's in contrast to Oregon and California's rent control laws, which both exempt buildings under 15 years old from rent caps.
When St. Paul, Minnesota, voters passed a rent control ordinance with a 3 percent rent increase cap and no exemption for new housing, developers fled town and construction activity collapsed.
New York City isn't a market that developers will give up on so easily. But it's not as if they're receiving a positive incentive to build more units either.
Unlike New Jersey, New York's good cause eviction bill doesn't establish procedures for how a landlord could reclaim a building in order to redevelop it either.
New York's main real estate lobby REBNY is dead set against the good cause eviction bill. The state's main pro-development "yes in my backyard" (YIMBY) group, Open New York, has (somewhat controversially) come out in support of it.
"We need to combat discrimination, and we need to come up with ways to actually have the government step in and better provide housing stability," Annemarie Gray, Open New York's executive director, told Curbed last month about the group's support of good cause eviction legislation.
New York Times writer Mara Gay editorialized in favor of good cause eviction last week, in an article that otherwise endorsed new housing supply as a solution to New York's high housing costs.
"Tenant protections alone will not solve the root problem of the crisis, which is the dire lack of housing supply," wrote Gay. Yet those expecting New York to fix its dire lack of housing supply while simultaneously passing the toughest rent control law in the country might end up being disappointed.
Johnson says the question of whether the good cause eviction bill is included in the must-pass budget is "the $1 million question." There's a chance it will be included alongside housing supply reforms. It could also be excluded and potentially passed as part of some major housing bill later in the session.