China's Purchases of U.S. Land Stoke Bipartisan Panic, Just Like Japan's Did In the 1980s
People panicked in the 1980s that Japan's economic largesse posed a grave threat to American interests. Then the market reined it in.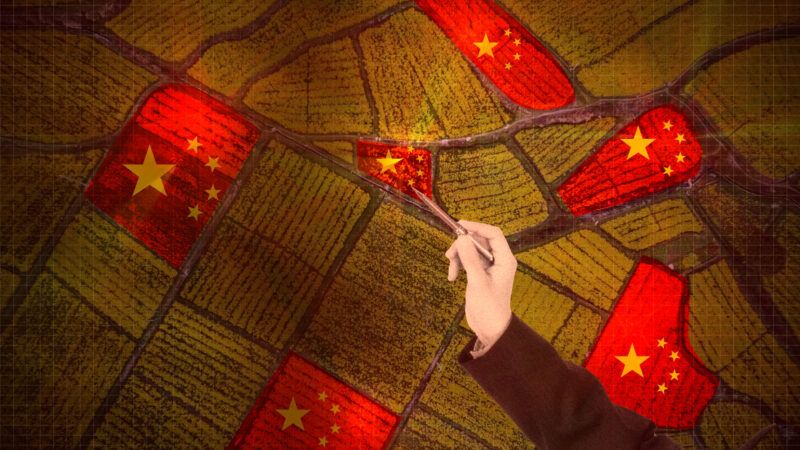 (Illustration: Lex Villena; Chuyu)
"Buy land," says the old investment axiom. "They're not making any more of it." And yet, depending on which country you come from, some U.S. lawmakers would deny you the right.
Between 2009 and 2016, China's global expenditures on agricultural land increased more than tenfold, according to data cited by the U.S. Department of Agriculture (USDA). Increasingly, both Republicans and Democrats agree this is a serious problem requiring a legislative solution.
Texas state Sen. Lois Kolkhorst (R–Brenham) introduced a bill that would bar any "citizen of China, Iran, North Korea, or Russia" from buying property in the state. While Kolkhorst said the bill would not apply to American citizens or lawful permanent residents, the bill's text made no such distinction. (She later modified the bill to make an exception for U.S. citizens and permanent residents and to exempt home purchases.) Gov. Greg Abbott indicated he would sign the bill if passed.
In January, Florida Gov. Ron DeSantis said he was also considering a ban on Chinese investors or companies purchasing property in the state.
Kolkhorst, Abbott, and DeSantis are all Republicans, but this issue has support across the aisle: While running for governor of Georgia in 2022 against incumbent Brian Kemp, Democrat Stacey Abrams told Fox News that Kemp was "placing farmland in the state of Georgia in the hands of, basically, a nation that has proven itself to be a national security threat," referencing China. Abrams dinged Kemp for a state-funded website that encouraged Chinese investment in Georgia.
In January, Sens. Jon Tester (D–Mont.) and Mike Rounds (R–S.D.) introduced a bill, the Promoting Agriculture Safeguards and Security (PASS) Act, "aimed at preventing China, Russia, Iran and North Korea from investing in, purchasing, leasing or otherwise acquiring U.S. farmland." Reps. Elise Stefanik (R–N.Y.) and Rick Crawford (R–Ark.) introduced a bill of the same name last year.
The Committee on Foreign Investment in the United States (CFIUS), an interagency assemblage, reviews certain foreign purchases of U.S. properties and has the power to block any it disapproves of. The PASS Act would add the secretaries of the Department of Agriculture and the Department of Health and Human Services to the CFIUS in order to approve or deny agricultural purchases.
Tester said he would not "let our foreign adversaries weaken our national security by buying up American farmland," with Rounds adding that the bill would ensure that "American interests are protected by blacklisting foreign adversaries from purchasing land or businesses involved in agriculture." (Representatives in Tester's and Rounds' offices did not respond to Reason's requests for comment on why Chinese purchases of agricultural land constituted national security risks.)
But the bills are driven by an overblown panic.
For one thing, despite the recent ramp-up, China's share of American land is quite small. In 2021, the USDA's Farm Service Agency reported that foreign investors own around 40 million acres, which constitutes just over 3 percent of all privately held agricultural land. Of all foreign-owned land in the U.S., China's share comprised around 384,000 acres—0.9 percent of the total. In fact, on the list of countries that own the largest shares of American agricultural land, China's portion is consigned to "Other." (Critics note that the USDA's numbers are incomplete and reporting is not universal.)
In February 2022, Chinese company Fufeng Group Ltd. purchased 370 acres near Grand Forks, North Dakota, with the intent to build a $700 million corn-milling facility. But given that the land was less than 15 miles from Grand Forks Air Force Base, the deal raised suspicions among politicians and government officials. According to Sen. John Hoeven (R–N.D.), the base's aerospace activities "will form the backbone of U.S. military communications across the globe."
In a January letter to Hoeven, Andrew Hunter, an assistant secretary for the Air Force, stipulated that the mill "presents a significant threat to national security with both near- and long-term risks of significant impacts to our operations in the area," though he did not give any specifics. Rep. Dusty Johnson (R–S.D.) said a nearby mill could "intercept sensitive U.S. military communications."
In July 2022, 19 Republican House members wrote a letter to Secretary of Agriculture Tom Vilsack asking for action against Chinese purchases of agricultural land, citing the country's status as a "global rival" and previous cases of Chinese nationals attempting to "steal U.S. seed DNA information."
For its part, China has struggled in recent months to feed its 1.4 billion people. In August, the Chinese government warned that record heats and a monthslong drought posed a "severe threat" to the autumn harvest. In that context, it makes sense that Chinese companies would invest in arable land in another country.
Regarding an outright ban like the PASS Act, Stewart Baker, host of the Cyberlaw podcast and a former Department of Homeland Security official who was in charge of the department's participation in the CFIUS, tells Reason, "I'm pretty skeptical that we need to do that." A desire to ban foreign investment is "a surprisingly familiar inclination all around the world," Baker says, as there's "something particularly atavistic about [someone] controlling your food supply," perhaps engendered by farmers upset to be outbid by an unfamiliar foreign investor.
Baker concedes that the proximity of the Grand Forks mill to the air base could allow a malign actor to intercept communications and that it has happened before, but "you probably don't have to buy a farm to do that." Similarly, Chinese nationals have indeed stolen agribusiness trade secrets, but that hardly constitutes a national security threat.
The outsize concern over foreign investors is not unique: A generation ago, Japan was the economic boogeyman that threatened to supplant America's superiority and buy up our land in the process. In the mid-1980s, Japan—flush with cash and experiencing red-hot real estate and financial sectors—invested heavily in foreign markets. To many Americans' consternation, this included major purchases of high-profile U.S. landmarks, like Columbia Pictures, Rockefeller Center, and California's Pebble Beach golf resort.
In both fiction and nonfiction alike, writers depicted Japan—sometimes in reductive or racist terms—as militant and devious, singularly focused on world economic domination, possibly as revenge for its defeat in World War II. The novelist Michael Crichton accused Japan of trying to turn the U.S. into its "economic colony."
And yet within a few years, the bubble burst. Japan's stock index fell 60 percent, real estate prices fell 30 percent, and bankruptcies spiked into the billions of dollars per year. Rockefeller Center and Pebble Beach were sold, the latter for a 40 percent loss. Rather than an invincible economic juggernaut, Japan entered into a "lost decade," a yearslong period of economic stagnation.
China may indeed have designs on stealing American security or trade secrets, but those concerns can be mitigated without an outright ban on property ownership. Not to mention, any further efforts to restrict such purchases constitute an encroachment on the rights of Americans to sell their own property in a transaction they deem to be mutually beneficial.
Gary Bridgeford sold land to Fufeng for $2.6 million, one of three property owners to do so. "People hear the China stuff and there's concern," he told CNBC. "But everyone has a phone in their pocket that was probably made in China. Where do you draw the line?"