Texas Bill Would Create Unit of Unaccountable Border Cops
All officers and employees of the unit would "have immunity from criminal and civil liability" for performing the activities authorized by H.B. 20.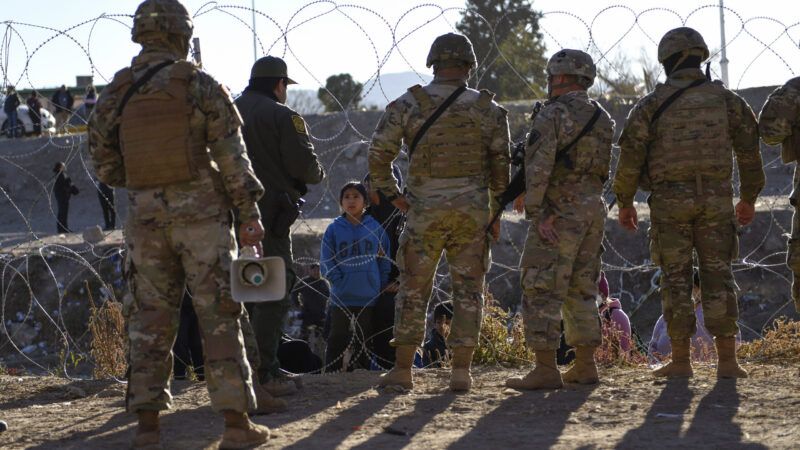 (J.R. Hernandez/ZUMAPRESS/Newscom)
Last week, Texas Rep. Matt Schaefer (R–Tyler) introduced House Bill 20, also known as the Border Protection Unit Act. The bill would expand the mandate of state law enforcement into the federal realm and shield state agents from accountability for their actions. Critics of the legislation warn that it could lead to racial profiling and civil rights violations.
H.B. 20 would create a Border Protection Unit with deputized agents who can "arrest, detain, and deter individuals crossing the border illegally, including with the use of non-deadly force." The unit will also "oversee the construction and maintenance of walls, fences, and other physical barriers" along Texas' border with Mexico. "Law-abiding citizens without a felony conviction" will be eligible to join the unit. However, they will not be allowed to perform arrests "unless trained and specifically authorized by the governor."
Texas Democratic Party Chair Gilberto Hinojosa said H.B. 20 would "subject South Texans to constant state-mandated racial profiling" and "big-brother police-state dystopia." Rep. Trey Martinez Fischer (D–San Antonio) called the legislation "a 'Show me Your Papers' bill," echoing other bills requiring state law enforcement to determine someone's immigration status, including during routine traffic stops. In 2014, the American Civil Liberties Union of Arizona said it had documented "numerous cases of racial profiling and illegal detentions" since Arizona's S.B. 1070 went into effect. H.B. 20's arrest and detention components could lead to the same outcome.
This is especially concerning when combined with the fact that all officers and employees of the border unit would "have immunity from criminal and civil liability for any actions taken that are authorized" by the legislation.
The head of the Border Protection Unit would be appointed by and report directly to the governor. "Existing personnel, equipment, and facilities" may be transferred from the Department of Public Safety to the border protection unit "as necessary." Funding for the unit would come from legislative appropriations, "other government funds," and donations from U.S. citizens and "domestic entities." The border unit would operate through 2030 with the possibility of being reauthorized by the state Legislature.
H.B. 20 and its supporters paint undocumented immigrants as an existential threat and speak in overtly militaristic terms. "We can certainly, here in Texas, build our own militia," said Bexar County GOP Chair Jeff McManus of the bill. The border unit's deterrence activities would be authorized once the governor or Legislature declared a "state of invasion or imminent danger" under Article I Section 10 of the U.S. Constitution, according to the bill. Article I Section 10 says that without the consent of Congress, no state shall "keep troops" or "engage in war…unless actually invaded." But courts have consistently interpreted the Constitution's definition of invasion to mean an "armed hostility from another political entity," as Cato Institute Associate Director of Immigration Studies David J. Bier has written.
One state declaring an invasion and deploying a force to the border will likely spark federal court challenges immediately.
Since Gov. Greg Abbott launched Operation Lone Star, a border security mission, in 2021, state troopers and members of the Texas National Guard have been arresting migrants suspected of crossing into the state on private property to charge them with trespassing. H.B. 20 would amend the Texas Penal Code to create a more severe trespassing offense specific to entering Texas: "A person commits an offense if the person knowingly enters the property of another without effective consent when knowingly entering the state of Texas from a neighboring jurisdiction." The offense would be a third-degree felony, punishable by a fine of "not less than $10,000" per violation.
"By creating a third degree felony for trespassing, this bill could effectively end any pathway to citizenship for a person seeking to live in the United States permanently," said the Mexican American Legislative Caucus of the Texas House in a statement. Since naturalization requires that an applicant be of "good moral character," a criminal record can have serious consequences for citizenship.
H.B. 20 could dramatically increase scrutiny, surveillance, and law enforcement encounters for everyone living near the border, not just undocumented immigrants. It would deputize Texans to use force to "repel" nonviolent migrants, and it wouldn't require those officers to face accountability for rights violations they commit on the job. And it would undoubtedly add to Texas' immigration enforcement bill, which has topped $4 billion through Operation Lone Star.