Michigan Appeals Court Weighs Charging Parents of School Shooter With Manslaughter
Judges and prosecutors accused James and Jennifer Crumbley of negligent behavior despite the fact that school officials at the time reached many of the same judgments.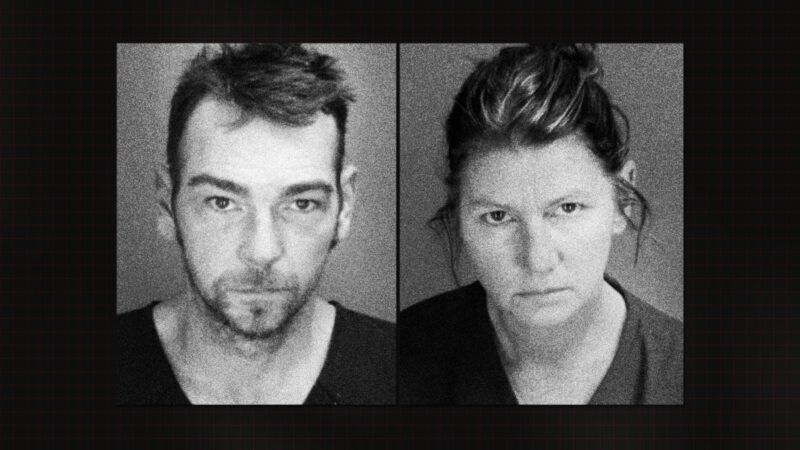 (Illustration: Lex Villena; Oakland County Sheriff's Office)
In November 2021, 15-year-old Ethan Crumbley killed four fellow students at his Michigan high school with a gun his father bought him as an early Christmas present. Prosecutors charged Crumbley with murder, assault, and terrorism, to which he pleaded guilty.
Prosecutors also charged his parents, James and Jennifer Crumbley, with four counts of involuntary manslaughter. This week, Michigan's Third District Court of Appeals heard arguments on whether the Crumbleys can be charged for their son's actions.
Prosecutors say that the school warned the Crumbleys about their son's behavior. The day before the shooting, a teacher noticed Ethan searching for ammunition on his cell phone and notified his mother, who later texted him, "Lol. I'm not mad at you. You have to learn not to get caught."
The next day, the Crumbleys were called to the school just hours before the shooting. A teacher spotted a note on Crumbley's desk featuring a drawing of a pistol and the words, "the thoughts won't stop, help me." It also featured a bullet, a gunshot victim, and the words "blood everywhere." Crumbley told school officials the drawings were for a video game he was designing.
The school asked Crumbley's parents to take him home for the day, but they refused, and he returned to class. Neither his parents nor the school knew Crumbley had brought the pistol from home in his backpack. Ethan later attested the gun was not locked up on the day of the shooting.
In this week's hearing, Judge Christopher Yates said there were "warning signs all over the place" regarding Crumbley's conduct. Mariell Lehman, an attorney for James Crumbley, contended that he "had no knowledge" of what his son was planning, prompting Judge Michael Riordan to interject, "He was called over to the school that day, wasn't he?… He had knowledge then." When Lehman countered that her client only had knowledge "that there was a drawing," not that his son had violent plans, Riordan asked, "It's certainly a warning signal, wouldn't you say?"
The Crumbleys clearly missed some signs about their son, but that doesn't mean they violated the law. As Reason's Jacob Sullum wrote in December 2021, "While 16 states have laws authorizing prosecution of adults who intentionally or carelessly give minors unsupervised access to guns, Michigan is not one of them." Nor does Michigan have laws requiring the "secure storage" of firearms. Arguing involuntary manslaughter could just be a way for prosecutors to get around the inconvenient fact that Michigan's legislature has not passed a law that would allow them to prosecute the Crumbleys for criminal negligence.
Oakland County prosecutor Joseph Shada also argued that when asked by the school to take their son home for the day, the Crumbleys refused. But according to Superintendent Tim Throne's letter to parents, school officials had not deemed Ethan a threat. He spent an hour and a half sitting in a counselor's office waiting for his parents to arrive. During that time, "the student verbalized his concern he would be missing homework assignments and requested his science homework, which he then worked on while in the office. At no time did counselors believe the student might harm others based on his behavior, responses and demeanor, which appeared calm."
Per Throne's letter, the meeting concluded with school officials telling Ethan's parents "that they had 48 hours to seek counseling for their child or the school would contact Child Protective Services. When the parents were asked to take their son home for the day, they flatly refused and left without their son, apparently to return to work." But as Throne notes in the very following sentence, "Given the fact that the child had no prior disciplinary infractions, the decision was made he would be returned to the classroom rather than sent home to an empty house."
Given that they had to return to work, this may have also been the Crumbleys' thought. Since firearm suicides among young people are at a 20-year high and school shootings remain statistically rare, it would have been perfectly logical for the Crumbleys to assume that if their son were truly disturbed, he would be safer in a classroom than at home in an empty house with a gun.
"Charging the parents of a shooter is rare and, frankly, it should be," Shada told the judges. "It should be reserved for an egregious set of circumstances, an extreme set of facts." The facts here don't support criminal prosecution.