Colorado Is the Latest State To Consider Rent Control
Plus: The U.S. Supreme Court considers another internet free speech case, the Department of Transportation pushes expensive new rail regs, and more...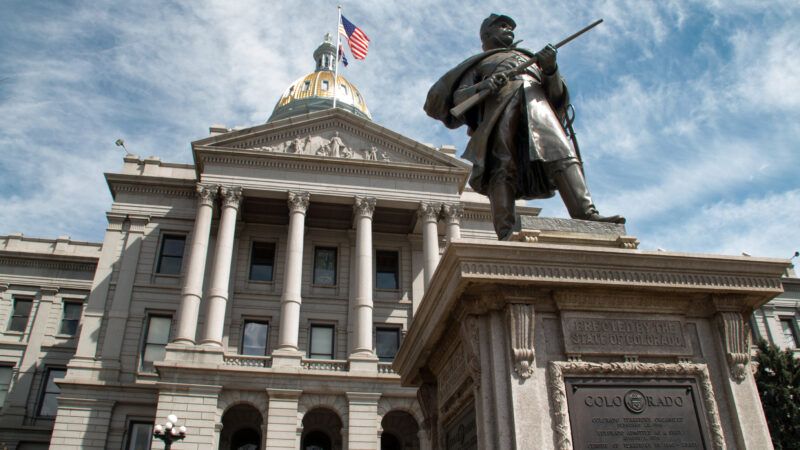 (Danny Raustadt/Dreamstime.com)
Colorado considers repealing its ban on local rent control to combat mounting housing costs. A bill currently working its way through the state House of Representatives would give cities and counties the power to impose a cap on rent hikes of as much as 3 percent plus inflation on residential buildings that are at least 15 years old. "The rent is too high in Colorado, and that's not just for essential service workers," said state Rep. Javier Mabrey (D–Denver), per Colorado Public Radio.
Colorado prevents its local governments from adopting rent control, as do 30 other states.
Regulating rent increases is a policy long derided for failing to make housing affordable while disincentivizing the construction of new housing supply and worsening housing quality.
But a decade-plus of rising rents has seen more and more politicians falling prey to the always tempting idea that they can hold prices down without causing any ill effects.
Earlier this month, Boston Mayor Michelle Wu petitioned the city council there to revive rent control, which was repealed by state voters in the 1990s. New York's state legislature is considering a "Good Cause Eviction" bill, which is similar to rent control, that would allow tenants to challenge any rent increase. For rent increases of 3 percent or more, the burden of proof would be on the landlord to show that the increase was reasonable.*
In 2021, voters in St. Paul, Minnesota, passed what was largely considered the tightest rent control policy in the country, capping rent increases at 3 percent for effectively all housing. Developers fled town in response. The city quickly amended the policy.
Helping to rehabilitate rent control's image is a pair of "anti–rent gouging" laws passed in California and Oregon that capped rents at 5 and 7 percent respectively plus inflation, and allow unlimited rent increases on vacant units and buildings constructed in the last 15 years.
Old-school rent control policies from the 20th century typically banned rent increases entirely on existing housing units, or limited increases to well below the rate of inflation. Research on their effects has found they've generally reduced rental housing supply by encouraging the conversion of rental units to for-sale condos. Such laws have also led to deterioration in housing quality.
Proponents argue this new breed of "rent control 2.0" policies contain enough exemptions and allowances to avoid those past pitfalls, while still providing added stability for tenants.
Not everyone has been won over, however. Colorado Gov. Jared Polis, a Democrat, has criticized rent control, telling Colorado Public Radio in a statement that he's "skeptical that rent control will create more housing stock, and locations with these policies often have the unintended consequences of higher rent."
The governor's office is reportedly working on a state bill that would ease local restrictions on building new housing.
---
FREE MINDS
Another day, another case with big implications for internet free speech is at the U.S. Supreme Court. Today, the justices will hear oral arguments in the case of Twitter v. Taamneh. The case has its roots in a lawsuit brought by the family of a Jordanian man killed in an Islamic State terrorist attack under the Antiterrorism Act, which allows victims to sue those who "aid and abet" terrorist acts.
The family has accused Twitter of "aiding and abetting" the Islamic State by failing to be more aggressive in removing the group's propaganda from its site. In 2021, the 9th Circuit Court of Appeals allowed their lawsuit to proceed. Twitter is petitioning the Supreme Court to overturn that decision.
Although it hinges on a different legal issue, the case is very similar to the Gonzales v Google case that the Court heard yesterday, in which the family of a woman killed by the Islamic State was accusing YouTube (which is owned by Google) of abetting the terrorist group because its algorithm recommended terrorist content to users.
If the Supreme Court agreed with that position, "it would unleash a torrent of litigation and, in all likelihood, wreck the internet as we know it," wrote Reason's Damon Root yesterday.
---
FREE MARKETS
In the wake of the East Palestine, Ohio, rail disaster, the Department of Transportation pushes regulations that wouldn't have prevented the accident. The Department of Transportation is demanding that freight rail companies adopt five industry-wide policies, including expanded whistleblower programs, maintaining human safety inspection of all trains (which they have been trying to automate), speeding up the adoption of safer tank cars, notifying state governments when hazardous chemicals are traveling through their territory, and providing paid sick leave.
National Review's Dominic Pino writes:
Looking closer at the department's proposals, safety does not seem to be the primary justification. Instead, they include demands that environmentalists and unions have made for years, and none of them would have prevented the East Palestine crash.
Read his full analysis here.
---
QUICK HITS
Seattle becomes the first city in America to ban caste-based discrimination. Some question the ability of the city's government to intelligently enforce the new ordinance.
a brahmin socialist in seattle is proposing this, but the laws will be enforced by ppl who have no idea about caste which varies by region and religion.

also, i'm a dalit muslim from now on.https://t.co/LAXwyKsQ0q

— Razib ???? Khan ???? ????✍️???? (@razibkhan) February 20, 2023
To prove to the haters that she is still in her prime, Republican presidential candidate Nikki Haley unveils some new merch that, frankly, doesn't make any sense.
For all of you who took issue with the haters saying that we are past our prime… this one's for you.

We've got this. ????????????????

Order yours today: https://t.co/iGXhvfdzom pic.twitter.com/VIbPn6YcL7

— Nikki Haley (@NikkiHaley) February 21, 2023
CORRECTION: The original version of this article misstated which rent increases New York's Good Cause Eviction bill would allow tenants to challenge.