North America's UFO Weekend
Plus: States move to curtail internet anonymity, Amsterdam cracks down on cannabis, sex, and booze, and more...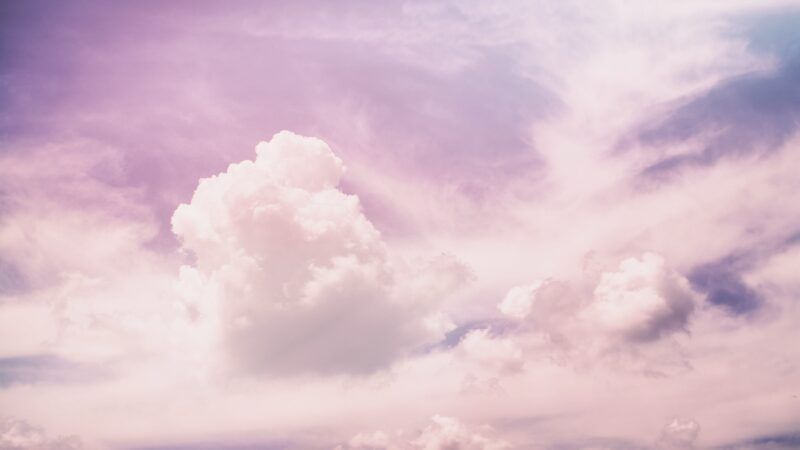 What in the name of The X Files is going on in the skies? Since last week, the U.S. government has shot down three unidentified flying objects—otherwise known as UFOs. This follows the government shooting down what folks have been calling a Chinese spy balloon on February 4. So are we looking at an epidemic of Chinese spy balloons now?
Nope—this is much weirder. U.S. officials can't even say exactly what these objects are.
The first UFO was shot down last Thursday as it hovered about 40,000 feet above Alaska.
National Security Counsel Coordinator John Kirby said on Friday that this "high-altitude object" was unmanned, had no significant surveillance equipment, and was "much smaller" than the Chinese balloon—"roughly the size of a small car, as opposed to…two or three buses' size." But it "posed a reasonable threat to the safety of civilian flight," Kirby explained, so "President Biden ordered the military to down the object. And they did."

At a press conference not long afterward, Air Force Brigadier General Patrick Ryder said that the object "wasn't an aircraft per se" and there was no indication it was maneuverable. "We have no further details about the object at this time, including any description of its capabilities, purpose or origin."
Really hoping this 'unidentified [flying] object' was another spy balloon and not a legit UFO; the irony of confusing an alien spacecraft for a weather balloon would be amazing but not worth starting an interstellar conflict. https://t.co/GDc35n69ii

— Peter Meijer (@RepMeijer) February 10, 2023
Then, on Saturday, the U.S. shot down an object above Canadian airspace.
"I ordered the takedown of an unidentified object that violated Canadian airspace," Canadian Prime Minister Justin Trudeau announced on Saturday. "Canadian and U.S. aircraft were scrambled, and a U.S. F-22 successfully fired at the object," which had been spotted over the Yukon. "Canadian Forces will now recover and analyze the wreckage of the object," he added.

Like the UFO over Alaska, this one was flying at about 40,000 feet, Canadian Defense Minister Anita Anand said at a press conference. It was also unmanned.
Saturday also saw the North American Aerospace Defense Command (NORAD) temporarily close down airspace over Montana. "NORAD detected a radar anomaly and sent fighter aircraft to investigate," the organization announced. "Those aircraft did not identify any object to correlate to the radar hits. NORAD will continue to monitor the situation."
On Sunday, NORAD temporarily shut down airspace over Lake Michigan "to ensure the safety of air traffic in the area during NORAD operations."
Later reports revealed that the Great Lakes airspace closure also involved shooting down an unidentified object.
"I've been in contact with [the Defense Department] regarding operations across the Great Lakes region today," tweeted U.S. Rep. Jack Bergman on Sunday afternoon. "The US military has decommissioned another 'object' over Lake Huron."
"The Pentagon said the unidentified object shot down on Sunday by an F-16 fighter jet at 2:42 p.m. EST (1942 GMT) over Lake Huron appeared to have traveled near U.S. military sites and posed not just a threat to civilian aviation but also as a potential tool for surveillance," reported Phil Stewart of Reuters.

The Pentagon also said it could connect the object over Lake Huron "to the radar signal picked up over Montana, which flew in proximity to sensitive DOD sites."
Air Force General Glen VanHerck, the head of NORAD, said on Sunday night that it was unclear how the objects were staying in the sky.
Asked whether aliens could be ruled out, VanHerck said he wasn't ruling out anything yet.
Before we all start panicking, consider this tidbit from The Washington Post:
The incursions in the past week have changed how analysts receive and interpret information from radars and sensors, a U.S. official said Saturday, partly addressing a key question of why so many objects have recently surfaced.

The official, speaking on the condition of anonymity because of the sensitivity of the issue, said that sensory equipment absorbs a lot of raw data, and filters are used so humans and machines can make sense of what is collected. But that process always runs the risk of leaving out something important, the official said.

"We basically opened the filters," the official added, much like a car buyer unchecking boxes on a website to broaden the parameters of what can be searched. That change does not yet fully answer what is going on, the official cautioned, and whether stepping back to look at more data is yielding more hits—or if these latest incursions are part of a more deliberate action by an unknown country or adversary.
So it's possible that we're not suddenly experiencing more unidentified objects over U.S. airspace; we're just paying more attention to them. Whether that's more or less reassuring, I'm not sure…
This month's rash of UFO sightings corresponds to a steep increase in UFO reports since 2021, notes CNN's Peter Bergen.
According to the Office of the Director of National Intelligence's "Unidentified Aerial Phenomena" report (released last month), Navy and Air Force staff reported 247 UFO sightings from March 2021 through August 2022—compared to just 144 sightings for the whole 17-year stretch between 2004 and 2021.
"The report suggested that the increase may be because there is less 'stigma' associated with reporting UFO sightings, now that the Pentagon is actively pushing service personnel to report any 'anomalies' seen in the sky," writes Bergen. "Indeed, in July, the Pentagon established a new entity, the All-domain Anomaly Resolution Office, to investigate credible sightings of UFOs by the US military and intelligence community."
A good number of the UFOs reported were balloons or "balloon-like entities," while 26 were drones. But there were also 171 objects that couldn't be readily explained and "demonstrated unusual flight characteristics or performance capabilities."
---
FREE MINDS
Lawmakers keep trying to destroy things that make the internet great:
Thread: bills in both red and blue states would curtail online anonymity. https://t.co/8f032BnmfJ

— Walter Olson (@walterolson) February 11, 2023
---
FREE MARKETS
Amsterdam moves to become less tourist/vice-friendly. "Smoking cannabis on the street in Amsterdam's red light district will soon be illegal," reports The Guardian. And city council members are considering a rule barring cannabis café customers from smoking on terraces too.
These are just a few of the measures that the Dutch city and popular travel destination is implementing or considering in order to make the city less of a tourist hot spot—and less profitable for bars, restaurants, shops, sex workers, cannabis cafés, and other businesses:
Sex workers will also have to shut up shop at 3am rather than 6am, while bars, cafes and restaurants must close at 2am rather than 3am on weekdays and 4am on Fridays and Saturdays, with no new customers allowed to enter after 1am.

Shops in the inner city, already barred from selling alcohol after 4pm from Thursday to Sunday, will have to remove bottles and cans from their windows or hide them behind screens, and a ban on drinking in public will be strictly enforced.
---
QUICK HITS
• What Super Bowl ads tell us about the U.S. economy.
• State Republican lawmakers are clashing with prosecutors over abortion law enforcement. "Republicans in Georgia, Indiana, South Carolina and Texas—frustrated by progressive district attorneys who have publicly pledged not to bring charges under their state's abortion laws—have introduced bills that would allow state officials to either bypass the local prosecutors or kick them out of office if their abortion-related enforcement is deemed too lenient," reports Politico.
• A new bill in California (A.B. 374) "would allow licensed cannabis sellers in the state to also sell non-intoxicating foods and beverages to their adult customers," as well as to host live concerts, reports Baylen Linnekin. "The bill's passage would meet a growing need—and could result in a welcome proliferation of authentic cannabis cafes and similar businesses."
• The school board of Madison County, Virginia, recently banned The Handmaid's Tale from high school library shelves.
• "South Dakota's H.B. 1080 would ban gender-affirming medical care for minors" and "has now passed both chambers of the legislature, getting only four no votes in the Senate," writes Chris Geidner.
• "Don't force child care workers to get college degrees," argues Timothy B. Lee (whose home city, Washington, D.C., is doing just that).
• Is Magic Mike's Last Dance about the evils of zoning regulations?