Federal Appeals Court Rejects Rent Control Challenge, Says Government Has Wide Powers To Regulate Land Use
The 2nd Circuit reasoned that the government hasn't necessarily taken a landlord's property when it forces him or her to operate at a loss while renting to a tenant he or she never agreed to host.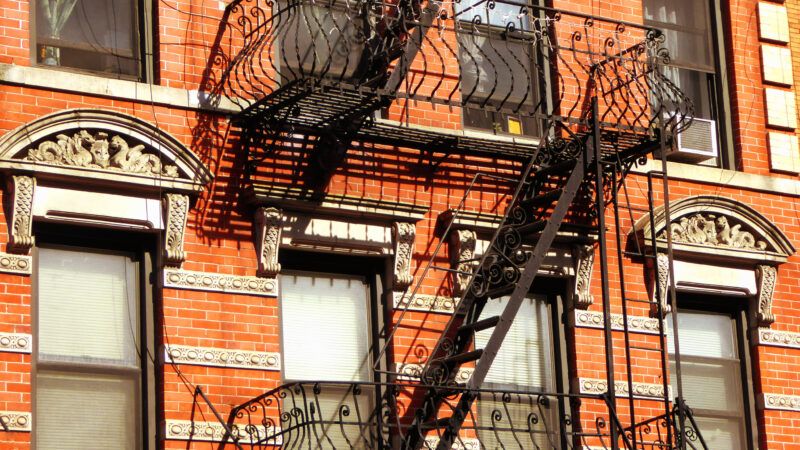 (Shanshan533/Dreamstime.com)
A federal appeals court has ruled that the government hasn't necessarily taken a landlord's property when it forces him or her to operate at a loss while renting to a tenant he or she never agreed to host.
That's the view of the U.S. Court of Appeals for the 2nd Circuit, which yesterday struck down a challenge to New York's rent stabilization law brought by two landlord associations that argued that limits on rent increases and evictions passed in 2019 were so strict, they were an effective seizure of their property.
The court rejected these arguments, partially on the grounds that landlords hadn't proven that rent stabilization had eliminated the income of every single owner of a rent-controlled building.
"When permissible rent increases are outpaced by operating cost increases, the result may be a reduction or, in some cases, the elimination of net operating income," reads the 2nd Circuit's opinion. But "appellants have simply not plausibly alleged that every owner of a rent-stabilized property has suffered an adverse economic impact."
New York's rent stabilization law, which limits rent increases to typically 1 percent or 2 percent a year on nearly 1 million apartments in New York City, has survived numerous legal challenges since it was first passed in 1969.
In 2019, the New York Legislature passed a number of tightening updates to the law that limited property owners' ability to raise rents to cover individual apartment improvements (like a new stove), capital improvements (like a new roof), or to make up for years where they raised rents below the legally allowable maximum.
The progressive legislators behind the 2019 update also made the law much more favorable to high-income tenants. It eliminated avenues whereby landlords could "deregulate" units (start charging market prices) where rents had passed a certain threshold or which were occupied by someone making $250,000 or more a year.
Property values of rent-stabilized buildings tanked after the passage of the 2019 law. Landlord groups complain that it has effectively "defunded" their buildings by limiting their ability to pass on maintenance costs and holding allowable rent increases well below increasing operating costs.
The result, they claim, is a mounting number of dilapidated, uninhabitable rent-stabilized units. Nearly 10 percent of New York City's rent-stabilized units are vacant.
In response to the 2019 law, the Community Housing Improvement Program (CHIP) and the Rent Stabilization Association (RSA) sued New York City and its Rent Guidelines Board, making several arguments.
They argued that rent control's long history of reducing housing supply and quality made it an irrational means of improving housing affordability in violation of the Fourteenth Amendment's substantive due process protections.
They also argued the law's provisions forcing landlords to renew leases with existing tenants and allow those tenants to pass on their rent-stabilized units to family members, dependents, and partners amounted to a government-imposed physical taking of their property. The limits on rent increases, they said, amounted to a regulatory taking by slashing their property values and holding rents below what was necessary to make a reasonable profit.
These arguments were rejected by the U.S. District Court of the Eastern District of New York in 2020, which upheld New York's rent stabilization scheme.
The 2nd Circuit has now done the same. Its opinion illustrates just how high of a bar constitutional challenges to economic regulation generally and rent specifically have to clear.
Yesterday's opinion says that the right of tenants to pass on their lease to a successor was conditioned on factors like whether the successor was a family member and whether they'd already been living in the unit.
Even if the law did require landlords to unconditionally rent to an "uninvited successor," the 2nd Circuit reasoned that didn't amount to a physical taking because it "would deprive the Landlords only of the ability to decide who their incoming tenants are." Landlords' ability to remove those tenants wasn't totally eliminated, just conditioned. Therefore, it wasn't a permanent physical taking.
CHIP and RSA argued that the landmark 2021 Supreme Court decision in Cedar Point Nursery v. Hassid—which struck down a California law requiring union organizers to be given temporary access to private business premises—meant even temporary, conditional occupation of property amounted to a physical taking.
The 2nd Circuit rejected that argument too on the grounds that neither Cedar Point nor two other physical takings cases cited by RSA and CHIP were about rental housing and were, therefore, inapplicable.
"None of them concerns a statute that regulates the landlord-tenant relationship, and none restricts—much less upends—the State's longstanding authority to regulate that relationship," reads the opinion.
As mentioned, the 2nd Circuit also rejected CHIP and RSA's claims that New York's rent stabilization law was a facial regulatory taken on the grounds that not all landlords' buildings had been made unprofitable by the law.
An idea in vogue amongst left-leaning and liberal Yes in My Backyard (YIMBY) housing advocates is that rent stabilization is actually a necessary complement to the zoning reforms they also support. The zoning will boost construction and bring down prices for everyone. Rent control or stabilization will prevent existing tenants from being displaced while we wait for that new supply to come online. And if rent control modestly reduces how much new supply the market will provide, that's a tradeoff worth making, they say.
Even if one thinks that's a pragmatic policy platform (I don't), the 2nd Circuit opinion is a good reminder that legal challenges to rent control and zoning regulations are going to rise or fall together. 
"The caselaw is exceptionally clear that legislatures enjoy broad authority to regulate land use without running afoul of the Fifth Amendment's bar on physical takings," reads the 2nd Circuit opinion. So because stabilization is a land use regulation like zoning, it's not considered a taking.
At least, that's where things shake out currently. A Supreme Court decision could change all that.
A CHIP and RSA spokesperson told Gothamist yesterday that they "always expected these issues to be decided by the Supreme Court and are confident we will ultimately prevail, and finally compel leaders around the country to create real and fair solutions for our nation's housing challenges."