America's Refugee Resettlement Process Is Broken. Now Private Citizens Can Help Fix It.
A new State Department initiative will let American citizens sponsor refugees fleeing danger.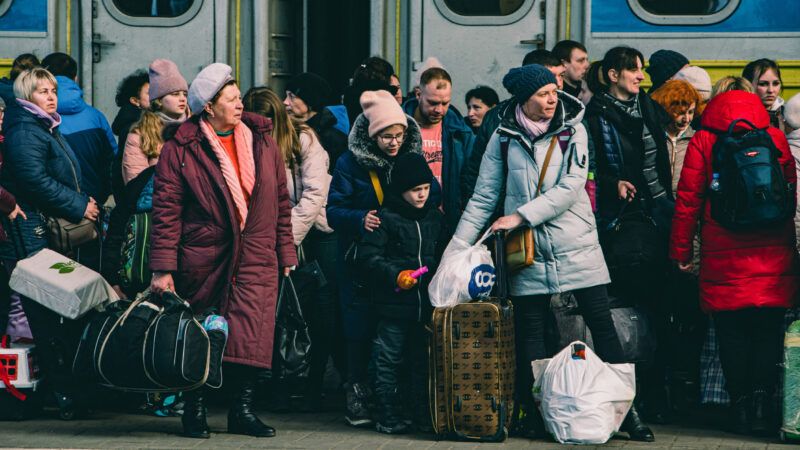 (Lara Hauser/ZUMAPRESS/Newscom)
Today the State Department announced a new initiative that will let Americans financially sponsor refugees who hope to resettle in the United States. The program will build on existing private sponsorship schemes that serve Ukrainians, Afghans, and Venezuelans—and it could transform America's refugee resettlement process in a hugely beneficial way.
The initiative, called the Welcome Corps, will be rolled out in two stages. During the first, a group of at least five American citizens or permanent residents will be matched with refugees who have already been approved for resettlement under the U.S. Refugee Admission Program (USRAP). The second phase, set to launch in mid-2023, will allow private sponsors to identify and resettle specific refugees. The State Department says it hopes to "mobilize 10,000 Americans to step forward as private sponsors and offer a welcoming hand to at least 5,000 refugees," with the possibility of pairing more sponsors with refugees if those numbers are exceeded.
Recent experience with limited private sponsorship schemes have shown that many Americans have an appetite to help refugees. By November, just seven months after the Biden administration launched Uniting for Ukraine, 171,000 Americans had applied to sponsor Ukrainians fleeing the war, with 85,000 Ukrainians arriving during that period.
Uniting for Ukraine gave sponsors and refugees a way to cut through the bureaucratic red tape that normally stifles quick resettlement. In fiscal year 2022, the U.S. resettled just 25,465 refugees through the severely backlogged USRAP. "In sharp contrast to the normal glacial pace of the federal government's immigration bureaucracy," George Mason University law professor (and refugee sponsor) Ilya Somin wrote, the Ukrainian family he was matched with was slated to arrive "less than two months after we started the process of becoming sponsors."
The new initiative will put sponsored refugees on the path to permanent legal status and citizenship. This is an improvement on Uniting for Ukraine, which allows Ukrainians to stay in the U.S. for only two years.
Welcome Corps mirrors Canada's private refugee sponsorship program, which has bolstered (and, in many ways, outperformed) the country's traditional government-assisted model since the 1970s. Research from the Niskanen Center indicates that 70 percent of privately sponsored refugees in Canada secured a job within a year of arrival, while just 40 percent of government-sponsored refugees did. Since individuals and organizations take financial responsibility for refugees, sponsors are incentivized to help their beneficiaries find employment more quickly.
Private refugee sponsorship can also forge deeper community bonds, since ordinary citizens are directly invested in helping refugees integrate. Sponsors can rely on their existing networks and local knowledge to help new arrivals. These benefits will be especially clear during the second phase of Welcome Corps, when sponsors can name specific refugees to help. In Canada's program, those pre-existing ties help privately sponsored refugees "generally adapt more quickly…than those who arrive through the government-assisted pathway," according to the Migration Policy Institute.
The new initiative is an important recognition that America's resettlement program needs fixing. It will actively involve private citizens in that process, allowing them to harness their generosity and resources to help refugees.