She Lost Her Job For Showing a Painting of Muhammad in Class. Now, She's Suing.
"Hamline subjected López Prater to the foregoing adverse actions because . . . she did not conform her conduct to the specific beliefs of a Muslim sect," the lawsuit states.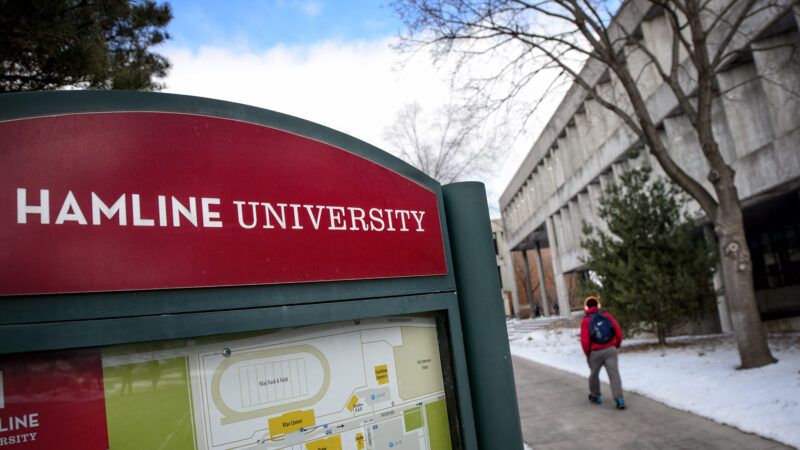 (Glen Stubbe/ZUMA Press/Newscom)
Hamline University, a liberal arts college in Saint Paul, Minnesota, has come under fire in recent weeks after it refused to renew the contract of an adjunct professor who had shown images of the Prophet Muhammad in an art history class. Now the professor at the center of the controversy is suing, alleging religious discrimination and defamation.
In October, Erika López Prater, an adjunct professor at Hamline, showed students in an art history class two images of Muhammad. Both images were created by Muslim artists in the 14th and 16th centuries and were intended to show devotion and reverence to the prophet.
According to the lawsuit, López Prater was aware that some observant Muslim students would not wish to view the images and made considerable efforts to accommodate them. López Prater wrote in the course syllabus that the class would include "showing and discussing both representational and non-representational depictions of holy figures (for example, the Prophet Muhammad, Jesus Christ, and the Buddha)," adding, "if you have any questions or concerns about either missing class for a religious observance or the visual content that will be presented, please do not hesitate to contact me."
No students expressed concerns to López Prater, according to the lawsuit. López Prater also warned students multiple times during the class itself, giving them ample opportunity to leave class or look away.
That wasn't enough for Aram Wedatalla, the president of Hamline's Muslim Student Association. Wedatalla complained first to López Prater and then to the school's administration. Within weeks, López Prater had been formally denounced by the administration, which described her actions as "Islamophobic" and insisted that "respect for the observant Muslim students in that classroom should have superseded academic freedom."
The lawsuit alleges that López Prater was informed that, contrary to a previous assurance, she would not be welcome back to teach the following semester. As one administrator told Hamline's student newspaper, "it was decided it was best that this faculty member was no longer part of the Hamline community."
The school faced widespread condemnation for its actions, with the Council on American-Islamic Relations even releasing a statement defending López Prater. "Although we strongly discourage showing visual depictions of the Prophet," the statement reads, "professors who analyze ancient paintings for an academic purpose are not the same as Islamophobes who show such images to cause offense."
On Tuesday, López Prater filed a lawsuit against the school, alleging that the school engaged in religious discrimination and defamation against her, as well as violating its contractual guarantee of academic freedom.
"Instead of recognizing that López Prater had displayed the images of the Prophet Muhammad for a proper academic purpose, Hamline decided to impose Wedatalla's interpretation of Islam on all Hamline employees and students," the suit reads. "Hamline subjected López Prater to the foregoing adverse actions because she is not Muslim, because she did not conform her conduct to the specific beliefs of a Muslim sect, and because she did not conform her conduct to the religion-based preferences of Hamline that images of Muhammad not be shown to any Hamline student."
In the wake of López Prater's lawsuit, Hamline has walked back its most inflammatory claims against her, writing in a statement that "based on all that we have learned, we have determined that our usage of the term 'Islamophobic' was therefore flawed … It was never our intent to suggest that academic freedom is of lower concern or value than our students—care does not 'supersede' academic freedom, the two coexist."
Defamation is very difficult to prove, and it remains to be seen whether López Prater's lawsuit will be successful.