A Man Pointed a Finger Gun at Cops, Was Jailed for Over a Year Without Trial, and Starved to Death Behind Bars
Plus: Court reminds cops they can't pull people over just to flirt, salary range laws aren't working as planned, and more...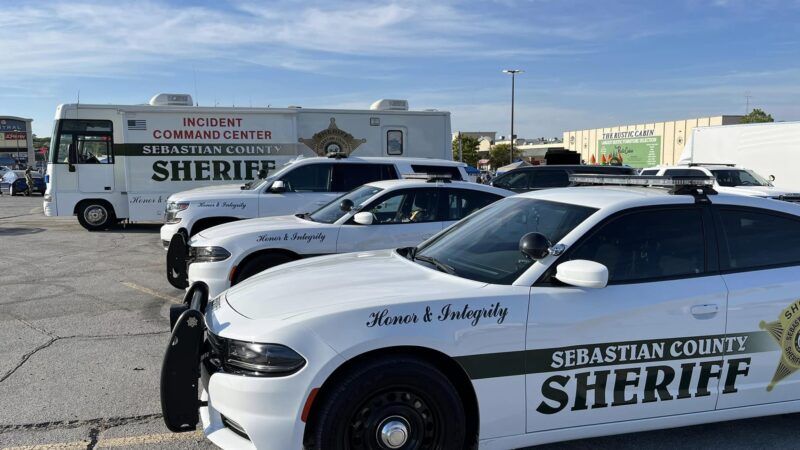 (Sebastian County Sheriff's Office/Facebook)
Arrested for pointing his fingers at police in a threatening manner, Arkansas man Larry Eugene Price Jr. wound up in jail for more than a year without being convicted and eventually died of malnutrition and dehydration behind bars.
The story highlights a host of problems with our criminal justice system: trumped-up charges; long periods of imprisonment prior to being convicted; and the negligence and mistreatment of people who experience health problems while incarcerated.
"Price was arrested in August 2020 after he walked into Fort Smith Police Department and threatened officers while pointing his finger as if her [sic] were pulling an imaginary trigger," reports Fox News. "Price, who also had a developmental disability, was homeless at the time of his arrest."
He was charged with making terroristic threats and placed in the Sebastian County jail as he awaited trial—where he remained for more than a year. Bail was set at $1,000, which he couldn't afford.
In jail, Price refused to take his psychiatric meds and his condition worsened, according to his family, who have filed a federal lawsuit against Sebastian County and its jail medical provider Turn Key Health Clinics.
Their complaint states that Price was a "severely mentally ill man" who suffered from paranoid schizophrenia and had an IQ below 55. "It was not uncommon for him to suffer from bouts of psychosis and to completely lose touch with reality."
In jail, Price was placed in solitary confinement, the lawsuit says. He began refusing food and water, too, and his weight eventually dropped from 185 pounds to 90 pounds.
"Larry Price suffered in the tortured throes of his untreated mental disorder for months on end as jail healthcare and security staff watched him waste away—apathetic to his life-threatening medical and mental health needs and to the cruelty of his confinement," says the family's lawsuit. It accuses Sebastian County and Turn Key Health Clinics of "deliberate indifference and neglect" and Sebastian County Jail of "systemic deficiencies" in its policies and practices.
In August 2021, Price died from dehydration and malnutrition. He was found dead in a pool of standing water and urine.
"The county places a high priority on the safety of every person in our jail. We have medical personnel available to treat inmates in need of care," Sebastian County Judge Steve Hotz told Fox News in an email. "The sheriff is conducting an internal review of this situation and hope to know more in the future."
County Sheriff Hobe Runion said in a video statement that an autopsy showed Price weighed 120 pounds at the time of his death, not 90 pounds. "Let me make one point clear: the jail staff gave this inmate plenty of food and water every day," he said, according to the Arkansas Democrat-Gazette. "The jail medical staff were in regular contact with him. The autopsy said the inmate died with COVID."
But just because staff gave Price "plenty of food and water," it doesn't mean that he was consuming it. A county medical examiner ruled Price's death as being caused by acute dehydration and malnutrition, with COVID-19 as a contributing factor.
Disturbing pictures included in the family's complaint show Price looking emaciated and skeletal.
The family's complaint alleges that the county should have done more to address Price's mental health issues and behavior, which included not only eating and drinking less food and water but also consuming his own feces and urine. It also notes that at the time of Price's death, "the medical examiner observed the profoundly shrivelled (or pruned) condition of the soles of Mr. Price's feet." This "grotesquely wilted skin was caused by 'prolonged moisture exposure' from the pool of contaminated water on the concrete floor and bunk of his solitary confinement cell."
---
FREE MINDS
Court reminds police they can't pull people over just to flirt. From a recent decision of the 10th Circuit Court of Appeals:
Today we confront whether the law clearly established that Defendant Utah Highway Patrolman Blaine Robbins violated Heather Leyva's ("Leyva") Fourteenth and Fourth Amendment rights by pulling her over without reasonable suspicion to do so and by sending her flirtatious texts about the administration of a commercial towing relationship between her employer and the Utah Highway Patrol. In doing so, we consider the unique relationship between Defendant and Leyva in the context of each alleged constitutional violation.
Tim Cushing at Techdirt has more details:
Heather Leyva and the patrolman interacted frequently. Leyva worked for West Coast Towing (WCT), one of three companies in the Highway Patrol's Heavy Duty Towing Rotation (HDTR). Leyva was the contact for the towing company and Patrolman Robbins managed the towing rotation. As the court notes, the relationship eventually evolved from a professional one to a personal one.

But it appears the patrolman thought there was a lot more going on than there was. What he saw as reciprocation was actually Leyva trying to preserve the professional relationship that made money for the towing company she worked for. […] Leyva was also pressured by West Coast Towing to resolve what it believed to be unfair assignments that appeared to favor the other two companies in the rotation. Patrolman Blaine insisted nothing was being handled unfairly. The two continued to contact each other, with the patrolman handling most of the flirting duties.

Then things got weird and stalker-ish.
From the 10th Circuit:
A couple of months after working with each other and after the relationship started to change, Defendant texted Leyva one night around 5:00 p.m. He asked about work-related matters. In response to one question, Leyva told Defendant to "standby" because she was on the freeway. Defendant asked where and said he would pull her over. Defendant now insists this was a joke. Levya told him the milemarker number as she passed it. Defendant asked where she was going. Leyva told him and said she would return in twenty minutes. Based on Plaintiff's response, Defendant said, "I'll be waiting 285. You in the what [sic] car. White car." Leyva never responded.

Two hours later, Leyva was driving home in a different car at a different location. Defendant spotted her, turned on his lights, and initiated an apparent traffic stop. Leyva pulled over, not knowing Defendant was the driver of the patrol car, and got her identification ready. Defendant said, "I don't need to see that, just seeing you is enough." Defendant claims he pulled Leyva over as "a joke between friends." They spoke for a short time and then went their separate ways.
A lower court absolved Blaine because of qualified immunity, but the 10th Circuit sent it back for reconsideration (whole decision here). "Because Defendant pulled Leyva over without at least an articulable suspicion of a violation, we conclude that Defendant violated Leyva's clearly established Fourth Amendment right to be free from an unreasonable seizure," the appeals court concluded.
---
FREE MARKETS
Salary range laws aren't working as planned. States including California and Colorado have mandated that public job postings must include the position's salary range. The idea is that this would encourage transparency in a way that might benefit historically underpaid groups. Instead, it's just led a lot of companies to list large and vague salary ranges.
"In a Tesla job listing for a software engineer in Fremont, the electric vehicle maker listed the 'expected compensation' range as $104,000-$384,000 in annual salary, cash and stock awards, and benefits," notes Fox Business:
At Netflix, a product manager for plans position in Los Gatos has an "overall market range" of typically $80,000-$700,000, according to an ad. One software engineer job at the streaming giant had a range of $90,000-$900,000, while a post production assistant position in Los Angeles came with a $55,000-$305,000 market range. …

For a full-stack software engineering position at ByteDance unit TikTok on the company's creation and consumption product team in San Francisco, the base salary range was listed as $126,000-$304,704.
---
QUICK HITS
JUST IN: The Supreme Court grants review in eight disputes, filling out its argument calendar for the 2022-23 term. Here's the full order agreeing to hear the new cases: https://t.co/Pg6xVSsGNQ.

A run-down of all the cases coming soon on https://t.co/Tzv3IY6IHf. pic.twitter.com/WMVPPV6h2L

— SCOTUSblog (@SCOTUSblog) January 13, 2023
• Things are looking worse for President Joe Biden, who seems to have retained classified documents from when he was vice president. "The clumsy White House public relations strategy over around 20 documents squandered any hope of drawing a sharp line between Biden's cooperation with the authorities and [Donald] Trump's months of resistance and obfuscation over his haul of hundreds of pages of classified material," suggests Stephen Collinson at CNN.
• House Republicans' new Select Subcommittee on the Weaponization of the Federal Government, chaired by Rep. Jim Jordan (R–Ohio), "is expected to have 'at least as much' funding as the January 6th Committee," notes Amanda Carpenter at The Bulwark. "The big difference, of course, is that while the January 6th Committee was investigating an attack on the U.S. government, the weaponization subcommittee will be working off an open-ended list of pent-up grievances MAGA Republicans have been stewing about since the beginning of the Trump era."
• Rep. Jim Banks (R–Ind.) said he's forming an "Anti-Woke Caucus."
• The Indiana Supreme Court this week will hear arguments for and against the state's near-total abortion ban.
• A Puyallup, Washington, woman was having a stroke when police were called to where she'd driven her car. They arrested her on suspicion of drunk driving.
• I'm on the latest TechFreedom podcast talking about kids and screen time.
• It's amazing how often local police have to assure people that sex traffickers aren't lurking at local chain stores.
• Ohio may legalize home distilling.
• Protecting and serving:
A London police officer on Monday admitted to raping and sexually assaulting women over a 17-year period. David Carrick pleaded guilty to 49 offenses, including 24 counts of rape and charges that included assault, attempted rape and false imprisonment. https://t.co/KDHz64CO0V

— The Associated Press (@AP) January 16, 2023